George: We've got two blu-ray releases from Walt Disney Studios Home Entertainment and Studio Ghibli for you this week. One of them, we've been waiting for many years and the other one turns out to be a surprise! Disney has released many of the Studio Ghibli films in the United States, including spending time, talent and money to make amazing English-language dubs of the films. Spearheaded by John Lasseter, the Studio Ghibli films were brought to US audiences with a lot of fanfare and love. Anyone that's followed Communicore Weekly knows that we're both huge fans of Studio Ghibli.
Jeff: Let's start with the title I didn't know much about first. The Cat Returns is one of those weird things I literally had no idea what to expect. But, being Ghibli, how could I go wrong, right? RIGHT! The Cat Returns is about a young girl named Haru who saves the life of a cat. And then things get…weird. The cat begins to talk to her and somehow has her wondering what it would be like to marry a cat. In American culture, we have only seen something as weird as this in Howard the Duck, but in Anime, anything goes.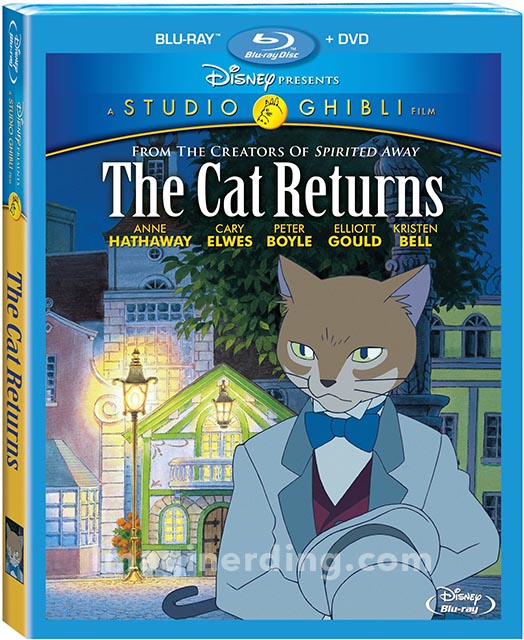 George: The Cat Returns is a very interesting title and one that my family had seen before. Like most Studio Ghibli films, it might seem a little strange to Western audiences, but it has a charm that's hard to deny. The style is not as realistic as the Miyazaki-produced films and it retains more of the manga-feel that inspired the film, Two of the main characters are featured in the Studio Ghibli film Whisper of the Heart and continue their roles in this film.
Jeff: And, let's be honest, I'll watch anything with Kristen Bell's name on it. That said, the film surprised me a bit. It was really enjoyable, and not at all what I expected. The extra features were just OK, though. The "behind the voices" thing just doesn't seem to be all that great, on any disc, and more fluff than anything else. But the story boards were fun to watch, and see how the scenes evolved from concept to final form.
George: It's not the best Studio Ghibli film, but it is a fantastic animated film that most people (of all ages) will enjoy. It has a really good pacing and the art style lends itself well to the subject matter. And cat fans are really going to love it, especially the scenes with Moota. It looks great and sounds great on blu-ray, as well.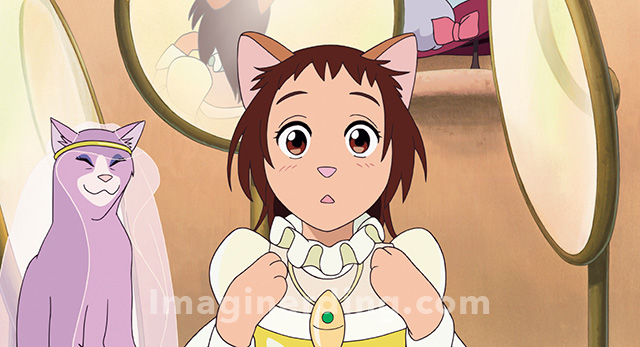 Jeff: Like George said, it's not the best, and heck, it's not even the weirdest! But it's up there. I just want to visit the Cat Kingdom, though. Sounds like a full day trip!
George: Disney's Cat Kingdom? Do you really want to spend all day being ignored?
Jeff: I'm strangely OK with that. SPEAKING OF strange, how about the next blu-ray, Spirited Away? Who DOESN'T love this film? For many, this is the first Studio Ghibli film we saw, and fell in love with.
George: Like many Studio Ghibli fans, I saw this film during it's initial DVD release in 2002. I remember that my oldest son (who was almost 5) watched it with us and he begged to watch it a second time. It was enchanting, mesmerizing and confusing; it is really hard to explain to people what makes the film so magical. But it is.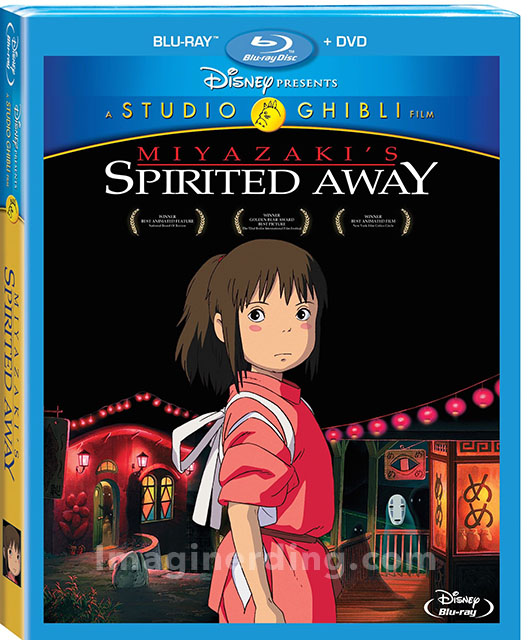 Jeff: It's just…weird. But in a good way. I remember watching it for that first release in 2002, also, scratching my head and going "WHAT IS THIS?" And then growing to love it more and more on each viewing. The story involves a young girl, and her parents getting turned into pigs, and then working in a bath house, and, and, and…it's just weird, you guys.
George: Weird but amazing. The first viewing often leaves people spellbound and wanting to know more (I always recommend this great book to learn more about the Studio Ghibli films). It's obvious that the film is a masterpiece and is one that needs to be a permanent addition to your collection. Spirited Away has some of the most incredible animation that never gets in the way of the story, even with the Disney English-language dub.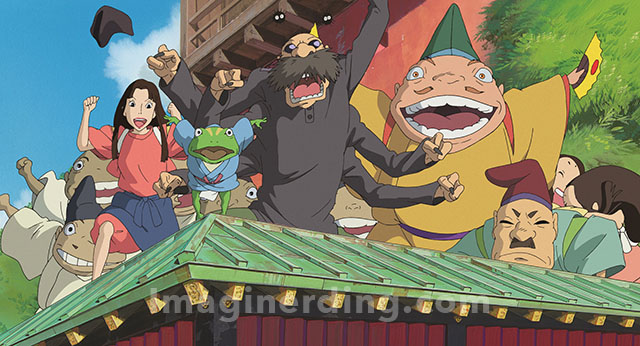 Jeff: It really does shine on the blu-ray. It's super crisp and clean, and it impresses me with how much they got the colors to pop. I mean, it's not often something like this manages to impress me, even years later, but this one really knocked it out of the park. It made me remember WHY I loved this film so much when I first saw it years ago.
George: Sadly, the bonuses aren't that exciting and I wish they had included some history of Ghibli Studios as well as some interpretations of the story for Western audiences. There's the standard "Behind the Microphone" and a look at making the film, but nothing that would entice you to buy the blu-ray. Other than the amazing film.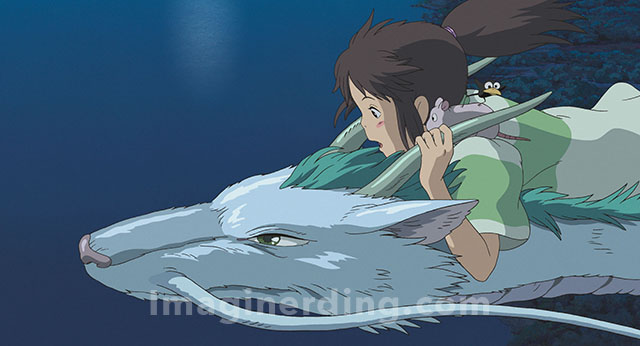 Jeff: I did like the Nippon TV special, where they actually GO to the studio and interview key members of the team about the film. That said, it is presented in standard definition, as are most of the other extras, which is kind of a bummer. It's a good thing the film itself is so stellar!
George: Even though Kristen Bell isn't in Spirited Away?
Jeff: She IS in The Cat Returns, so I'll let it slide.
George: Just like how these movies need to slide into everyone's collection?
Jeff: We could do this all day, folks. But we probably won't.
George: Or shouldn't. So, definitely head out and buy Spirited Away. The Cat Returns is a good rental, but you'll probably end up adding it to your collection, too!
---