Discovery Island: The Early Years
Discovery Island, situated on Bay Lake, has endured many names and identities over the years. More so than its name changes, I thought that we should look into the history of this dormant attraction.
The Island was one of the spots that caught Walt's eyes when they were looking for property near Orlando. He would fly over Central Florida in the company jet and this island caused him to set aside the surrounding property as the first to be developed.
Discovery Island History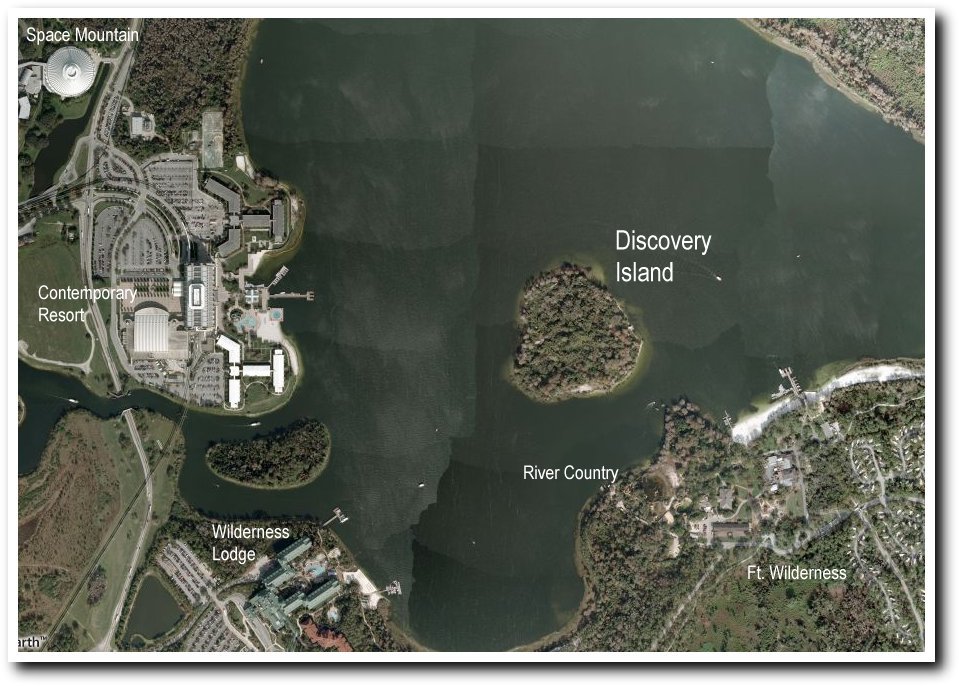 Jeff Kurtti's Since the World Began has an excellent section on Discovery Island that details the history. It was called Raz Island from 1900 to 1937 from the family that lived and farmed there. Delmar Nicholson, Florida's first disc jockey, purchased the area in the late 1930's. He lived on the island with his wife and a pet sand crane. When he fell ill, Nick sold the island to some local businessmen who used it as a hunting retreat. Disney purchased the land in 1965. (Kurtti, p. 53)
The island was named Blackbeard's Island when Walt Disney World opened. It appeared on guide maps but development of the island didn't start until 1974. At that time, 55,000 cubic yards of soil were used to build up the island's acreage. It was renamed Treasure Island and opened on April 7, 1974. It was closed from January to March 1976 for a renovation that included a snack bar and an aviary. When it re-opened on April 1976, it was finally named Discovery Island. The Island was accredited by the American Zoo and Aquarium Association in 1978 and functioned as a breeding facility for rare birds. Discovery Island became renowned for its bird, plant and tortoise populations. (Kurtti, p. 53) The island was officially closed on April 8, 1999 after many of the conservation and breeding efforts were moved to the Animal Kingdom.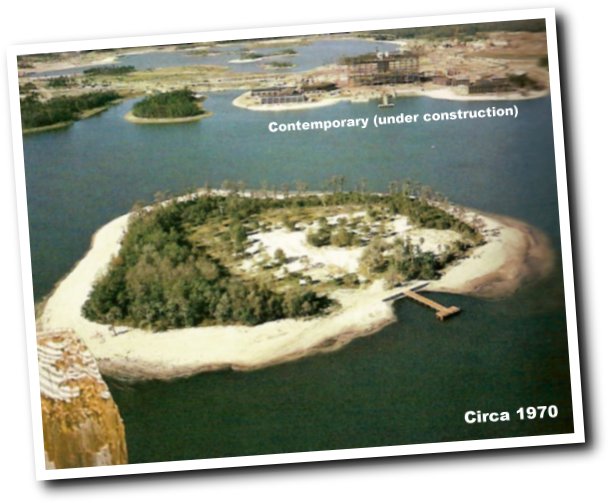 For more information, visit the Treasure Island page at Widen Your World.
Treasure Island
I ran across an old guide map for Treasure Island at Tim Gerdes' Better Living Through Imagineering Flickr site. He was kind enough to let me use it for the article.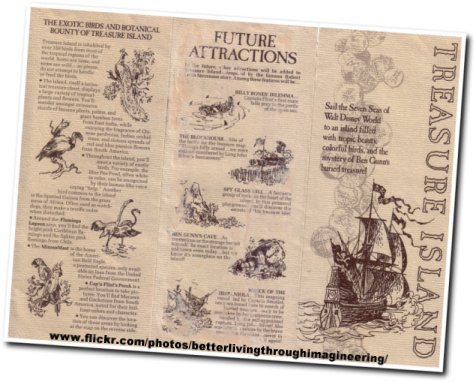 Sail the Seven Seas of Walt Disney World to an island filled with tropic beauty, colorful birds, and the mystery of Ben Gunn's buried treasure!
Future Attractions:
In the future, other attractions will be added to Treasure Island…inspired by the famous Robert Louis Stevenson story. Among these features will be…
Billy Bone's Dilemma…Captain Flint's first mate falls prey to the perils of the open sea.
The Blockhouse…Site of the battle for the treasure map. "Though fully armed…we were still out-numbered by Long John Silver's buccaneers!"
Spy Glass Hill…A fantastic group of rocks in the heart of the island. In this primeval playground, you'll discover the secrets of this treasure isle!
Ben Gunn's Cave…As mysterious as the strange hermit himself. Its exact location is unknown even today…but we know it's someplace on the island!
Wreck of the Hispaniola…This seagoing vessel led by Captain Smollet, once anchored here in search of buried treasure…only to be overtaken by her mutinous crew, headed by the self-appointed captain. Long John Silver! She was later ran ashore by the brave young Jim Hawkins…never to sail again!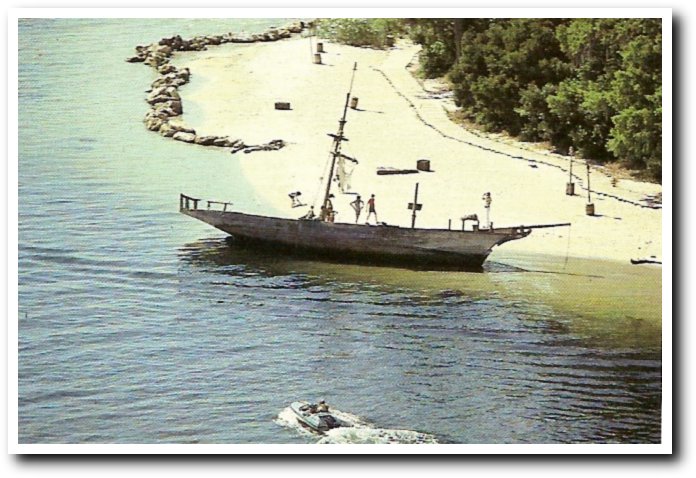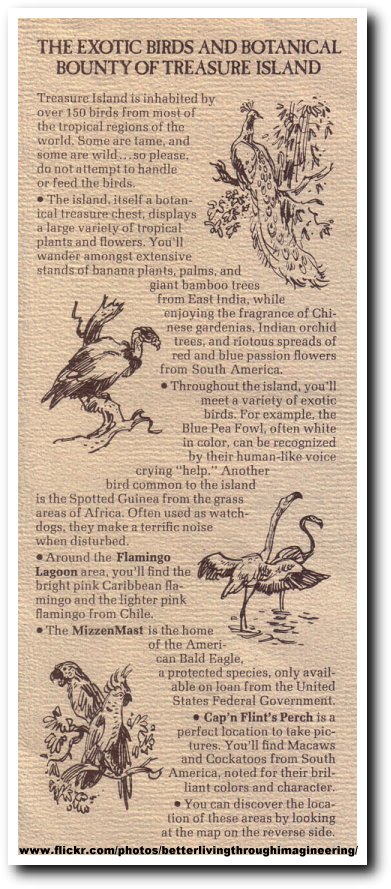 Did you ever get to visit Discovery Island during its first few years?
---
Looking for a great book on the early years of Walt Disney World?
Check out The Story of Walt Disney World book review.
---
FTC Disclosure:
In some cases, a copy might have been provided by the company for the purpose of this review (but not on this post). This post contains affiliate links, which means that ImagiNERDing receives a percentage of sales purchased through links on this site. Thank you for your support!