Admiral Joe Fowler Visits EPCOT Center
In the April, 1982, EPCOT Center Construction News, there's a blurb about Admiral Joe Fowler visiting the under-construction EPCOT Center site. Admiral Fowler is a well-known name among Disney historians, especially with regards to Disneyland and Walt Disney World construction. It's a great article that shares some insight into Admiral Fowler's life and career.
I wrote about Roy Disney and other executives visiting Florida after Walt's passing.
RETIRED DISNEY CONSTRUCTION CHIEF JOSEPH FOWLER VISITS SITE

In 1954, Walt Disney sought an individual to head up construction efforts at his then fledgling California theme park, Disneyland. He found his construction chief in Rear Admiral Joseph Fowler, who had retired from the U.S. Navy after 32 years of service.

Educated as a naval architect, Admiral Joe Fowler had supervised the construction of a number of war ships and had commanded the San Francisco Naval Shipyards in 1946-47.

After completing Disneyland for an on-time opening in July, 1955, Admiral Fowler stayed on with the company as Vice President – Disneyland Operations. In that position, he continued to administer all new construction programs for the theme park, as well as construction planning for a top secret Disney venture outside California … the Walt Disney World Project in Florida.

In 1963, he accompanied Walt Disney on a secret airplane flight over Central Florida to narrow down the future theme park's location to one of three proposed sites…the east coastal area, Ocala and Orlando.

Decisions were made and huge land tract purchases began in Orange, Osceola and Lake Counties.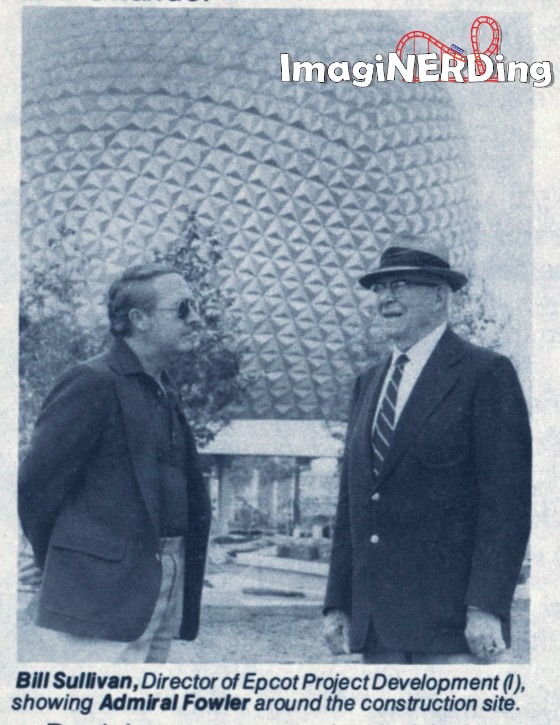 Again in 1964, Admiral Fowler took to the air secretly with Walt Disney to survey the 27,400 acres of cypress groves and black-watered swamps Walt Disney had acquired for his project.

With what was to become the largest private construction project in the world posed on the horizon, "Joe" Fowler assumed the triple positions of Vice President – Engineering and Construction for Walt Disney Productions; Chairman of the Board – WED Enterprises, the Disney design and "Imagineering" company; and Director of Construction – Buena Vista Construction Co., a newly organized Disney construction division.

Commuting weekly between California and Florida, Admiral Fowler took the helm in the engineering and construction efforts for the massive Walt Disney World project.

Following an on-time opening of the Magic Kingdom in 1971, he stayed on for the completion of several projects still under construction and retired from the Disney organization in 1972.

Today, at a young and active 88 years old, Admiral Fowler and his longtime associate General William (Joe) Potter, U.S. Army Retired, still keep thier fingers on the pulse of the construction industry as engineering consultants here in Orlando.

Those who have worked with Joe Fowler during his 28 year association with the Disney organization point out his favorite phrase when describing his personality: Joe never says "good-by" at the end of a conversation … he leaves with a strong exclamation of "Can Do!" All his life he has been a "Can Do" person, from his 32 years service to his country to building Disneyland.
Looking for a Book About the Early Years of Walt Disney World?
Check out the Story of Walt Disney World.
---