The Myth of Anantah and the Founding of Anandapur in the Maharajah Jungle Trek
Disney's Animal Kingdom offers guests the opportunity to experience story telling on a level that isn't necessarily possible when traveling to locations across the globe. The story of the Maharajah Jungle Trek is told throughout the entire trail through murals, tiles, benches, signs, and architecture. The Anandapur Royal Forest is part of the Kingdom of Anandapur and was the Royal Hunting Lodge and Royal Preserve. The forest was designated a hunting lodge in 1544 and decreed a preserve in 1948, when British Colonial Rule ended.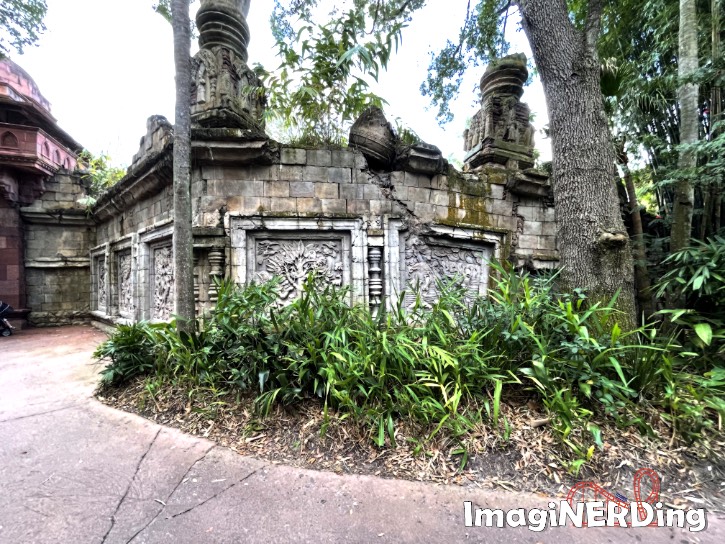 Near the end of the Maharajah Jungle Trek is the Aviary. The entrance of the aviary is a Red Temple (also called the Red Pavilion) that contains the sarcophagus of Anantah, the founding ruler of Anandapur.
As you leave the tiger habitat area, you round a bend that is the ruins of the Tomb of Anantah. Along the two walls are bas reliefs murals that tell the myth of the founding of Anandapur.
The first image depicts Anantah swimming in a river and discovering the paradise filled with animals. The tiles are cracked, with Anantah on the right side, separated from the animals.
The second image shows a sacred tree surrounded by wildlife.
The third image shows Anantah cutting ow the sacred tree while the animals flee in all directions.
The fourth image shows the natural disasters that occurred after Anantah cut down the sacred tree. The animals are in pain and dying. There appears to be flooding, drought, and torrential rains (or maybe a hurricane).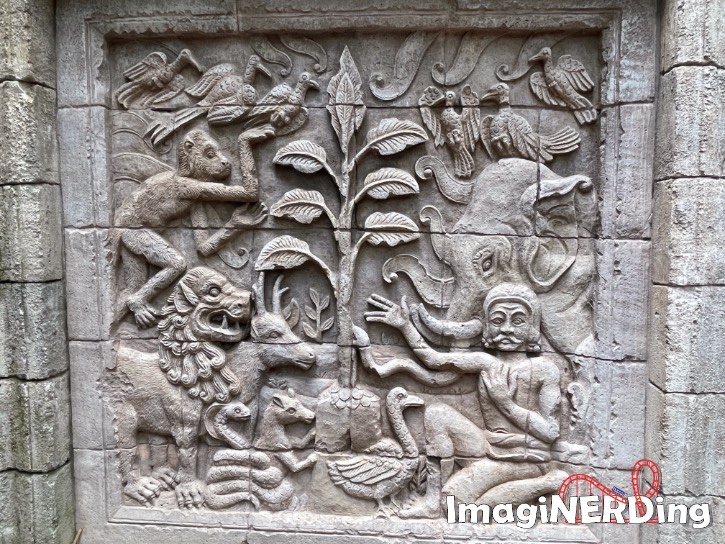 The final image shows Anantah after replanting the sacred tree and living in harmony with nature.
After the images, you enter the Red Temple to see the tomb of Anantah before entering the aviary.
Have You Ever Noticed the Bas Relief Murals of Anantah and the Founding of Anandapur?
---
Check out this book about the Making of Disney's Animal Kingdom Theme Park by Melody Malmberg.