Holiday Magic at the Disney Parks Book Review
Missing the holidays at the Disney Parks this year? Check out George's review of Holiday Magic at Disney Parks, the new book by Graham Allen, Rebecca Cline, and Charlie Price. The new Disney book celebrating Christmas and Halloween at the Disney Parks features over 1,900 photos!
Disney Publishing sent a review copy and I couldn't wait to make a preview video for you.
Holiday Magic at the Disney Parks Video Review
If you won't be able to visit this parks this year, is this book a good substitute?
This large-format coffee table-sized book will enchant you with photos from Disneyland, Walt Disney World, Disneyland Paris, Tokyo Disneyland, and more. It's hard to imagine that Disney could capture all of the magical details of their celebrations worldwide. They cover the twelve parks, cruise ships, resorts, and shopping districts. There is something for every fan of the parks, including a rich look at the history of the holidays starting at Disneyland.
The price tag seems hefty at first, until you crack it open and leaf through the pages. You'll notice that there are four to five pictures per page. And at 384 pages, that's almost as many photos as I take each visit!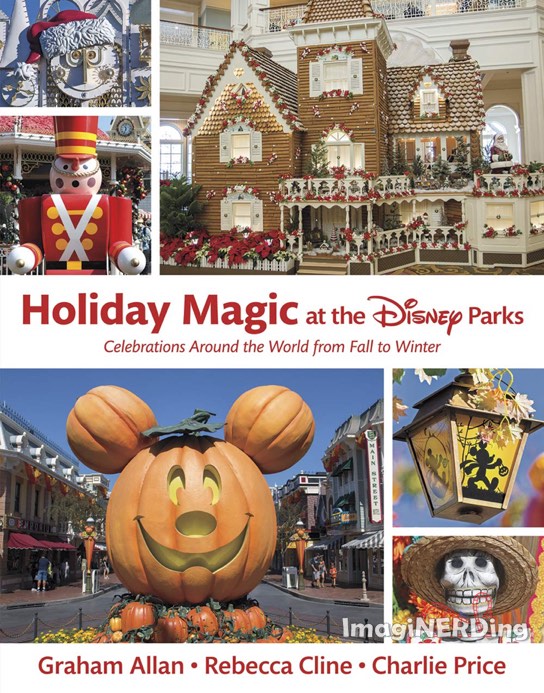 Along with the Disney Monorail book, you have two fantastic reads for this holiday season. Are you going to get both? As a general rule, Disney books have small print runs and go out-of-print fairly quickly. If you wait too long, the price will skyrocket.
Are you going to order the holiday book for yourself or as a gift?
---
FTC Disclosure:
 A copy was provided by the company for the purpose of this review. This post contains affiliate links, which means that ImagiNERDing receives a percentage of sales purchased through links on this site. Thank you for your support!