The Country Bare Band?
No, that's not a misspelling. I ran across another tidbit from the November 4, 1972, Eyes & Ears cast member newsletter.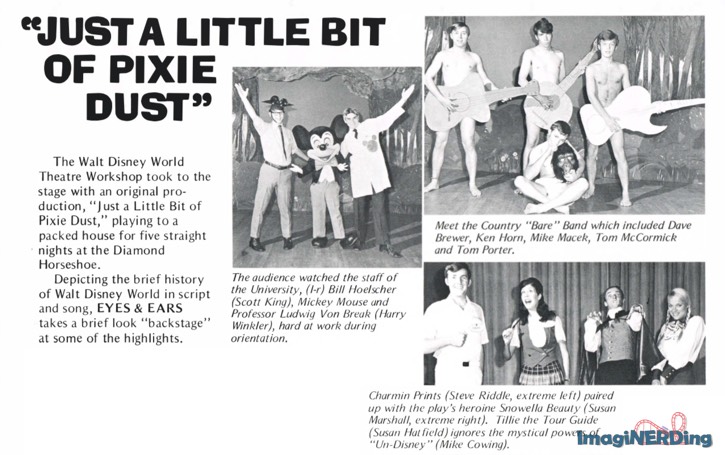 "Just a Little Bit of Pixie Dust"

The Walt Disney World Theatre Workshop took to the stage with an original pro­duction, "Just a Little Bit of Pixie Dust," playing to a packed house for five straight nights at the Diamond Horseshoe. Depicting the brief history of Walt Disney World in script and song, EYES & EARS takes a brief look "backstage" at some of the highlights.
So, there was a group of cast members in the 1970s that got together to put on plays, including original shows. It makes sense, if you think about the amount talent that Disney attracts, that people would want creative outlet to hone their chops. But they also got to use the Diamond Horseshoe in Frontierland to put on the show. Disney World was a vastly different place than it is now.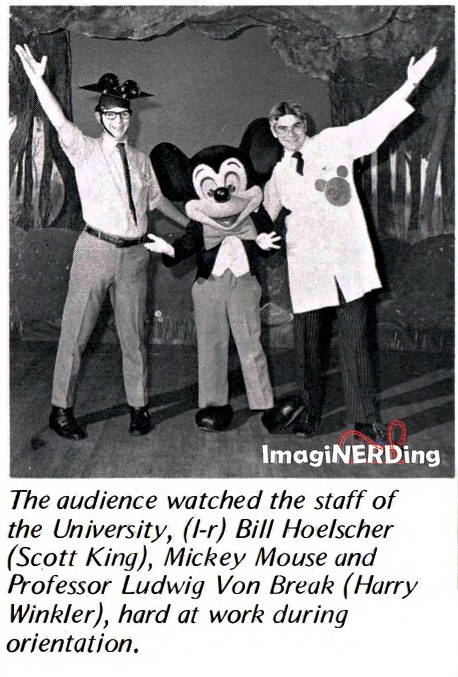 The audience watched the staff of the University, (l-r) Bill Hoelscher (Scott King), Mickey Mouse and Professor Ludwig Von Break (HarryWinkler), hard at work during orientation.
Bill Hoelscher was portrayed by cast member Scott King. Who was Bill? Well, he worked at Disneyland on the Jungle Cruise, he helped recruit business to the 1964/1965 NY World's Fair, managed the WDW Preview Center,  managed Walt Disney World Cast Activities and more.
Yeah…so…it's definitely getting weird.
Charmin Prints (Steve Riddle, extreme left) paired up with the play's heroine Snowella Beauty (Susan Marshall, extreme right). Tillie the Tour Guide (Susan Hatfield} ignores the mystical powers of "Un-Disney" (Mike Cowing).
Charmin Prints—janitorial crew? Snowella Beauty? Tillie the Tour Guide? And an un-Disney vampire?
Can It Get Any Weirder?
Oh, it did.
Hey! Hey, we're the Monkees…er…The Country "Bare" Band?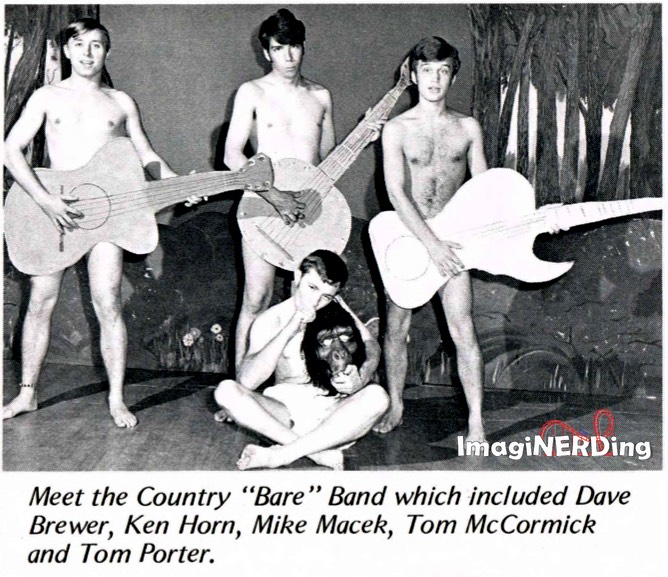 Meet the Country "Bare" Band which included Dave Brewer, Ken Horn, Mike Macek, Tom McCormick and Tom Porter.
I mean…I don't know what to say.
According the the article, the theatrical group presented an original play that told the history of (a very young) Walt Disney World. At that point in time, Disney World was barely a year old. What kind of history was there?
Do You Know Anything About the Country Bare Band or the Just a Little Pixie Dust play?
Just a Little Pixie Dust play UPDATE (4/17/2020)
I ran across a blurb in the October 21, 1972 Eyes & Ears:
'JUST A LITTLE BIT OF PIXIE DUST' OPENS FRIDAY AT THE HORSESHOE!

The Walt Disney World Theatre Workshop will pre­sent a satirical anniversary fairy tale, "Just a little Bit of Pixie Dust," at the Diamond Horseshoe in Frontier­land, October 27-29, at 8:30 pm.

The musical-comedy stars a host of employees and was written by Bob Wilson, Jim James, Harry Winkler, Ralph Petrillo, Sharon Skinner, Jeff Hicks, Bonnie Lipsey and Jim Lee.

"Just a Little Bit of Pixie Dust" is a "must," not to be missed!

Rumor has it that almost anyone can get roasted during the spoof which lasts almost two hours.

Tickets are now on sale at all hotel Cash Control offices and at Cash Control in the Fantasyland base­ment for $1.00 per person.

Employees and their families should use the North Service Lot Clock Station when attending the per­formances.

In rehearsal for almost three weeks, the comedy takes an insider's look at Walt Disney World and the people who run it.
This offers more insight in that the play was a satirical look at the first year of Disney World's opening and does poke fun at different personnel.
WDW Bits & Pieces is a series dedicated to sharing ephemera, bits, pieces, and other odd moments from Walt Disney World history.
---
FTC Disclosure:
In some cases, a copy might have been provided by the company for the purpose of this review (but not on this post). This post contains affiliate links, which means that ImagiNERDing receives a percentage of sales purchased through links on this site. Thank you for your support!