Aladdin 2019
I'm a huge fan of
Disney's animated Aladdin
film. With the recent spate of live-action remakes that were pretty off-the-mark, I wasn't sure how I'd feel about remaking such a beloved film. How would Will Smith be as the Genie? Would the songs work? What about all of the magic?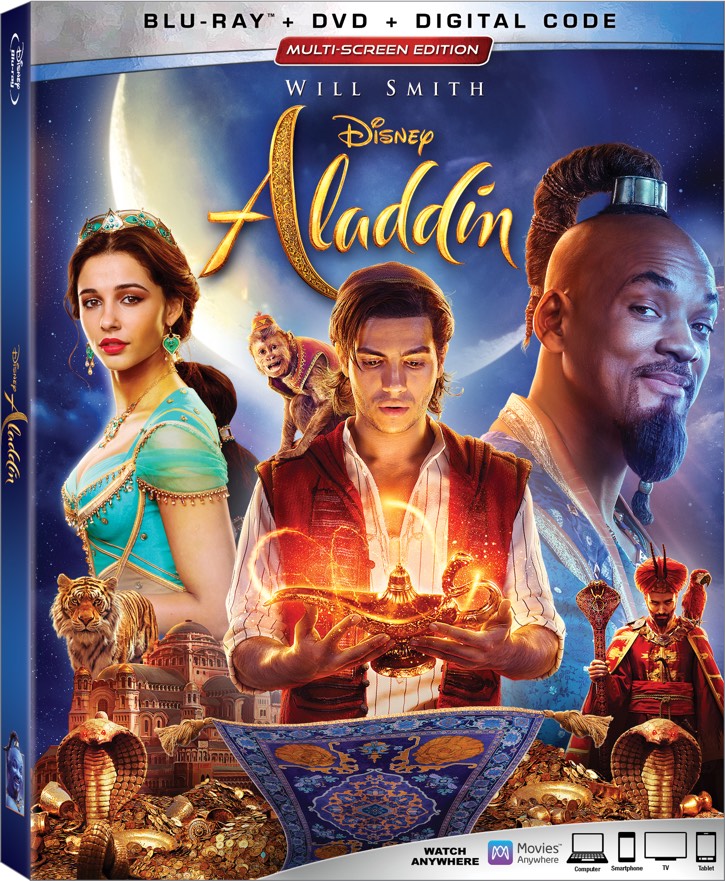 I saw
Aladdin 2019
in the theater and my initial reactions were mixed. The film is gorgeous and the special effects are top-notch. Once I got into the film, the characters possessed a similar feel as the ones in the animated film, but without being clones. And the music was good. Disney sent a review copy of the film and I sat down for a second viewing. I enjoyed the film so much more during the second viewing at home. Once I had my expectations set, I was able to look at the film as an homage to the animated film while treading new ground. Will Smith did a fantastic job and the Prince Ali song was a highlight. I wasn't sure how they were going to pull it off, but the song and effects worked very well. My biggest issue with the film were the songs and singing  by Naomi Scott. She is a very credible actor and a phenomenal singer, but her style, and the style of her song, didn't fit the feel of the film. Her singing was very modern and didn't jibe with the Menken songs from the film. IT was also very politically heavy-handed and felt odd. Beyond that, I really enjoyed the movie, more so than any of the other live-action remakes that have been done. Let's take a look at the bonus features.
Aladdin 2019 Bonus Features
Bonus features include:
DIGITAL PRE-SELL BONUS:
MAKE WAY FOR PRINCE ALI – Take a look at the gigantic design extravaganza that came together for this scene of Genie-sized proportions.
DIGITAL EXCLUSIVE BONUS:
"SPEECHLESS": CREATING A NEW SONG FOR JASMINE – Follow the story of Jasmine's inspirational song "Speechless," written by Alan Menken, Benj Pasek and Justin Paul especially for this version of "Aladdin."
BLU-RAY & DIGITAL BONUS:
ALADDIN'S VIDEO JOURNAL: A NEW FANTASTIC POINT OF VIEW – Watch behind-the-scenes moments captured by Mena Massoud (Aladdin) in this fun, fast-paced look at his personal journey.
DELETED SONG – "DESERT MOON" – Experience a moving duet performed by Jasmine and Aladdin, fully shot and edited, with an introduction by Alan Menken.
GUY RITCHIE: A CINEMATIC GENIE – Discover why director Guy Ritchie was the perfect filmmaker to tackle this exhilarating reimagining of a beloved classic.
A FRIEND LIKE GENIE – Discover how Will Smith brings talent, experience and his own personal magic to the iconic role of Genie.
DELETED SCENES: Falling Petals Into OJ; Jafar's Magic Orrery; Anders' Gift; Wrong Wishes; Silly Old Fool; Post Yam Jam Debrief
BLOOPERS – Laugh along with the cast and crew in this lighthearted collection of outtakes from the set.
MUSIC VIDEOS • "Speechless" – Music video performed by Naomi Scott • "A Whole New World" – Music video performed by ZAYN and Zhavia Ward • " A Whole New World" ("Un Mundo Ideal") – Music video performed by ZAYN and Becky G.
There isn't anything special in the bonus features that add or detract to the film. You're going to buy Aladdin 2019 because you enjoy the movie. And I really did!
Are You Going to Buy Aladdin 2019?
---

Special thanks to Wes B., Aaron R. and Nicole S. for supporting me on Patreon.
---
FTC Disclosure:
A copy was provided by the company for the purpose of this review. This post contains affiliate links, which means that ImagiNERDing receives a percentage of sales purchased through links on this site. Thank you for your support!