Marvel Avengers Endgame
There's no need for me to tell you to run out and buy a copy of
Marvel Avengers Endgame
, right? I saw Endgame twice in the theater and it still rocked me emotionally when I streamed the review copy Disney sent me on Movies Anywhere. There's not much to say about the film, but I can discuss the bonus features featured on the blu-ray and digital download. You'll need something to watch once the film is over…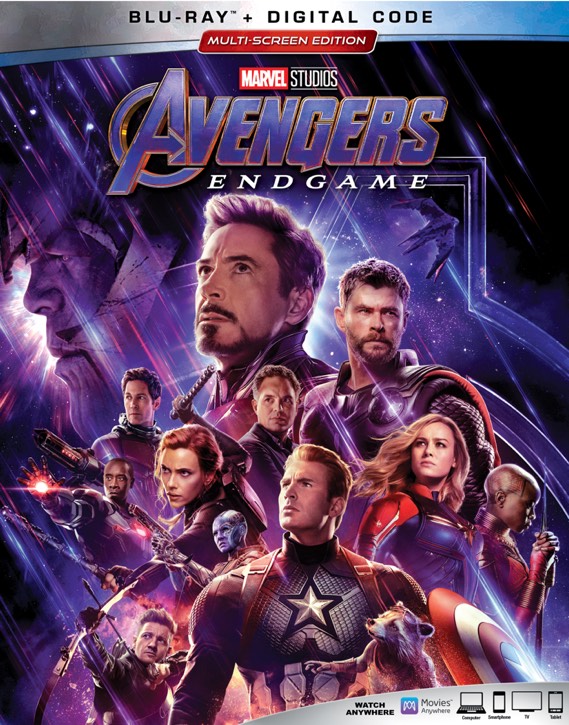 Avengers Endgame BONUS MATERIAL
Digital Exclusive:
Steve and Peggy: One Last Dance – Explore Captain America and Peggy Carter's bond, forged in moments from previous films that lead to a momentous choice in "Avengers: Endgame."
Blu-ray & Digital:
Remembering Stan Lee – Filmmakers and cast honor the great Stan Lee in a fond look back at his MCU movie cameos. It's hard to think about Stan Lee passing, but this is a warm and very humorous tribute to the man. I forgot some of these cameos!
Setting The Tone: Casting Robert Downey Jr. – Hear the tale of how Robert Downey Jr. was cast as Tony Stark in the original "Iron Man" — and launched the MCU. Sometimes I gorget that the entire 22 movie franchise started with this one film and finding the perfect actor for Iron Man. This is a well done look at how Robert Downey, Jr. was iron man.
A Man Out of Time: Creating Captain America – Trace the evolution of Captain America with those who helped shape the look, feel and character of this compelling hero. I enjoyed this extra because Cap is the hero inside of all of us, or the hero that we all want to be. He's out shadowed by Iron Man, but there is something heartfelt in everything he does.
Black Widow: Whatever It Takes – Follow Black Widow's journey both within and outside the Avengers, including the challenges she faced and overcame along the way. I wish they had been able to explore Natasha's story in a full-length film, but this is a good look back at her story.
The Russo Brothers: Journey to Endgame – See how Anthony and Joe Russo met the challenge of helming two of the biggest films in cinematic history … back-to-back! Watching how the Russo Brothers brought these films to life is almost as overwhelming as the final battle in Endgame.
The Women of the MCU – MCU women share what it was like to join forces for the first time in an epic battle scene — and be part of such a historic ensemble. Strong women have always been central to the Marvel films.
Bro Thor – His appearance has changed but his heroism remains! Go behind the scenes to see how Bro Thor was created. Bro Thor…say no more!
Six Deleted Scenes – "Goji Berries," "Bombs on Board," "Suckiest Army in the Galaxy," "You Used to Frickin' Live Here," "Tony and Howard" and "Avengers Take a Knee."
Gag Reel – Laugh along with the cast in this epic collection of flubs, goofs and gaffes from set.
Visionary Intro – Intro by directors Joe and Anthony Russo.
Audio Commentary – Audio commentary by directors Anthony and Joe Russo, and writers Christopher Markus and Stephen McFeely.
The bonus features were solid, but they're not the reason you're going to buy Endgame. I enjoyed the extras, especially the ones about Stan Lee, Captain America and Black Widow; there was a lot of thought given to the characters and the actors chosen. The Gag Reel and Six Deleted Scenes were surprisingly disappointing. Overall, you're going to want a copy on blu-ray or digital download so you can watch it over and over. Because you love the Avengers 3000!
Are You Going to Pick Up Avengers Endgame?
---
---

Special thanks to Wes B.,  Aaron R. and Nicole S. for supporting me on Patreon.
---
FTC Disclosure:
 A copy was provided by the company for the purpose of this review. This post contains affiliate links, which means that ImagiNERDing receives a percentage of sales purchased through links on this site. Thank you for your support!