Magic Journey: My Fantastical Walt Disney Imagineering Career by Kevin Rafferty
Stop. Go purchase your very own copy of Magic Journey by Kevin Rafferty right now.
Seriously. This is one of the best Disney-related books that I have ever read.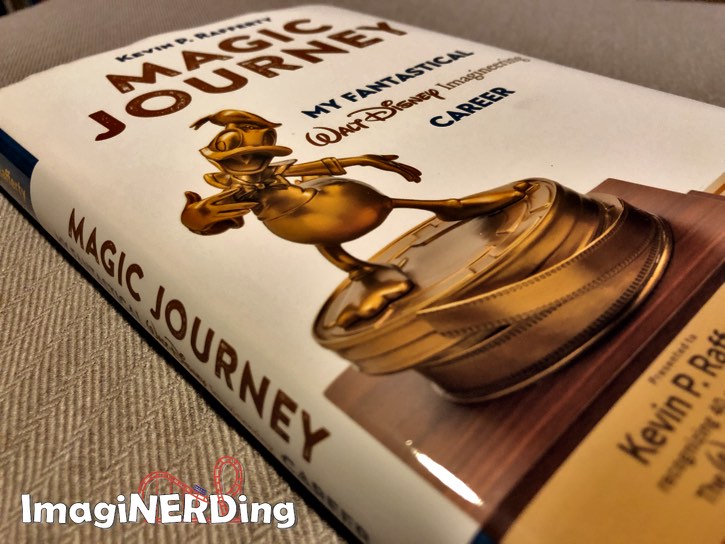 Disney Publishing sent me a review copy of Kevin Rafferty's book and the new Marty Sklar book. Instead of flipping a coin, I decided to read Kevin's book; I knew he did a lot at Imagineering, but I was completely surprised by the depth and breadth of his career. If you've set foot in a Disney park (or some of the resorts), then you've experienced something that Kevin worked on.
For most of his career at Imagineering, Kevin was a show writer and worked in story development, sort of. Kevin dreamed up, developed and helmed sone of the biggest attractions at Disney California Adventure, Disney's Hollywood Studio and more. The book is a memoir that follows his 40-year career from his first job at Disneyland to his final moments at 1401 Flower Street.
Kevin, as you would guess form his years of writing, has an honest style and he wears his emotions on his sleeve. You genuinely feel his excitement, nerves and pride as you ride alongside him throughout his career. And it's a long career that takes up the 300 pages of the book; one that seems as magical as the attractions he worked on.
He also regales us with stories of the Disney legends that he worked with and learned from. His excitement is palpable as he relates every turn his career took, from his first moments at Disneyland, through multiple attractions, to designing an entire land. Kevin's story is epic and he tells it as only a true imagineer can.
You won't believe some of the stories the Kevin has in the book!
I recommend Magic Journey without hesitation; you need to add this book to your collection right now!
Are You Going to Pick Up a Copy of Magic Journey by Kevin Rafferty?
---

Special thanks to Wes B.,  Aaron R. and Nicole S. for supporting me on Patreon.
---
FTC Disclosure: A copy was provided by the company for the purpose of this review. This post contains affiliate links, which means that ImagiNERDing receives a percentage of sales purchased through links on this site. Thank you for your support!