Bob-A-Long Boats and Bob Gurr
Bob-A-Long Boats? Don't you mean Bob-A-Round?
I thought the Bob-A-Round boats were the most unique watercraft built for Walt Disney World. Shortly after posting an article about the Bob-A-Rounds, I received an email from Imagineer and Disney Legend, Bob Gurr about another ill-fated watercraft.
After picking myself up off of the floor (I mean, how often does a Disney Legend email you), I asked Bob a few more questions about the Bob-A-Long boats and he agreed to write a bit about them for me. Bob also sent along two photos of the Bob-a-Long boat which have never been published before!
The Bob-A-Long by Bob Gurr

Soon after WDW opened in 1971, various small watercraft were introduced to the waterways for guest rental operations. One of these watercraft was a small round tub-like electric powered boat, known as the Bob-a-Round. Within a fairly short period of use, the Bob-a-Rounds were deemed deficient in operations and withdrawn from service.

In 1973, WDW watercraft operations requested that a new improved, small watercraft be developed to replace the former Bob-a-Round. A specification of what the new watercraft was to consist of was generated by both WDW and Disneyland operations. A small amount of temporary testing was done at Disneyland using some similar small boats.
The specifications were then sent to WED Enterprises (later WDI) in Glendale, California for design development. The designer assigned was George McGinnis, a lead attraction and ride vehicle designer. George made several renderings of various themed watercraft for operations to consider. The project was referred to as the Bob-a-Long. Several types of themes were illustrated and circulated thru operations over a fairly long period of time, since the project was not on high priority.

Much of the themed design was rejected in favor of something to remain as a small tub-like boat a bit larger than the original Bob-a-Round. In 1974, I was given the task of designing and engineering the new Bob-a-Long, along with the 9 other projects to which I was also assigned from 1973 to 1976. Thus the Bob-a-Long was a sort of routine non-rush project developed during those years by WED and MAPO, Disney's fabrication shops adjacent to WED in Glendale.

I designed and made all the production drawings for the shops to build tooling and fabricate one production-ready Bob-a-Long for testing. The new boat turned out real nice looking and beautifully built by the shop guys. We took it out to Disney's Golden Oak Movie Ranch in Saugus for testing in their water pond. We refined a few items, finalized the propeller size and pitch, then sent the boat to WDW for guest operational testing.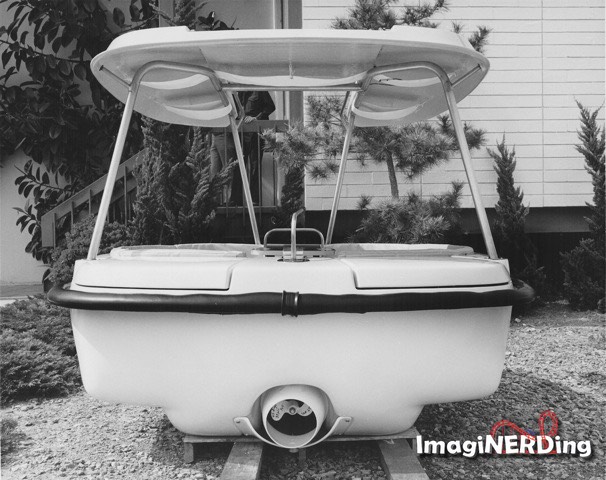 It really was a pretty thing in the water; white fiberglass hull, stainless steel fittings, and comfortable blue seat cushions. It had a built in bin for ice and picnic supplies, and overhead storage for life vests. But, unfortunately it functioned no better than the previous Bob-a-Round boat. The boat was just as slow, which meant that guests would return later than planned to the service dock, and sometimes with low batteries, which had to be charged or changed out. The killer shortcoming was that when a sudden Florida rainstorm wind came up, the poor thing just disappeared downwind. Thus requiring a time-consuming rescue operation, leaving both guests and WDW staff in an unpleasant mood.

The moral of the story had several lessons; never let a simple project drag out over years between several organizations. Never do a project unless it has a leader who champions the whole story. Never fully tool up for series production unless you have already proved out the operational concept by prototype testing. And certainly make sure before you start that your whole plan makes complete sense, both operational, and financial. If the designers get a hold of it too soon, they'll run with it before it can be stopped.
What happened to the Bob-A-Long Boats?
I reached out to Jeff Lange of JeffLangeDVDs and MouseSteps to see if he had any information on the Bob-A-Long boats. He sent me the following photo:
I reached out to Bob Gurr and he responded:
Nope…that's the one and only test boat we built in Glendale, shipped for test to WDW as a rental boat which turned out to be operationally unsuccessful. Since it was test only, there was no publicity materials. I never learned whatever happened to it. I only remember that shortly after the one test period, the project was cancelled.
There you go: photographic proof of the one-and-only Bob-A-Long boat at Walt Disney World!
Did you ever get to experience the Bob-A-Long Boats?
---
Want to learn more about Bob Gurr and his work?
Check out his book: Design: Just for Fun. It is out-of-print, but well worth it, if you can find a copy.
---
Join me on Patreon!
Special thanks to Wes B. for supporting me on Patreon.
https://www.patreon.com/imaginerding
Check out the ImagiNERDing Patreon page to be part of the ImagiNERD community. Get special updates, behind-the-scenes information and more!