Donald's Dino-Bash at Animal Kingdom!
Donald's Dino Bash at Animal Kingdom is an overlay for the Dinoland USA area of Animal Kingdom that brings a lot of charm and energy into a park that has not had as much character or character interaction over the years.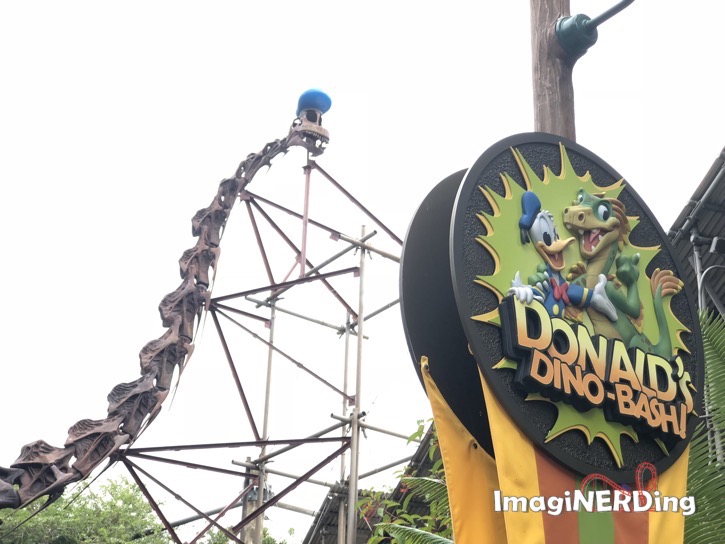 Most of the Donald's Dino-Bash celebration takes place near the Chester & Hester's Dino-Rama and celebrates the history of the dinosaurs that share a common ancestry with Donald Duck. But before we check out the Dino-Bash, but I want to explore the Scrooge McDuck and Launchpad McQuack additions, first!
Donald's Dino-Bash: Scrooge McDuck
Apparently, Scrooge McDuck has an open-air office in the area.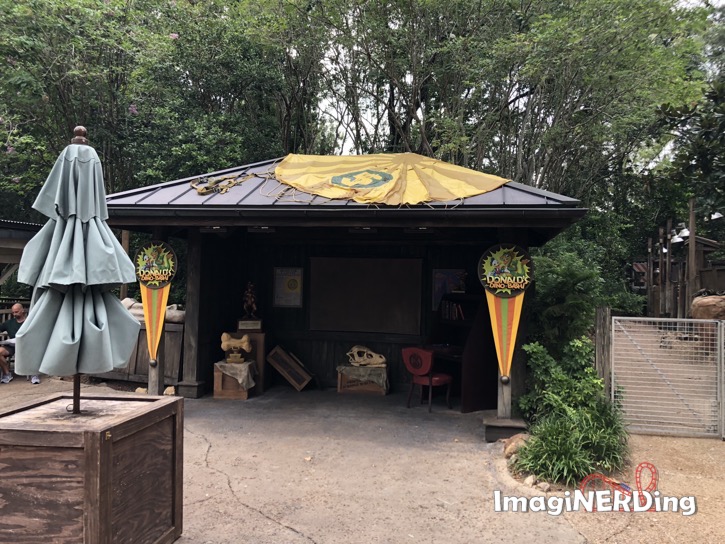 Presented to the honorable
SCROOGE MCDUCK
For his generous contributions in support of
Donald's Dino-Bash!
"Thanks, Uncle Scrooge!"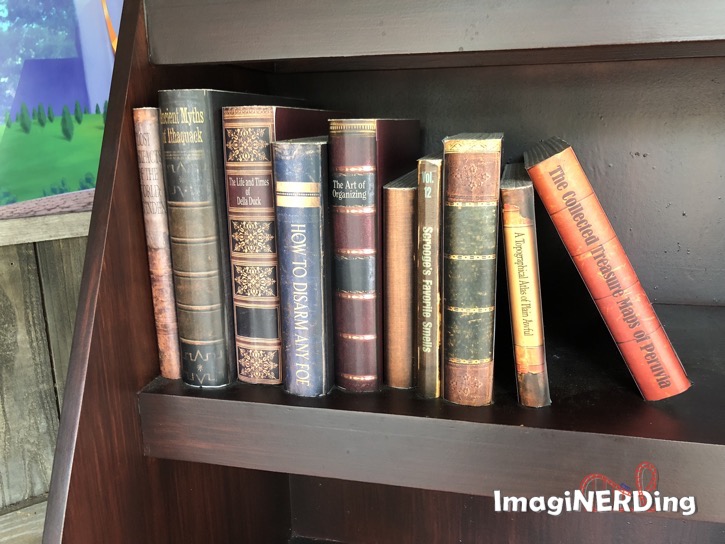 Of course, I had to document the books that I found on Scrooge McDuck's secretary:
Lost Artifacts of the World: an Index
Ancient Myths of Ithaquack
The Life and Times of Della Duck (yes, Della is Donald's sister and the mother of Huey, Dewey and Louie)
How to Disarm any Foe
The Art of Organizing
Scrooge's Favorite Smells, Vol. 12
A Topographical Atlas of Plain Awful
The Collected Treasure Maps of Peruvia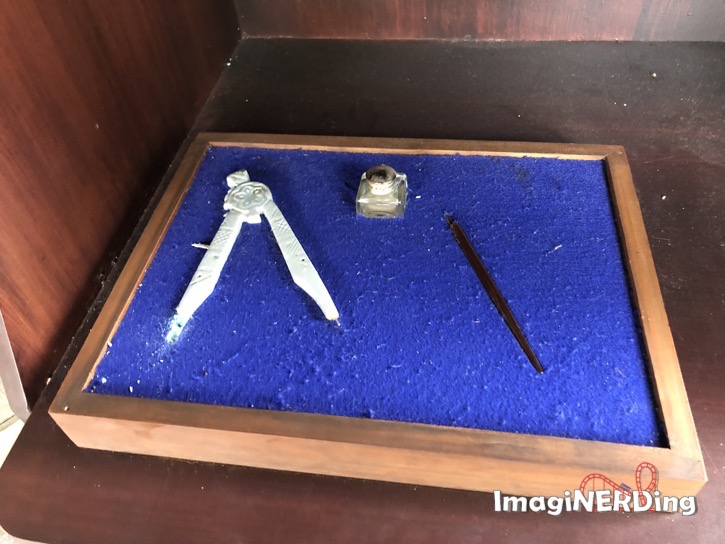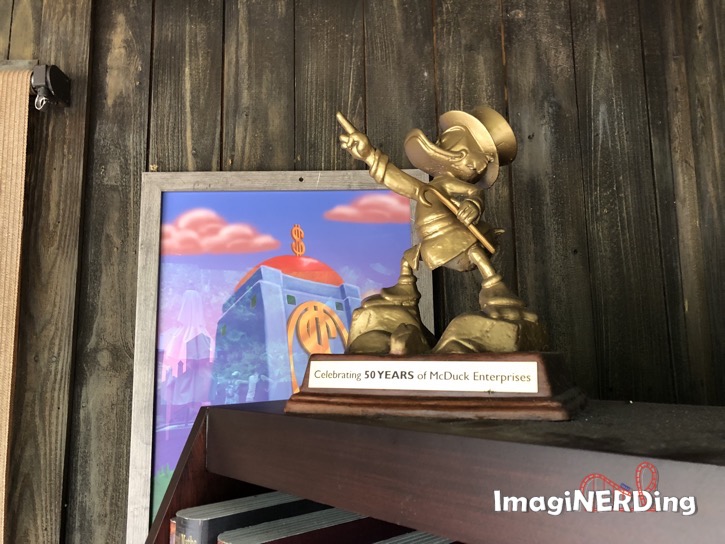 A statue celebrating 50 years of McDuck Enterprises with a painting of his beloved vault in the background!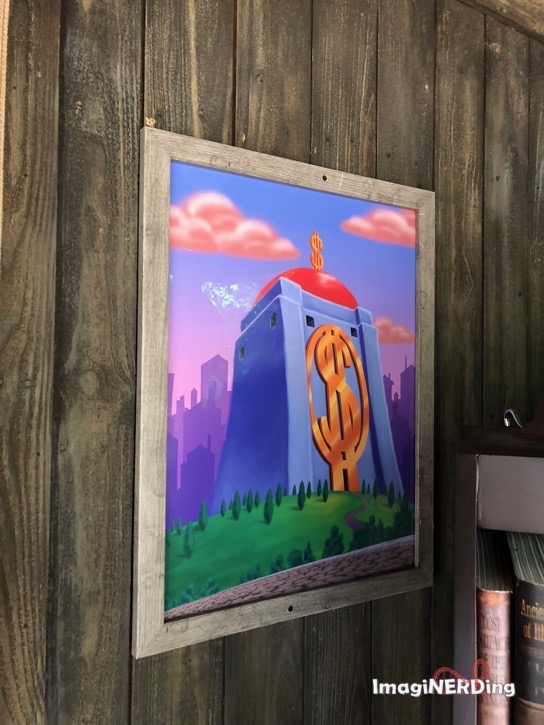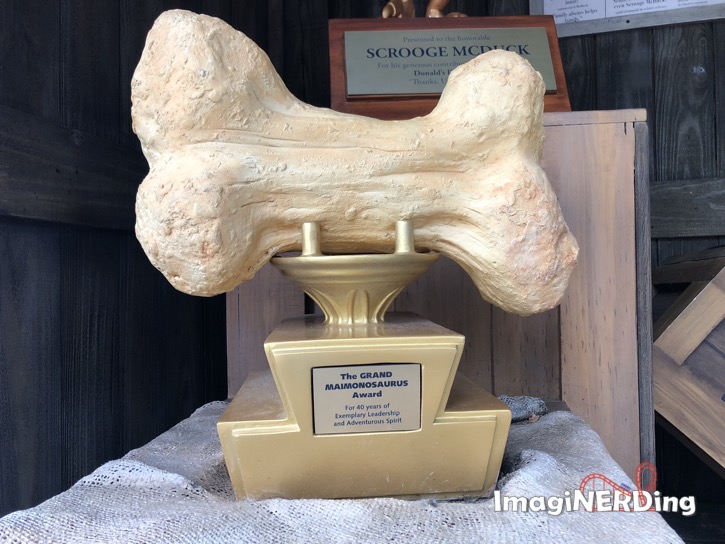 The GRAND MAIMONOSAURUS Award
For 40 years of
Exemplary Leadership
and Adventurous Spirit
Donald's Dino-Bash: Launchpad McQuack
There's also a meet and greet area for Launchpad McQuack close to Dinosaur. There are a lot of great hidden details and nods to the animated series and the comics.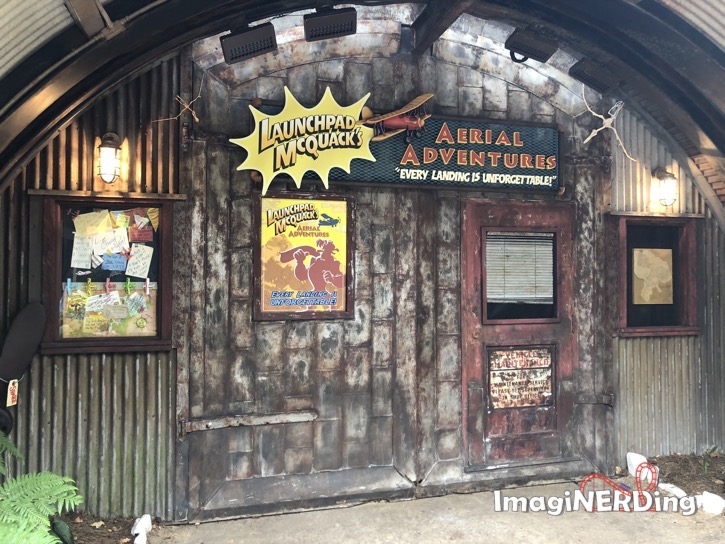 Looks like we've got a few customer comment cards…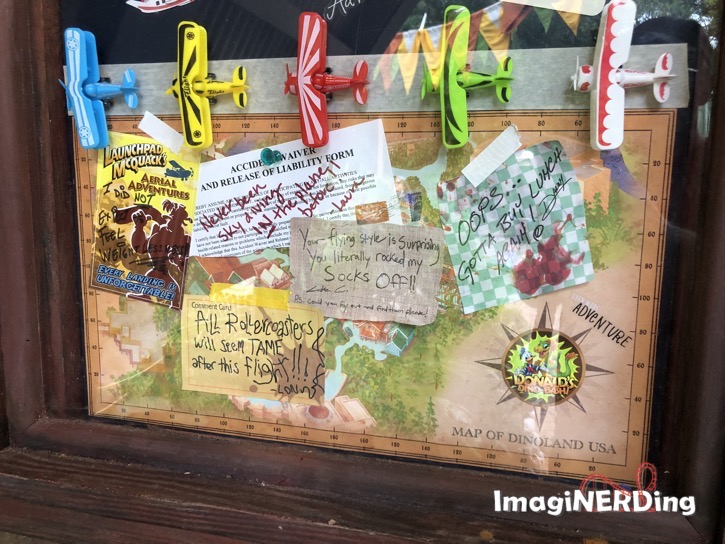 There are a few pieces of luggage with some stickers referring to other places that Scrooge and company have visited.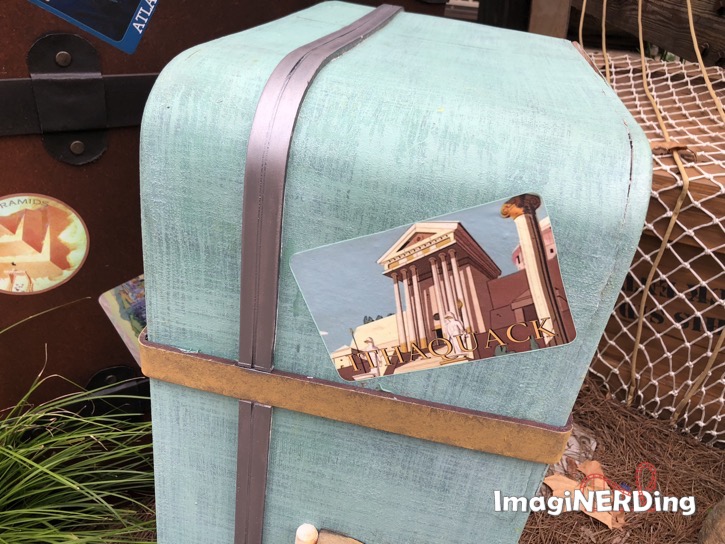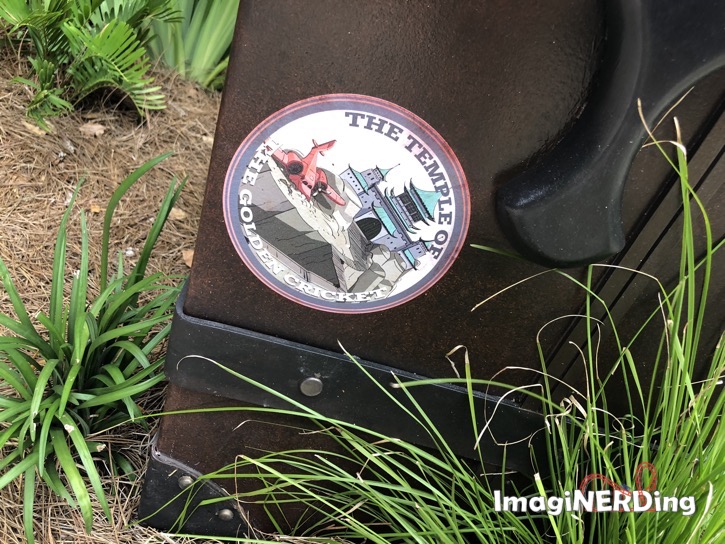 The Temple of the Golden Cricket!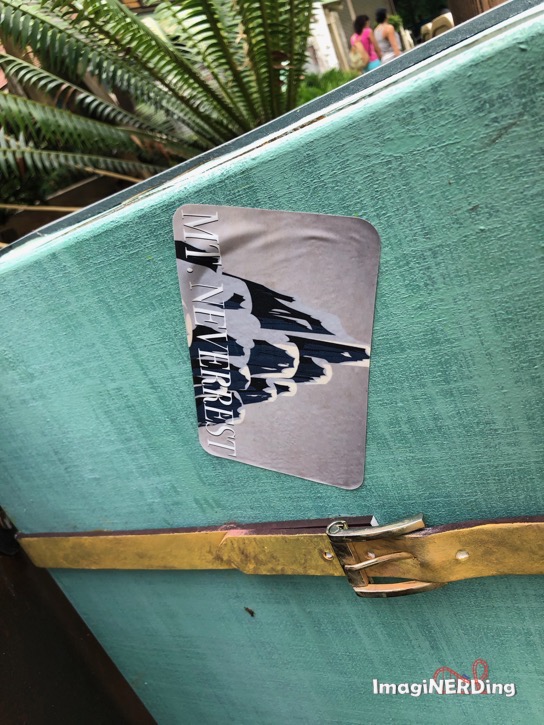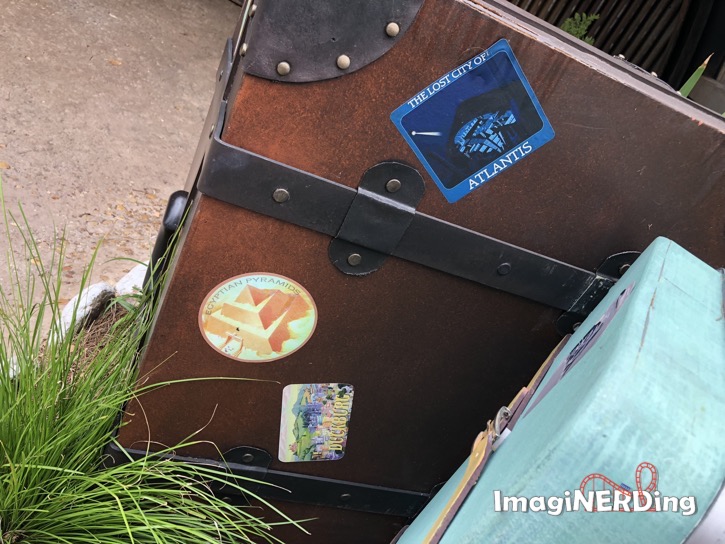 The Lost City of Atlantis
Egyptian Pyramids
Duckburg
Greetings from Dinoland USA!
Donald's Dino-Bash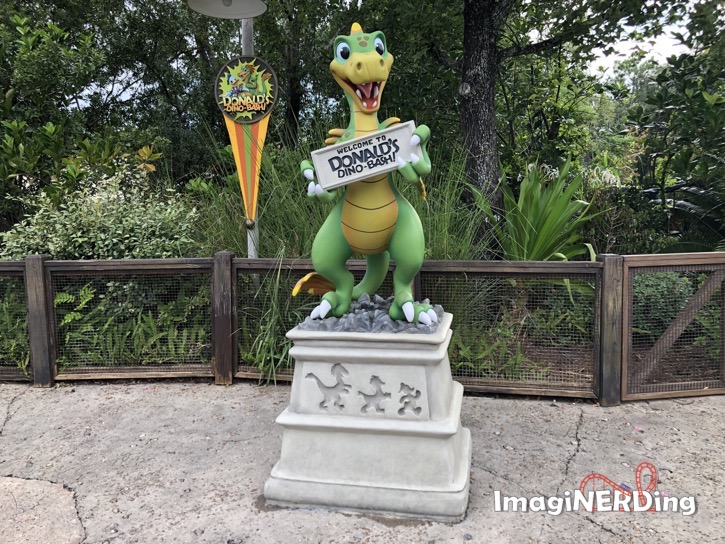 There's a wonderful statue that greets you as you enter the Dino-Bash area proper near the TriceraTop Spin section. It's a great photo spot and I saw several people taking selfies and group photos with the statue.
You will also run into Chip and Dale in their Dino-Bash outfits as they host a dance party or two.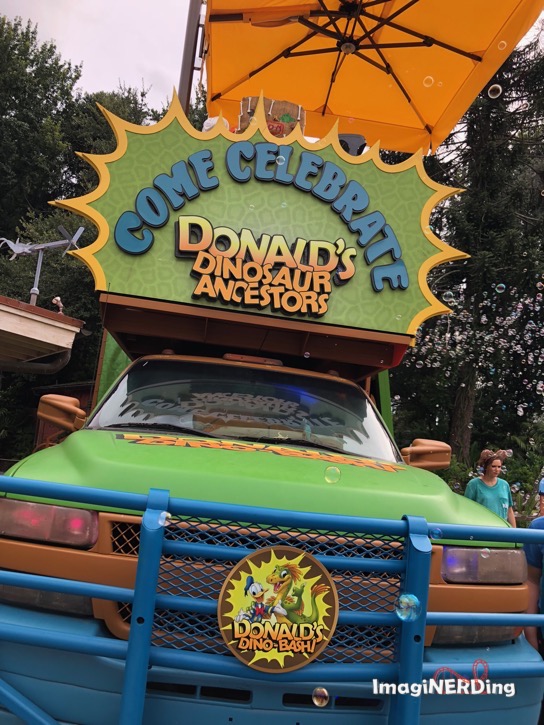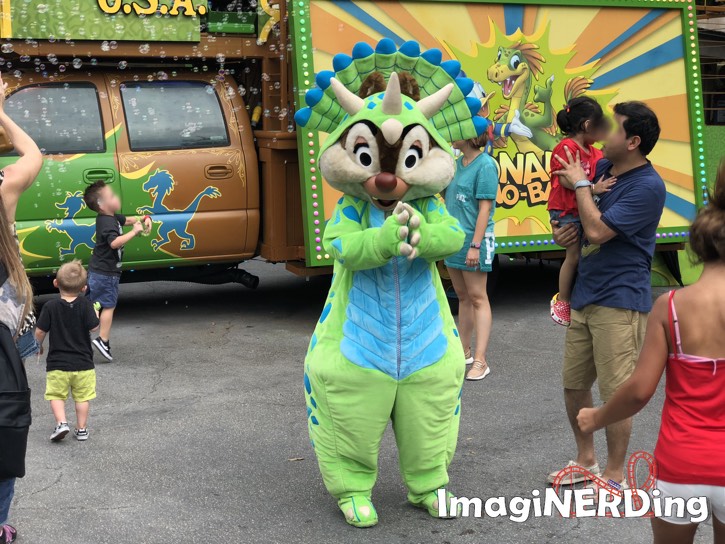 I'm not actually sure what he's looking at…
I was surprised at how much charm and excitement that the overlay added to Dinoland USA. There are a few signs that explain dinosaur facts and how some dinosaurs are Donald's ancestors. Overall, it's a delightful addition that will appeal to children and families. Fans of the new Ducktales series will enjoy discovering the hidden details and clues left behind by the Imagineers.
What do you think about Donald's Dino-Bash?