Why Disney Fans Need to Visit Knoebels Amusement Park
Knoebels Amusement Park in Elysburg, Pennsylvania calls itself America's largest free admission amusement park; rightly so. Knoebels (pronounced kuh-no-bells) is an amusement park without a gate or fence which is surrounded by forests, mountains, campgrounds and cabins. Besides the main parking lot, you can enter Knoebels from almost anywhere on the map! (There is even a road that bisects part of the park.)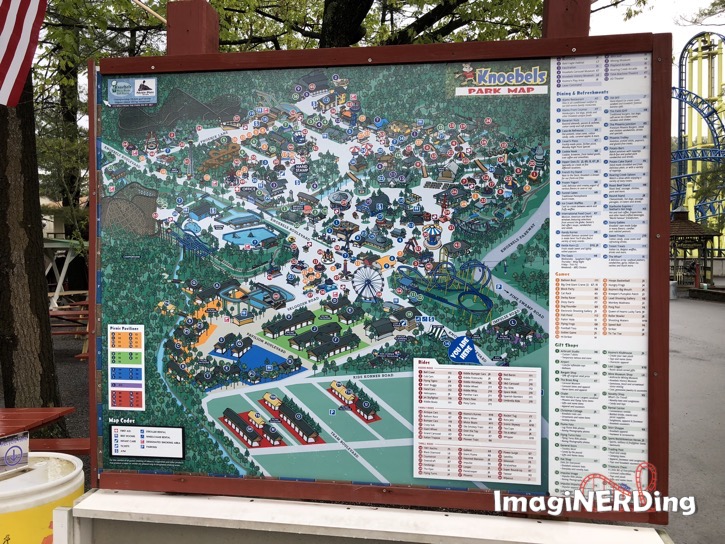 Knoebels has been on my wish list of parks to visit for many years and I was excited to reach out the the wonderful Knoebels PR team about my visit. They did provide a free ride wristband for my visit in exchange for social media posts and this blog post. But readers of ImagiNERDing know that I take my visits seriously and I will post the good with the bad. Spoiler alert: Knoebles is pretty daggum amazing!
So, Why Should Disney Fans Visit Knoebels?
Simply put: Knoebels is a beautiful example of a park that predates and led to the development of Disneyland. You won't find rides like Pirates or Splash Mountain, but you will find undeniable charm, spectacular food and family fun.
The park officially opened in 1926 and is a wonderful example of how amusement parks were back in the 1920s and 1930s, before the idea of the theme park really caught on. Also, Knoebels, like Kennywood (outside of Pittsburgh), offers museum-quality flat rides that everyone should experience. The park feels like a simpler time and the type of place where kids hang out all summer and make amazing memories.
Knoebels Atmosphere
Right off the bat I was charmed by the beauty of the park. It's nestled among the mountains of coal country and surrounded by forests and streams.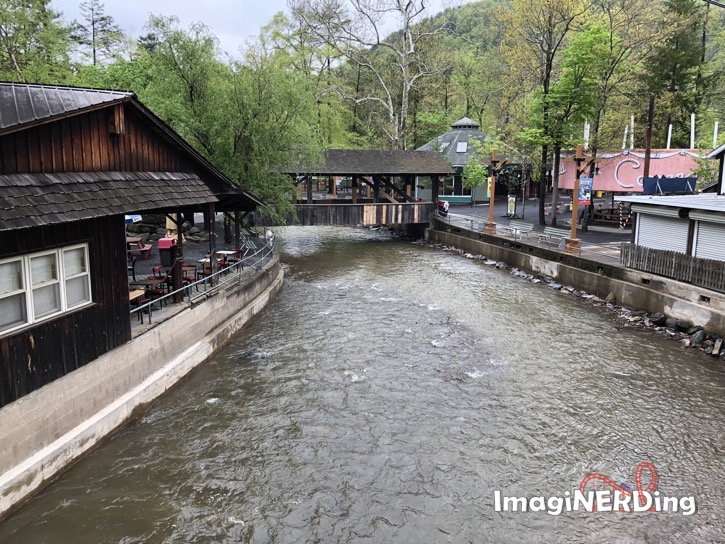 There are bridges and pathways that seam to meander and take you to different parts of the park. Even after spending a full day at the amusement park, I still felt like there were surprises waiting for me.
As I mentioned, you can camp at Knoebels. This would make a neat vacation because you could visit the park for a few hours, head back to the cabin for a meal and then do a few more rides.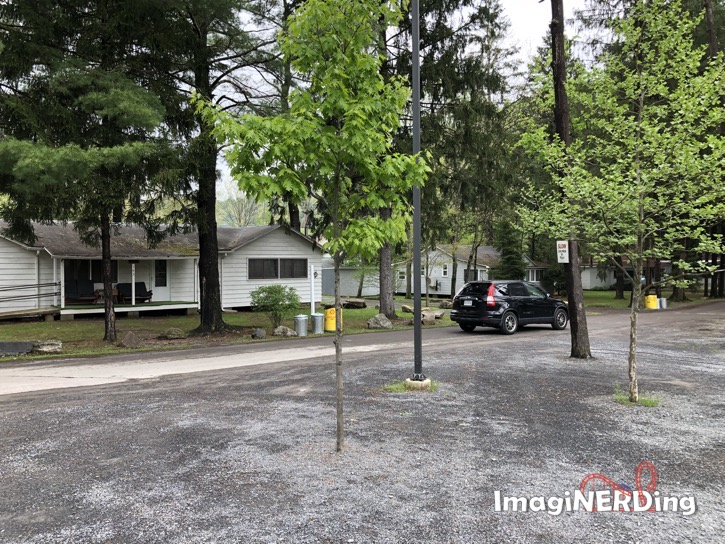 Knoebels Rides and Attractions
Knoebels is home to six roller coasters and more flat rides and amusement rides than you can count! There is no admission to the park and each ride has separate price. You can get a wristband during the week which covers all rides (except the Haunted Mansion) but during the busy summer weekends, you do have to buy tickets for each ride (they don't offer wristbands on the summer weekends because of the larger crowds).
The Knoebels Coasters
Knoebels is world-renowned for their three wooden coasters. Each one has an amazing story and deserves much more attention.
Flying Turns
The Flying Turns is a bobsled-style coaster that was custom-built by the park and debuted in 2013.
It's extremely unique and truly is a one-of-a-kind ride. The sounds of the bobsled sections are unlike any other coaster.
The Flying Turns has a very slow load time, so make sure to be in line for this coaster before the park officially opens. The employees at Knoebels are fantastic and are very good, but the coaster just has a slow load time, so expect longer waits.
The employees at Knoebels were friendly, engaging and a lot of fun. I've visited parks all over the country and the very best employees have been at Dollywood, Holiday World and Knoebels. The Knoebels employees came from all walks of life and truly seemed to have a love for the park and what they were doing. Also, there were multiple attendants at most of the kids rides, which never happens at most regional parks. Kudos to Knoebels!
Twister
Twister is a coaster that is based on the designs of the Mister Twister coaster from Elitch Gardens in Denver, Colorado. They were going to relocate the coaster, but there just wasn't enough space. So, they bought the blueprints and changed the designs somewhat to fit the space available.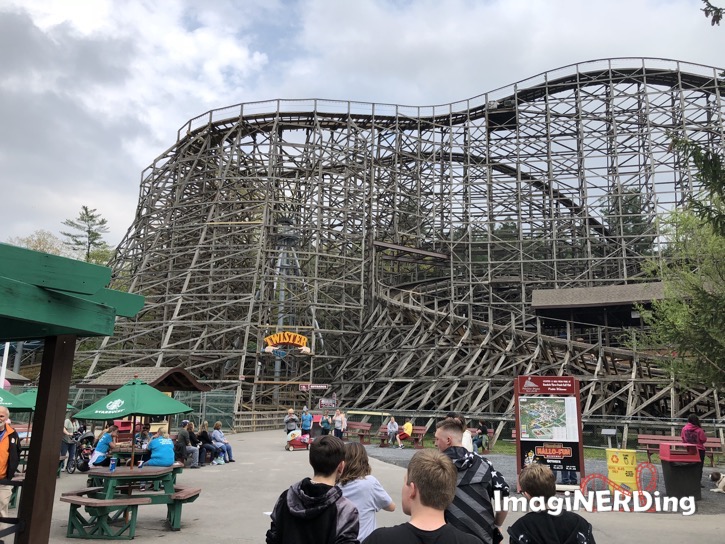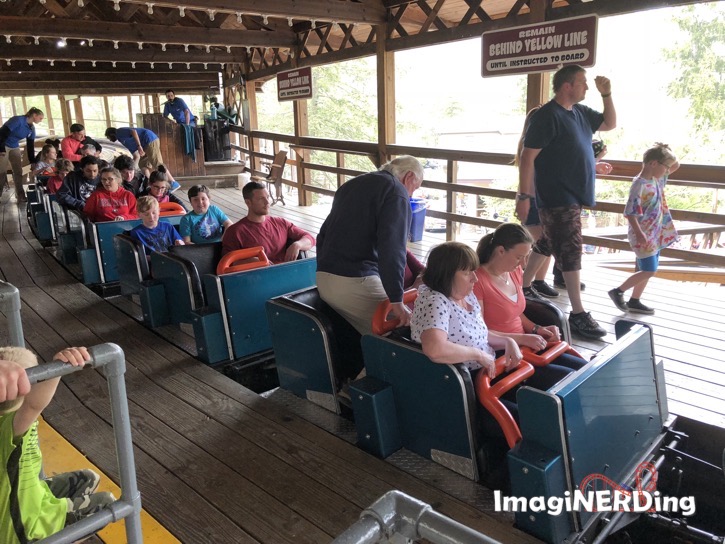 The Phoenix
The Phoenix is another inspiring roller coaster story. Knoebels wanted a wooden coaster, but the coast of a new one was prohibitive, so they found one in San Antoinia, TX, that was at a defunct park and relocated it to Knoebels, piece-by-piece. Yes, piece-by-piece.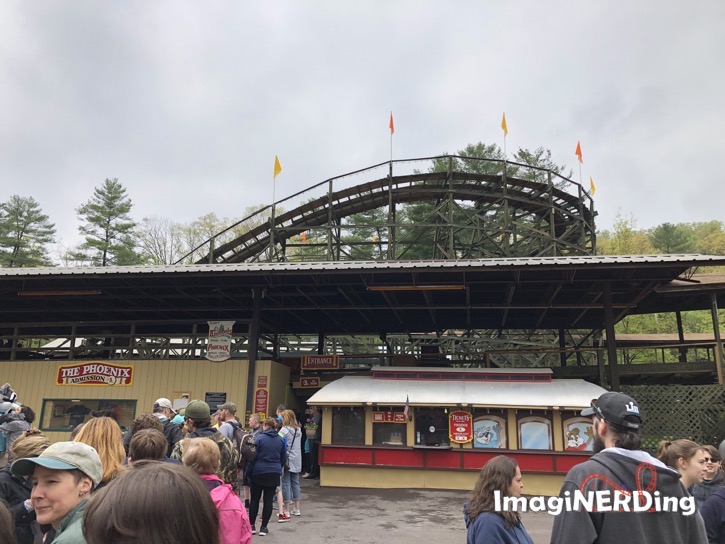 The Phoenix is a sublime wooden coaster that belies its age. It is the most spectacular coaster in the park and well deserves the accolades. This is a coaster that deserves several re-rides.
Black Diamond
Blak Diamond is the fourth coaster that I was excited to try at Knoebles for historic reasons. This is a coaster that was originally called the Gold Nugget and was built in 1960 at Hunt's Pier in New Jersey. It was a combination roller coaster and dark ride built by Philadelphia Toboggan Company and dark ride legend Bill Tracy (check out my PTC history video to learn more about Gold Nugget, here).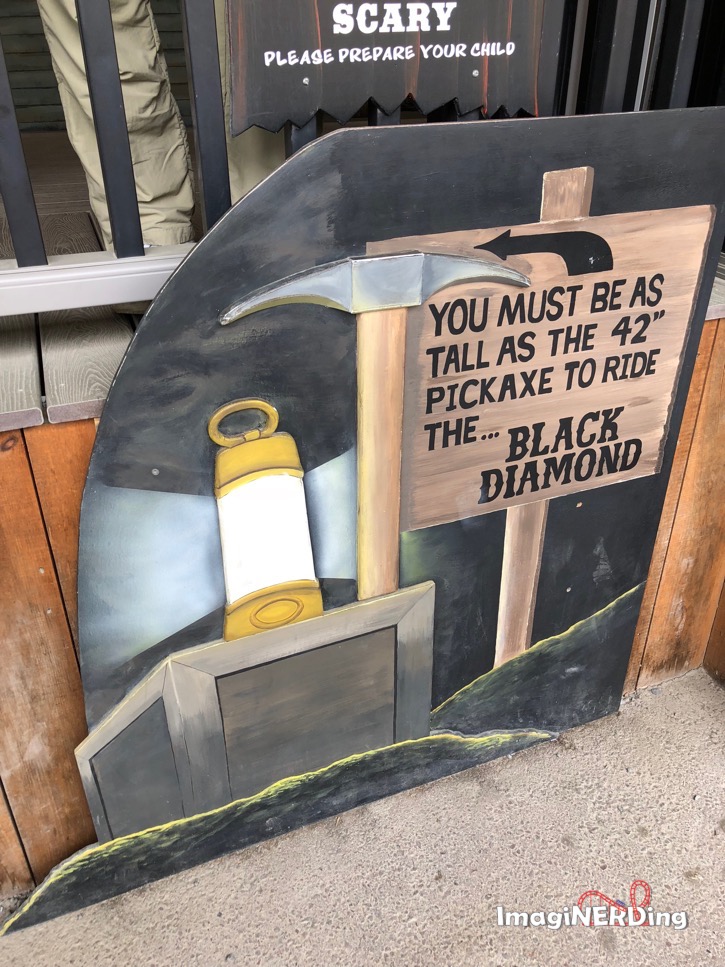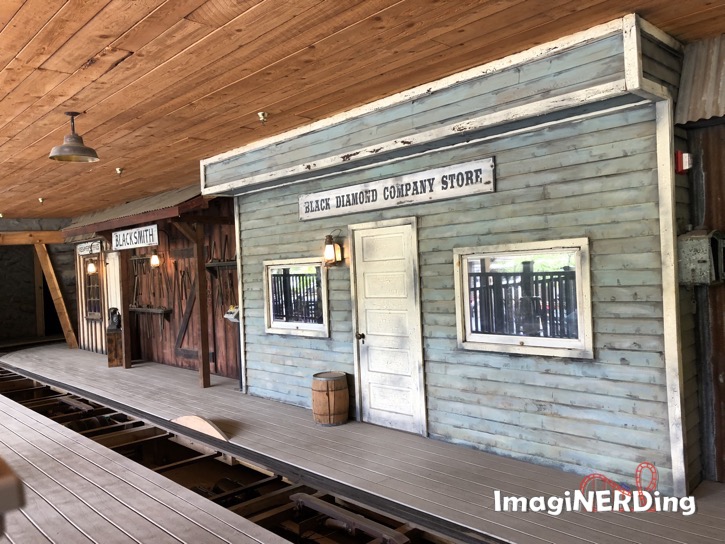 Black Diamond was rethemed to legends of haunted coal mines of the local countryside and the special effects work very well. There are newer effects mixed with older dark ride stunts. It's a wonder trip back through time.
Impulse
There is a modern Impulse coaster, which is odd for the flavor of the park, but younger riders (teens) will enjoy it.
The Knoebels Grand Carousel
The Grand Carousel is a work of art and one of the few remaining carousels in which you can still grab the brass ring for a free ride. Check out my post not the amazing Carousel Museum at Knoebels.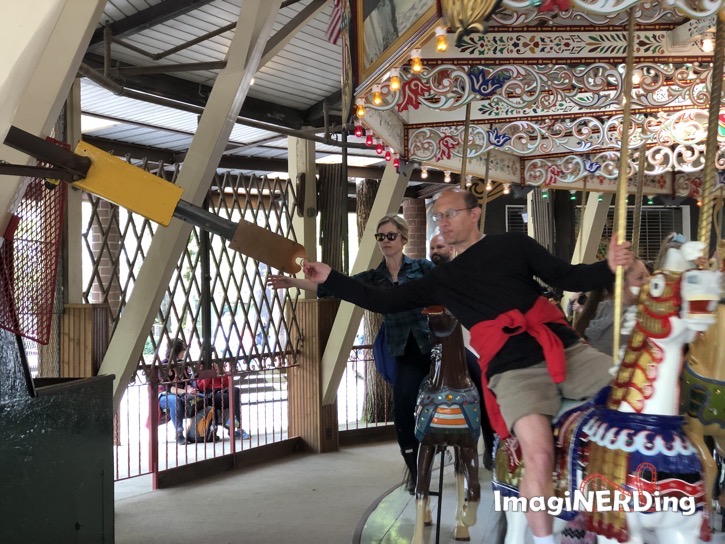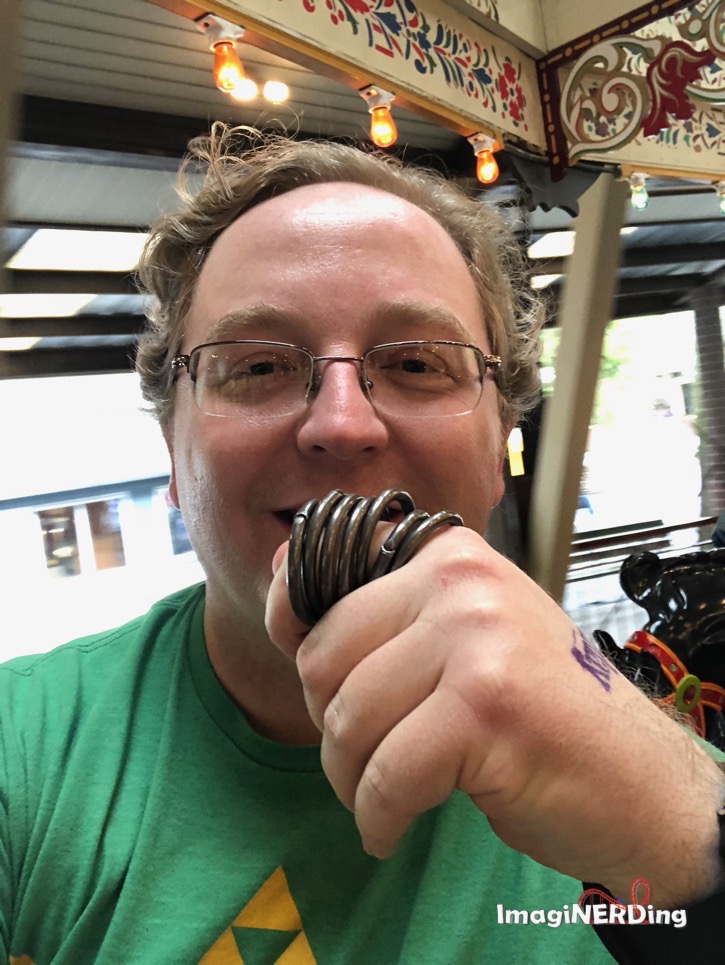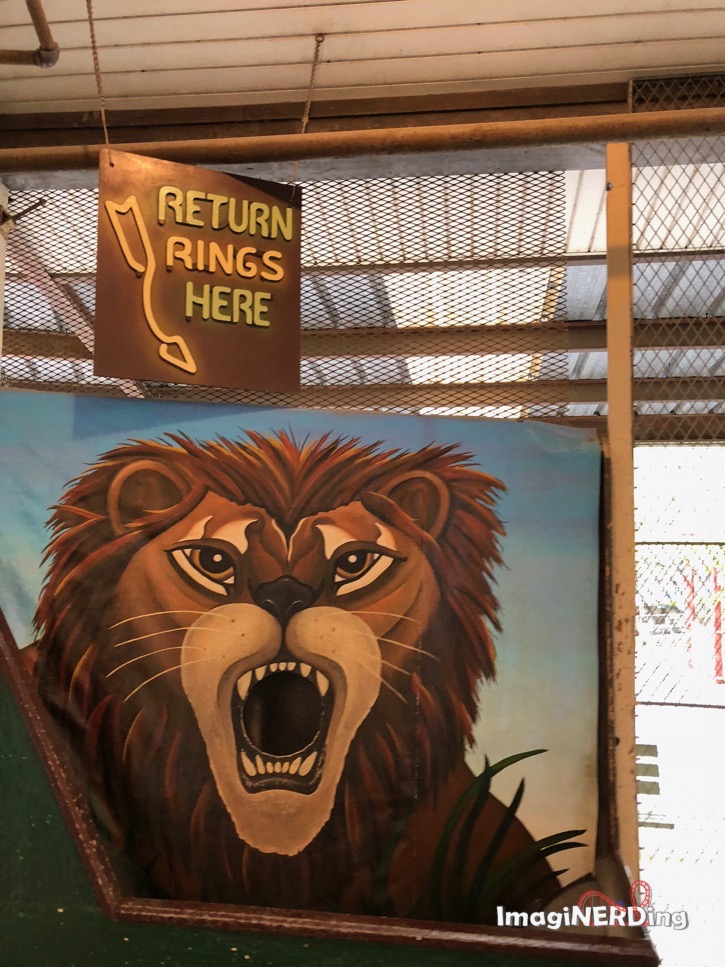 The Haunted Mansion
Another signature attraction is the Haunted Mansion, a classic 1973 dark ride. This is similar to The Whacky Shack at Waldameer, but offers a lot more jump scares.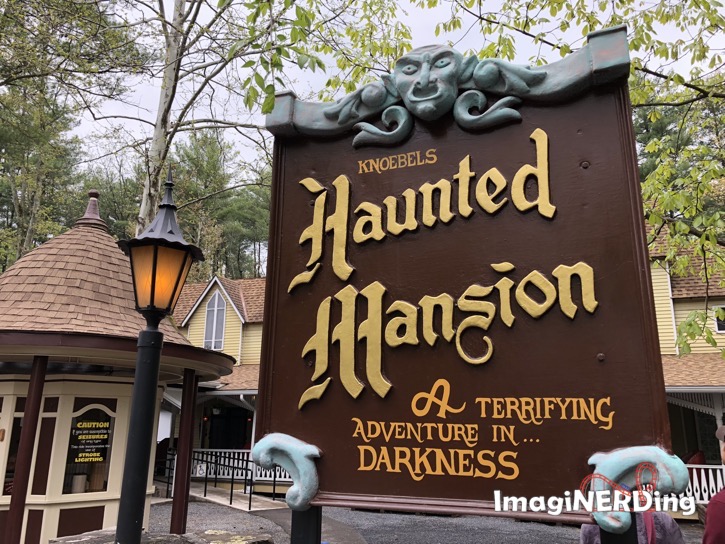 You do have to purchase a separate ticket for the Haunted Mansion, since it's not included in the wrist band.
Pioneer Train
The Pioneer Train is a wonderful junior train that takes you through the nearby forest and right through the middle of Twister! It's a fun train that's perfect for the family.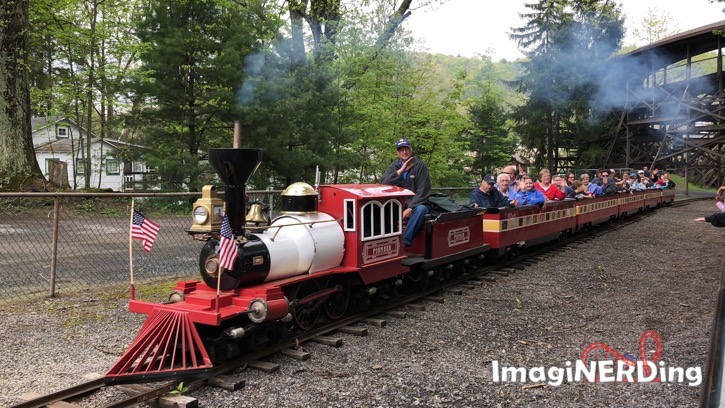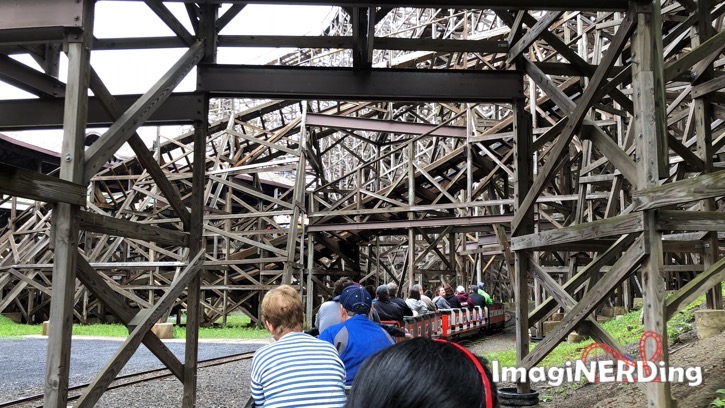 Other Knoebels Rides
Knoebels is replete with so many historic and modern flat rides that it's mind-boggling. There are classic rides from the past and modern rides for the kids and teens.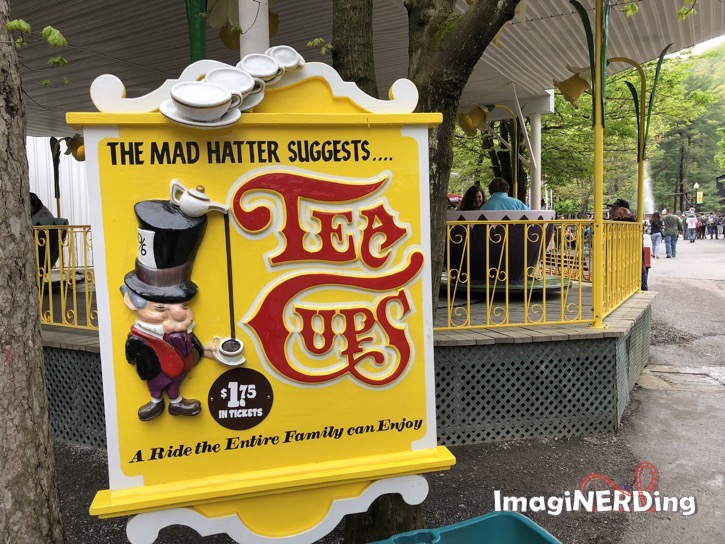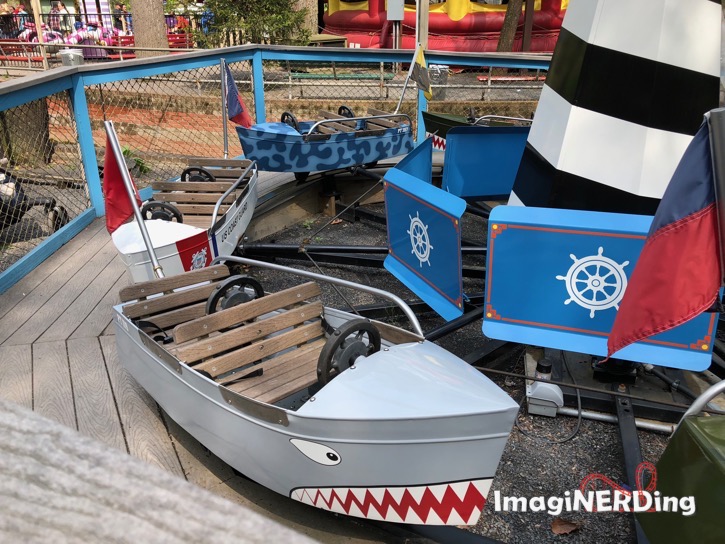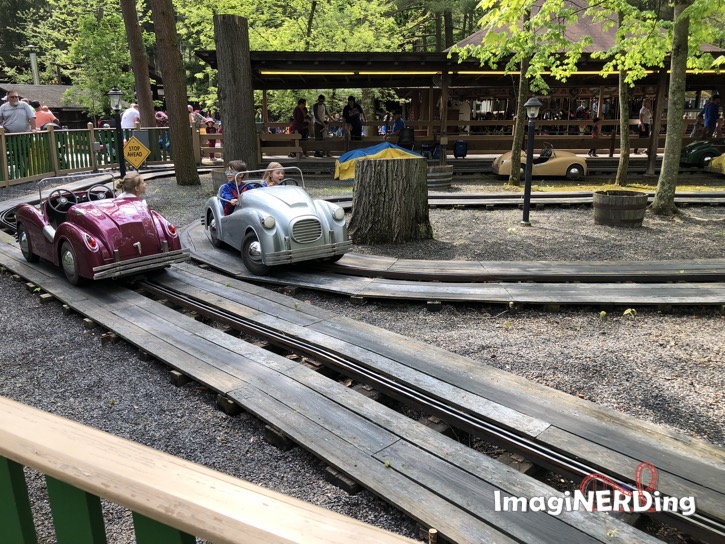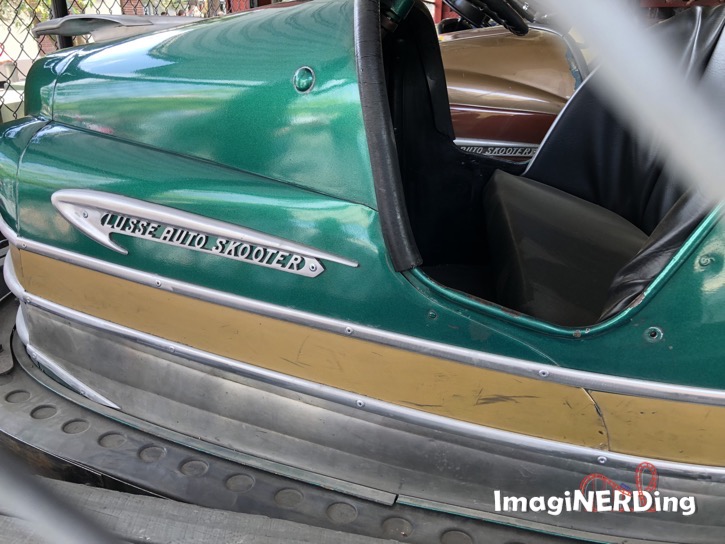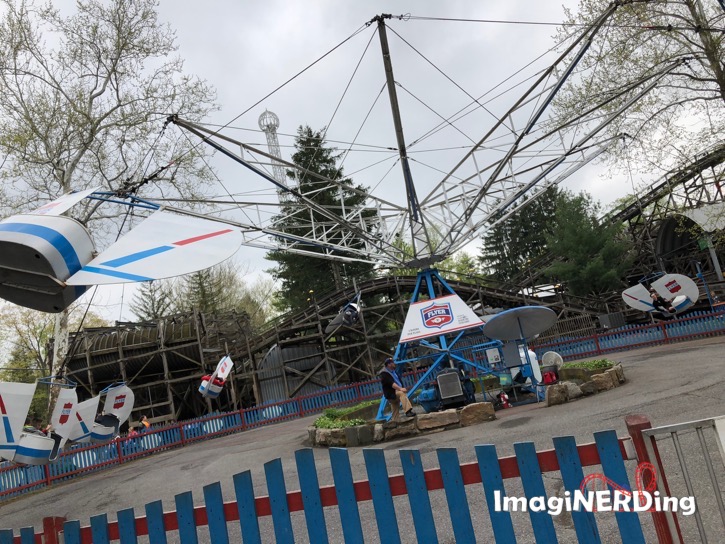 Knoebels Food!
Food at amusement parks is serious business and most food (even at Disney) is pretty terrible. Dollywood has always offered my favorite park food, but Knoebels is giving Dolly and crew some serious competition! The food at Knoebels has its roots in the Pennsylvania Dutch region and the fact that the park started as a picnic grove. The food is plentiful and very inexpensive!
I did my best to snack on different things throughout the day, but I was stunned by the different choices for pierogis. Plus, the smothered fries were so good!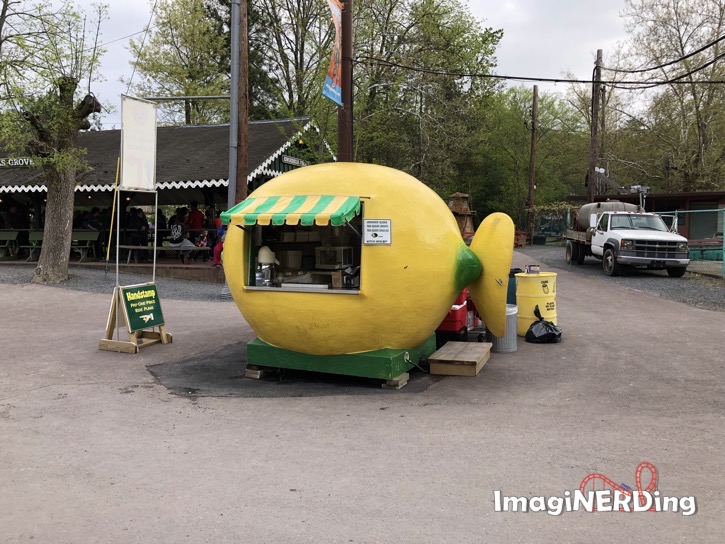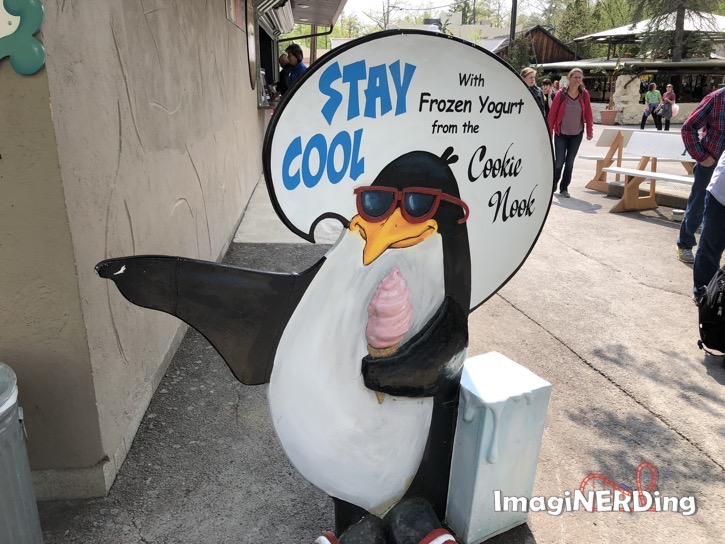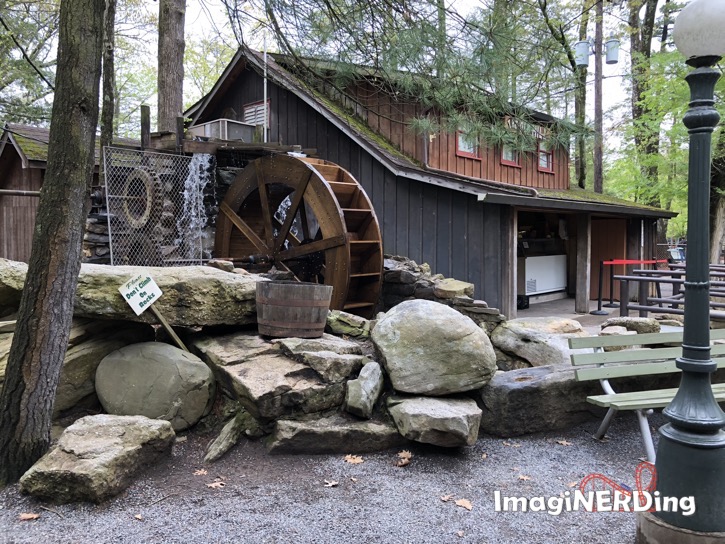 Around Knoebels
I just wanted to share a few other photos from my visit. The park also has three separate Carousel, Coal and Knoebels Museums, but they each deserve their own post.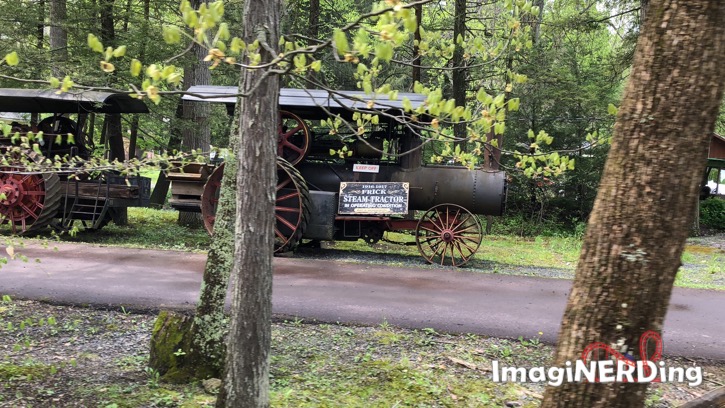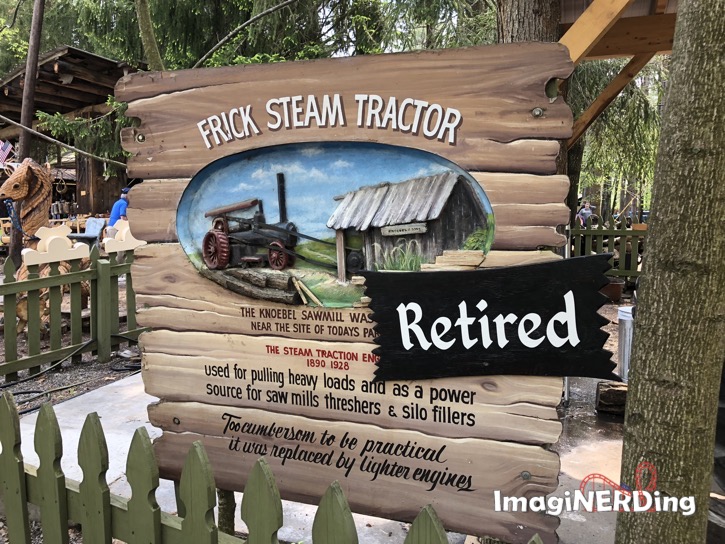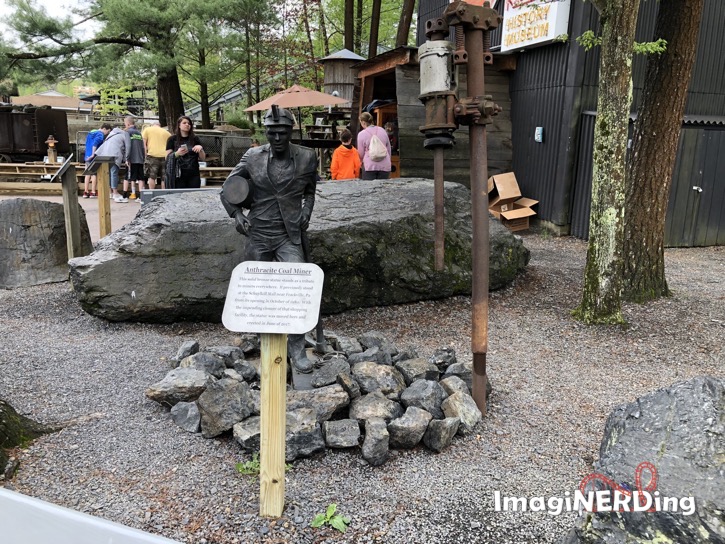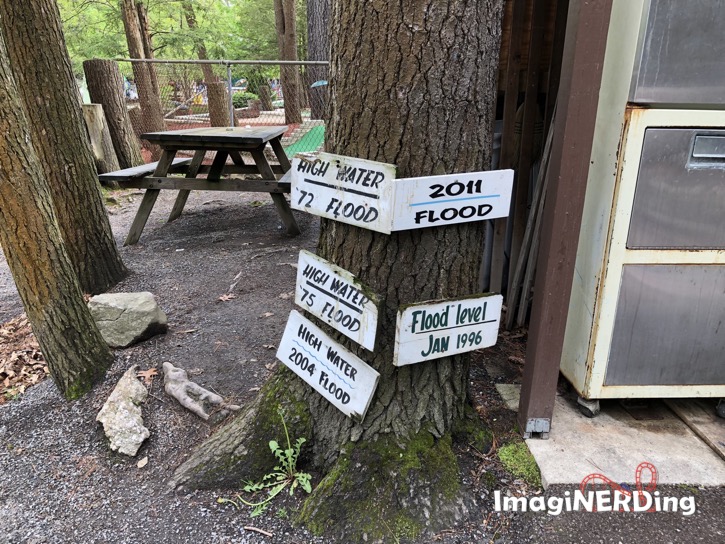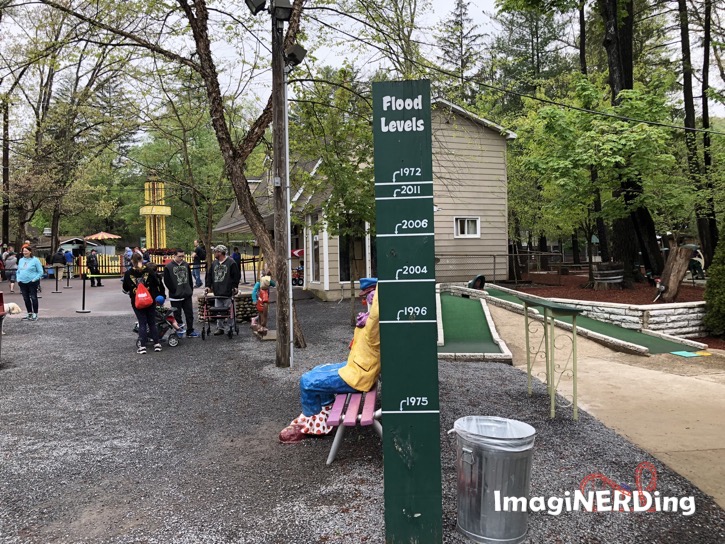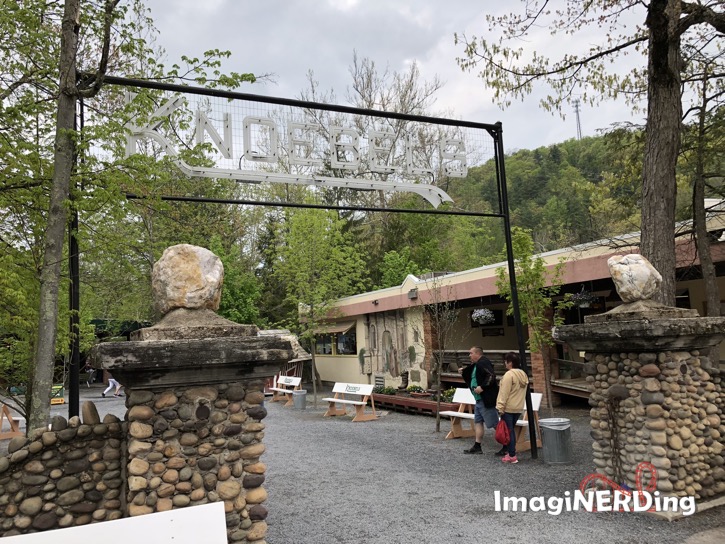 Have you ever visited Knoebels Amusement Park in Pennsylvania? What's your favorite ride or food?
---
Join me on Patreon!

https://www.patreon.com/imaginerding

Check out the ImagiNERDing Patreon page to be part of the ImagiNERD community. Get special updates, behind-the-scenes information and more!