Check out Dollywood's announcement for the 2018 season!
DOLLYWOOD MAKES LARGEST ENTERTAINMENT INVESTMENT IN HISTORY
Dolly Parton announces stellar 2018 entertainment lineup
PIGEON FORGE, Tenn. (Friday, November 3, 2017)—Dolly Parton today announced an unprecedented entertainment lineup to ensure the spotlight remains solely on her Dollywood theme park. The performing icon unveiled her unwavering commitment to Dollywood's family entertainment offerings with an extraordinary investment for 2018.
Hailing the year as a "Season of Showstoppers," Parton announced an entertainment lineup which represents an investment $1 million greater than any season-long entertainment schedule in the park's history. Headlining 2018 are performances by The Marshall Tucker Band, The Drifters, T.G. Sheppard, Suzy Bogguss, Atlanta Rhythm Section, Crystal Gayle, Ladysmith Black Mambazo, and a host of other award-winning artists.
"Music is the universal language that unites all of us," Parton explained. "It celebrates our people, our families and our communities. I've made music my life's work because I feel each and every one of us has a special song to sing. I've made sure that here at my Dollywood, we use music to encourage and inspire those songs in each and every one of our shows."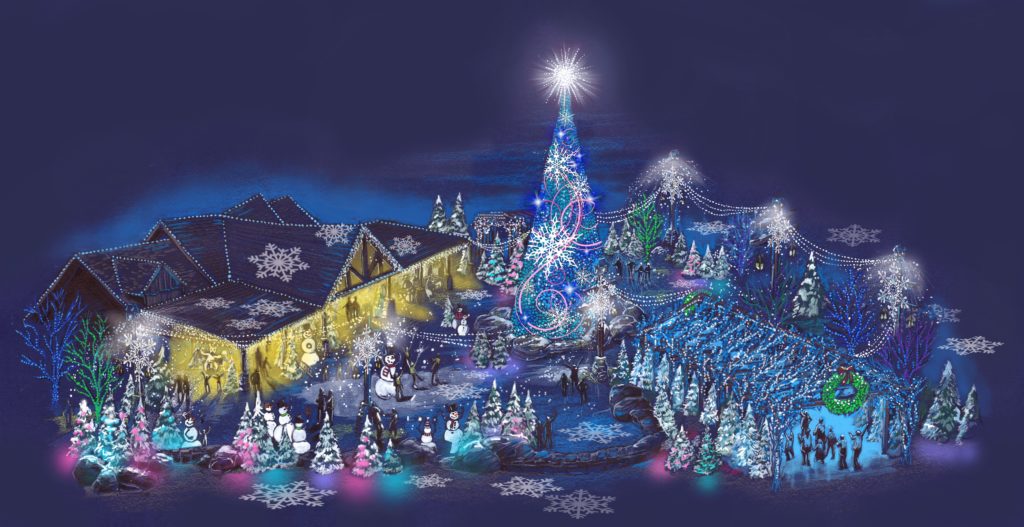 Dollywood's 2018 entertainment roster reads like the nomination list from an awards ceremony. A range of performers—from CMA Hall of Fame members to emerging artists—ensure there is something for everyone. Combined, the headlining artists performing at Dollywood in 2018 have 42 gold albums, 18 platinum albums, 30 Grammys, 14 Country Music Association Awards, 10 American Country Music Awards, five American Music Association Awards and 62 Dove Awards.
It all begins with Dollywood's Festival of Nations (March 17-April 9) which includes headliners National Dance Company of Siberia, The Flamenco Kings starring Los Vivancos, and Ladysmith Black Mambazo. Hailing from South Africa, internationally-known Grammy award-winning group Ladysmith Black Mambazo—who worked with Parton on her 1996 album Treasures—has teamed with Paul Simon, Sarah McLachlan, Emmylou Harris, and many more.
April plays host to three weeks (April 11-29) of stellar performances during the all-new Spring Mix music series. Dollywood guests can expect performances by Dollywood entertainment alumnus Bogguss, Sheppard, Pam Tillis, Gayle, Connie Smith and Shenandoah during the first week of the event. The second week plays host to artists such as Amy Grant, The Blind Boys of Alabama, Larnelle Harris, David Phelps and comedienne Chonda Pierce – also known as "The Queen of Clean."
Classic artists like The Marshall Tucker Band (Can't You See and Heard it in a Love Song), The Drifters (Under the Boardwalk and Save the Last Dance for Me), Debby Boone (You Light Up My Life), The Atlanta Rhythm Section (So Into You andImaginary Lover), Firefall (Just Remember I Love You and You Are the Woman), and Al Stewart (The Year of the Cat and Song on the Radio) entertain park guests during the final week of the event. Individual concert dates and show times will be announced at a later date.
Already one of the nation's best bluegrass events, Dollywood's Barbeque & Bluegrass (May 25- June 10) adds an extra week of concerts from the biggest names in the business. Guests should expect hundreds of live bluegrass performances during the festival with headline shows from Grammy and IBMA winner Rhonda Vincent & The Rage, and IMBA winners Doyle Lawson and Quicksilver, Dailey & Vincent, and many more.
Families have a multitude of world-renowned options to keep them entertained during Dollywood's Summer Celebration. iLuminate, finalists on America's Got Talent in 2011, bring their electrified glow-in-the-dark costumes to DP's Celebrity Theater to perform dynamic dance routines and illusions to thrill guests. Summer 2018 also sees international touring sensation DRUMLine Live! visit the park with riveting rhythms, bold beats and ear-grabbing energy. Developed by the consultants of the hit 2002 movie Drumline, the band featured in this exhilarating show creates a synchronized musical masterpiece for guests—it's more than just the typical halftime performance! Dan Dunn—America's favorite speed painter—brings his innovative and mesmerizing PaintJam to Dollywood. Audiences will be astonished as he creates stunning works of art on a spinning 360-degree canvas, while he dances and moves throughout the performance.
Dollywood's popular Rock the Smokies moves to August 25 with TobyMac and Crowder serving as headliners. Multiple contemporary Christian artists perform throughout the park during this exciting conclusion to the summer.
Dollywood's Harvest Festival presented by Humana (Sept. 28 – Nov. 3) provides more fall family fun with the expansion of the new guest-favorite Great Pumpkin LumiNights and the largest Southern gospel event in America. During the festival, several hundred performances by Southern gospel royalty take place during the day, while at night, thousands of carved pumpkins illuminate the dark with an expanded number of displays and activities for families to enjoy.  Dollywood guests also can enjoy the spectacular artistry of visiting crafters from across the country, or sample the special harvest-themed food items from Dollywood's award-winning foods team.
Dollywood's 2018 season again ends with America's favorite theme park holiday event, Smoky Mountain Christmas. Voted as the best theme park Christmas event for a decade, Dollywood's Smoky Mountain Christmas presented by Humana (Nov. 10, 2018 – Jan. 5, 2019) features four million spectacular lights, classic holiday entertainment—including Christmas in the Smokies and It's a Wonderful Life—Rudolph the Red-Nosed Reindeer and Friends, and the heartwarming Parade of Many Colors.  
Dollywood won the 2017 Golden Ticket from Amusement Today for Best Entertainment at any theme park in the world. The honor was the ninth consecutive triumph for the park in that category. With Parton's commitment to entertainment in 2018, Dollywood looks to lead the way in securing its 10th victory in the category.
Dollywood continues to celebrate its Year of the Family this season with a number of exciting festivals, performing groups, and two new attractions—Drop Line, a 230-ft. tall free-fall experience, and Whistle Punk Chaser, a junior coaster designed for Dollywood's younger visitors. The season ends with America's favorite Christmas theme park event, Dollywood's Smoky Mountain Christmas presented by Humana (Nov. 4, 2017 – Jan. 1, 2018). Guests can upgrade their park admission during the Christmas festival to a season pass and receive next year for free!
For more information about Dollywood's 2018 entertainment lineup, please visit www.dollywood.com or call 1-800-DOLLYWOOD.