Guys' Trip to Dollywood (Dollywood Insiders Post)
In case you haven't heard, I was selected to be a Dollywood Insider! One of my duties as a Dollywood Insider is to write articles to help you have a great Dollywood visit using my unique knowledge of the parks.
My first article was posted and it's all about a Guy's Trip to Dollywood!
Head on over and check it out.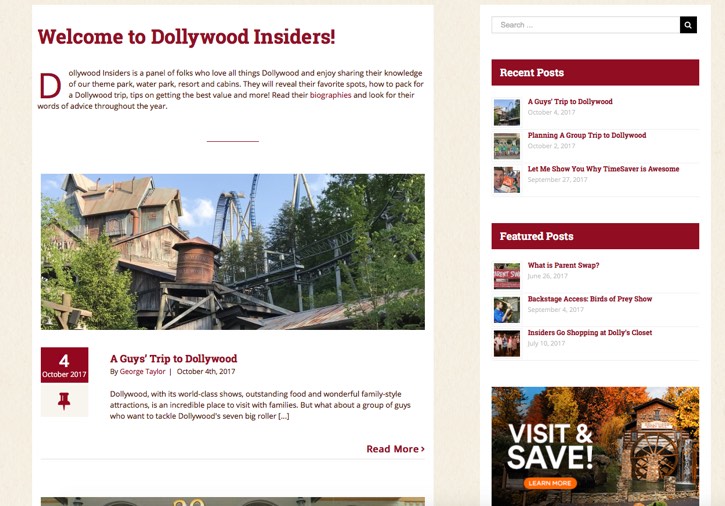 So, what does being a Dollywood Insider mean?
Dollywood Insiders is a panel of folks who love all things Dollywood and enjoy sharing their knowledge of our theme park, water park, resort and cabins. They will reveal their favorite spots, how to pack for a Dollywood trip, tips on getting the best value and more! Read their biographies and look for their words of advice throughout the year.
Being a Dollywood Insider, I get access to behind-the-scenes tours and events. I get to share my love and passion for Dollywood with everyone through writing articles for the Dollywood Insiders page.
I don't get reimbursed nor do I get a commission; I am given a free annual pass and access to media events. I'm very proud to have been chosen as a Dollywood Insider for the 2017-2018 season.
Dollywood Insiders Special Offer!
Occasionally, there are special Dollywood Insiders offers and the latest one is for $5.00 tickets purchased online at Dollywood.com. Use the code DWINSIDERS12 when you buy your ticket. Don't forget that you have to print the ticket and take it with you.
It is upgradeable to a Season Pass and it is good for Arrive After 3, Next Day FREE.
This is a great deal!