Alice in Wonderland by Mary Blair and Jon Scieszka
George: Alice in Wonderland by Mary Blair has just been released. Disney has published several picture books over the past few years to coincide with re-releases of animated films or film tie-ins. We've seen Mary Blair's artwork in Cinderella with text by Cynthia Rylant and Peter Pan by Dave Barry. Alice in Wonderland has just been released with text by Jon Scieszka and art by Mary Blair. Like the other releases I just mentioned, Mary Blair's concept art is the basis for the book.
Jeff: However, this time around, the Alice book is a re-release from an earlier one, just in time for the new Alice in Wonderland live action film. While it usually might be something we say "meh, been there, done that before" about, you can really never go wrong with Mary Blair's art. The original came out in 2008, and this one, with a new cover, is dated 2016.
George: And we have nothing at all against Jon Scieszka, but the reason to pick up Alice in Wonderland is simply for Mary Blair's stunning concept artwork. Jon Scieszka is a well-known children's author. He's most famous for his 1992 book, the Stinky Cheese Man. Anyway, Scieszka's story is rather stripped down and just focuses on Blair's art that is used in the book. There's nothing wrong with it, it just like the Cliff's Notes for the film.
Jeff: Which, again, is totally OK. And this re-release justifies buying a copy, and then not feeling too bad about wanting to cut the pages out of the book to hang on your wall, because again, Mary Blair art. It's gorgeous, it looks pristine, and can we get more Mary Blair art please?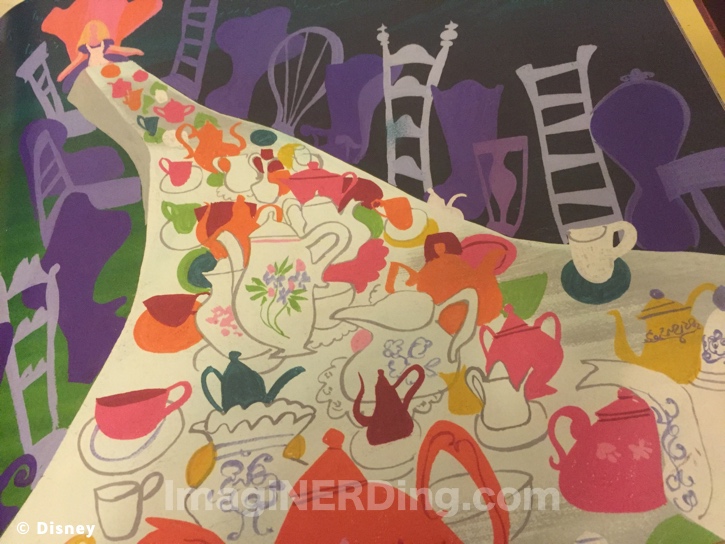 George: Alice in Wonderland by Mary Blair is 64 pages, with artwork on every spread, so there are at least 30 works of art. So, if you are going to buy a copy to cut out and frame, you might need to buy two copies. And you'll still need one to keep. So, three copies?
Jeff: Let's just make it four, because why not? Seriously, I love that they continue to release books featuring the original concept work of Mary, and this is no exception. Jon does a great job of conveying the story into its simplest points, as George said, but its really the artwork on display here.
Have you read Alice in Wonderland by Mary Blair and Jon Scieszka?
---