Heart of Ice Sculptures at Carowinds
Heart of Ice Sculptures returns to Taste of the Carolinas at Carowinds for the second year. My youngest son watched them last year with rapt attention and there was a large crowd on the very chilly opening day this year.
Most people attend Taste of the Carolinas to sample the cuisines from different regions of North and South Carolina. But Carowinds also offers different entertainment options and the ice sculpting by Heart of Ice Sculptures is something quite different.
Colin Henderson from Heart of Ice Sculptures was on hand to carve some signature ice sculptures to help celebrate the food festival. And to provide entertainment for the crowds.
There were ooohs and ahhhs from the crowd as Colin brandished different hand and power tools to work the ice. Colin told me that he was able to work on the ice for about an hour when it was warm out and just for few hours if it was cold.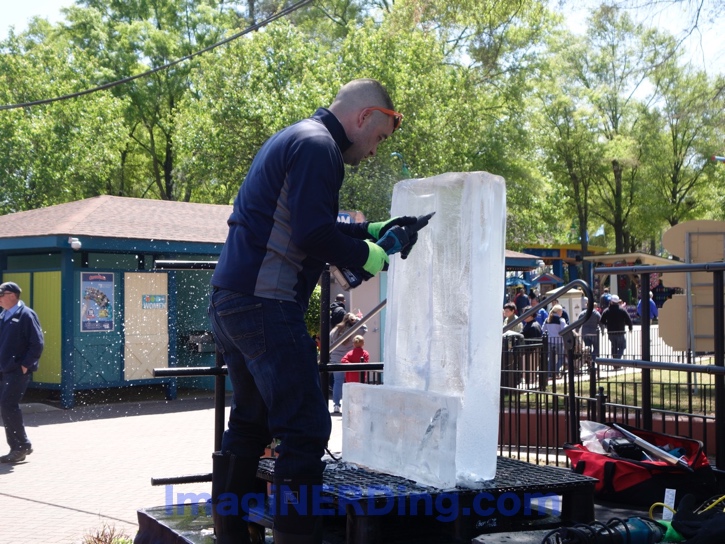 I asked him about working on the ice after hearing a few comments from the crowd about hoping that he doesn't break the ice.  His response: "When the ice doesn't want to work with you its usually too late. If something breaks you can try and put it back together with freezing methods. Sometimes when the temperature is too different from the block, the out side carving can make the block pop. You have to make the best of it when carving live."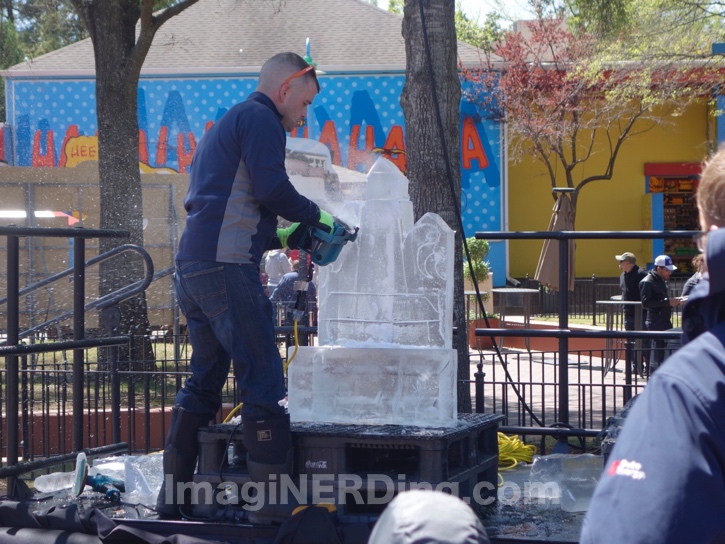 Colin mentioned that he'd been carving ice for about five years. He has a background in fine art and feels that ice carving is something that comes a bit more naturally for him.
The finished product, a stylized ice version of the Carolina Harbor logo quickly emerged from the block of ice near Harmony Hall. Thankfully, there was plenty of shade so the ice sculpture would be around for many people to enjoy. Colin from Heart of Ice Sculptures was on hand to answer questions and pose for photos. Make sure to like them on Facebook and check out their galleries!
Have you seen Heart of Ice Sculptures at Taste of the Carolinas?