Iron Man 3, a blu-ray review
Iron Man 3 was released on blu-ray in September of 2013. Jeff and George originally reviewed this blu-ray rlease on Communicore Weekly (the Greatest Online Show™). Enjoy this retro-review!
George: So, the Marvel films (television shows, video games, etc) are huge in my household. My nine year-old is a superhero junkie and has seen all of the Marvel franchise films in the theater. When the preview disc for Iron Man 3 showed up, he was ready to start watching it immediately and started talking about plot points, Iron Man suits, the characters and everything else related to Tony Stark. It's fairly obvious that this is going to be a fairly positive review on my side.
Jeff: I don't even need a child to outwardly express how much this movie rocks (but I'll use my ten year-old as an excuse anyway). Unfortunately, this movie came out right when I moved to California, so it was the first Marvel film that I missed seeing in the theater. I was really anxious for it to come out on blu-ray, and I was not disappointed. We have since watched it five times altogether in my house.
George: Five times?
Jeff: I'm adding them all, between myself, Alex, and then myself and Alex. So yeah, it's been popular in the house so far.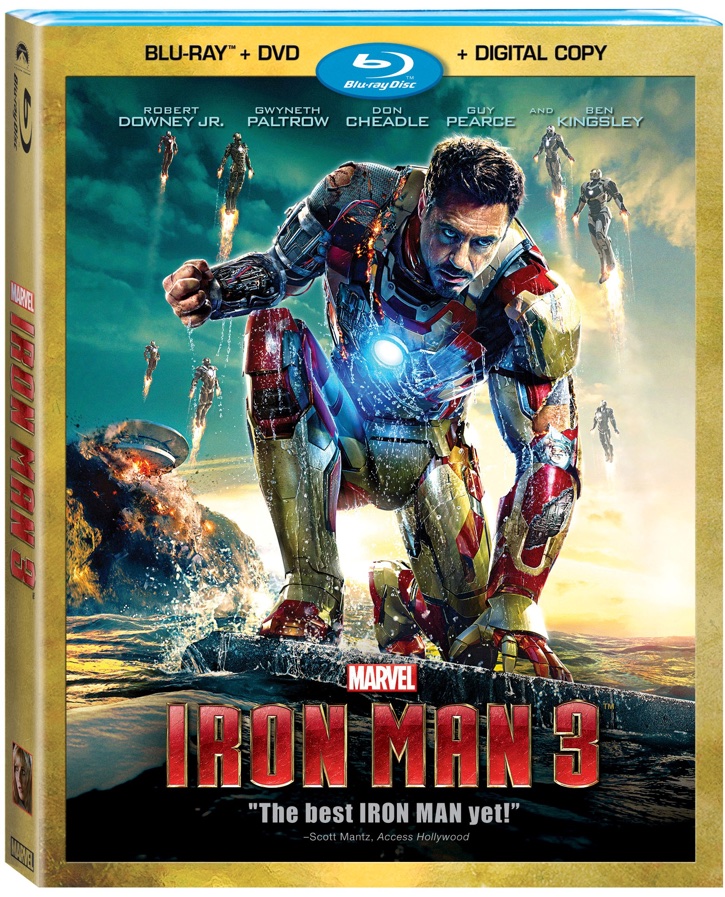 George: So, this is the third in the Iron Man series and does an amazing job of keeping the well-known and well-loved characters fresh and exciting without losing any of their charm. It fits well into the canon of the Marvel universe; you'll still enjoy the film if you haven't seen Thor, Captain America and the Avengers, but the added insight (and jokes) make the film more fun. Marvel has done an excellent job of tying the films together into a solid universe and this is the first Iron Man film that feels likes it's part of the S.H.I.E.L.D. operation.
Jeff: It's important to note that this film takes places after The Avengers. Tony, having just saved the world from a massive alien threat, is dealing with something he has never had to deal with before: anxiety. He suffers from severe PTSD after his experiences in The Avengers, and it is affecting every aspect of his life. Of course, a new threat emerges at the same time, and Tony has to learn how to deal with both to overcome the odds.
George: Not to give too much away, but how do you break down the man that can afford to buy anything? The story centers around Tony having to rebuild himself and his relationships after the PTSD. Neither the story nor the action gets bogged down by the machinations, externally and internally, that Tony faces. I've had a few friends complain about the cartoon-like nature of most modern superhero films. Iron Man 3 does have its doses of over-the-top action, but never at the expense of the overall film. It seems like the movie makers got the balance just right. There's enough excitement to keep you enthralled and the story unfolds at the right pace to keep you enticed.
Jeff: Shane Black took over the writing and directing duties from Jon Favreau (who helmed the first two Iron Man films), and did a wonderful job, I think. The story is solid, the action sequences are top notch, and he has one of the best twists I have ever seen in an Iron Man film (or any film, rather) about half way through. He definitely deserves credit for pulling it all together, and making the third film in the series seems as fresh as the first.
George: The Iron Man 3 blu-ray does come with a few extras, including a fantastic Marvel One Shot called Agent Carter, about Captain America's romantic interest and her integration into an early version of S.H.I.E.L.D. It's another fantastic example of keeping the Marvel universe in check and expanding the stories in brilliant new ways. There's also an app for iOS devices (iPhone, iPod, iPad) called Jarvis. It's not a Second Screen and it's more of a SIRI-like utility. It has some ringtones and you can talk to Jarvis. The neat part of the integration involves using Jarvis to scan QR codes to unlock the 42 different armor types that are seen and hinted at throughout the film. It seemed to captivate my nine year-old and kept him playing with the blu-ray a while longer. For me, not so much.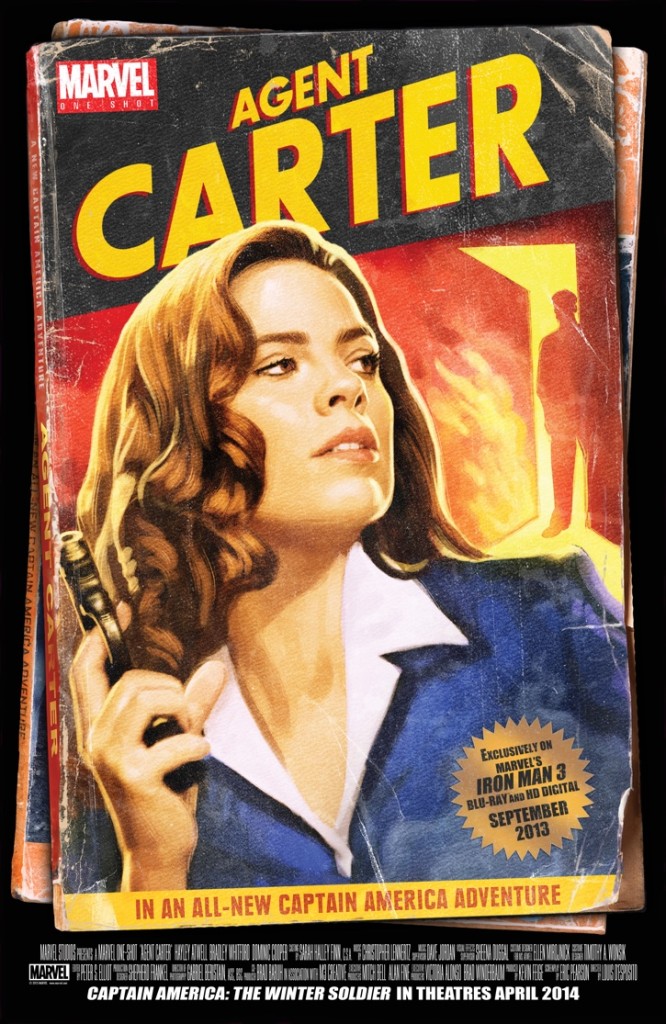 Jeff: I did download Jarvis as well, but it wasn't enough to keep me enthralled. But the kids seem to love it. Other special features on the disc include out takes (where were just OK), deleted scenes (many of which were much funnier than the out takes), and some really great making of featurettes that are sure to please any film nerd.
George: You know, Jeff, this is one of the longer Disney Reviews we've written recently. I guess that means we really liked Iron Man 3. When we started watching the review copy, my nine year-old excitedly said, "This is a long film but really worth it!" I asked what he meant, specifically, and he said that even though the movie was really long, it was still a lot of fun and worth sitting through the whole thing. I guess this movie is perfect for nine year-old and everyone else looking for a fun, exciting and surprisingly thought-provoking film.
Jeff: Considering the amount of times both of our kids have watched it so far, I think that is a very good assessment! TWO THUMBS UP!
Are you adding Iron Man 3 to your collection? Which Iron Man film is your favorite?
---