Fort Wilderness Camping in 1973!
Fort Wilderness camping? Let's take a look at what a week-long stay at Fort Wilderness was like in 1973.
Walt Disney World Vacationland was a magazine published three times a year and distributed throughout hotels, motels and restaurants in Georgia, Alabama. Louisiana and Florida. Although it was a Disney publication, they presented articles and advertisements from other Central Florida attractions like GatorWorld and the Kennedy Space Center. Vacationland is an amazing resource for researching the Vacation Kingdom of the World.
When I was leafing through the Spring 1973 edition of Vacationland, I ran across a fantastic article about Fort Wilderness camping. The purpose of the Vacationland titles was to promote everything you could do during a week-long vacation at Walt Disney World. At the time, this was a completely different type of vacation and Disney had an interesting time promoting it. I've presented the entire article and added my own comments to talk about the changes and differences over the years. The article, although presented as a diary, is simply a way of showing potential visitors the plethora of activities available during Fort Wilderness camping.
It's a diary of a week-long visit, from Sunday to Sunday. I know that most modern vacationers to Walt Disney World will make a beeline to the Magic Kingdom or their favorite theme park on their first day. Not this trip. Not when you're at Fort Wilderness camping!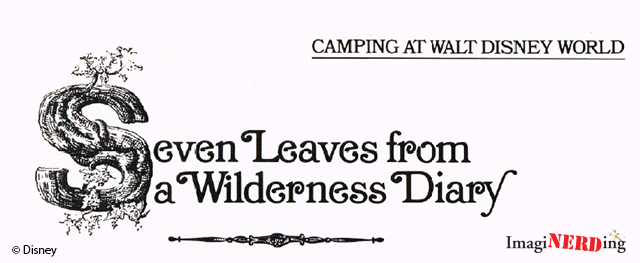 Fort Wilderness Camping: Seven Leaves from a Wilderness Diary
Monday
Arrived early this morning for seven days of camping at Fort Wilderness-Walt Disney World's 600-acre campground. After checking in at the Reception Outpost, a Disney hostess guided us to our campsite. Hard to believe that there are more than 700 campsites, as each site is hidden among stands of cypress, bay, and pine. Our "home" for the next week is complete with a barbecue pit, picnic table, electrical outlet, water system, sanitary disposal unit, and an audacious squirrel who looked us over and seemed to approve, as he chattered continuously as we unloaded our camper.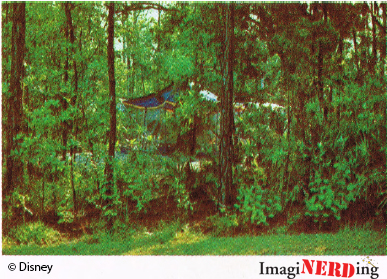 Decided to stretch our legs after setting up camp. Walked to the beach and watched the boats bobbing about on Bay Lake. Although private boats aren't allowed at Fort Wilderness, sailors shouldn't mind as every conceivable type of boat can be rented at the campground dock.
I love the subtle mention of the Bob-A-Round boats. It's interesting that Disney would feel the need to mention specifically that private boats aren't allowed. I'm assuming that people assumed they could bring their own boat to a campground.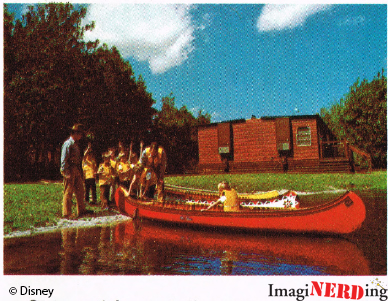 Stopped for a delicatessen sandwich at the Trading Post- an old-fashioned country store near the beach which stocks almost everything. Bought Mickey Mouse sweatshirts to get into the "spirit" of things.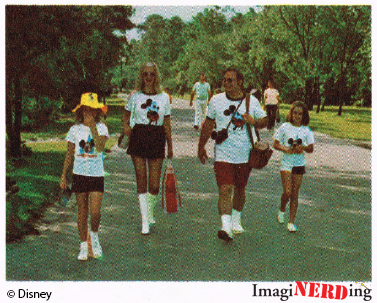 Learned that there are comfort stations located at strategic places throughout the campground. All are air-conditioned with showers, restrooms, and laundry facilities.

This must be the only campground in the world with a genuine, old-fashioned, narrow-gauge steam-powered train! Took a free trip for several miles around the perimeter of the campground. The engineer told us that eventually it will carry guests to a western town complete with "themed" dining, shopping, and entertainment facilities.
There's not a lot of research about the "western town" that would have bordered Fort Wilderness. In the mid-1970s, we would see concept artwork for Cypress Point, which would be between Fort Wilderness and the Contemporary Resort (sort of where the Wilderness Lodge is located). You can even find mentions of Buffalo Junction project of the early 1990s but very little about the "western town."
Tuesday
Up early to watch the sun rise over the lake. Walked quite a distance down the deserted beach to where stands of shaggy cypress marked the path leading to the Fishin' Hole. Caught several good-sized fingerling bass for breakfast. Noticed a sign marking a nature trail will investigate that later.

There are so many ways to get around at the campground other than shank's mare. Canoes, bicycles, electric boats, horses- and seldom is a car ever seen, which is pleasant indeed.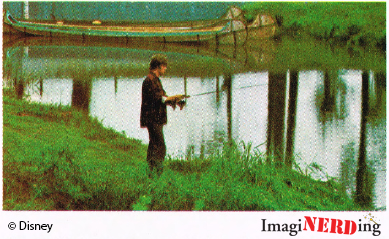 Catching your own breakfast? I definitely don't see that as an option on My Disney Experience.
We rented a tandem bicycle at the Bicycle Barn and spent the afternoon exploring the wilderness on special trails Also pedaled to the Tri-Circle-D Ranch, adjacent to the campground, to look at the western saddlehorses. A Disney "cowboy" told us that there are more than 60 horses available for guided trail rides. Got a kick watching some tiny riders on the Shetland Pony Ride. Fed a persistent African pygmy goat at the Petting Farm and then headed back to return the bikes.
Tandem bicycles could be rented for $2.00 an hour or $6.00 for the entire day.
Tonight we are going to the nightly campfire program to get acquainted with our fellow campers and to enjoy some "live" entertainment.
I'm not sure why there are quotation marks on the word live. I'm assuming they're talking about the fact that you could have a sing-a-long and a movie. Maybe?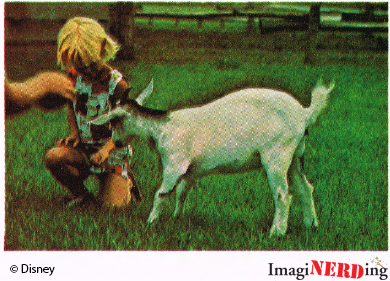 Wednesday
A perfect day for swimming, sunning, and sailing! Spent most of the morning stretched out on the beach and then rented a speedy, little Aqua Lark and cruised around Walt Disney World on Bay Lake and the Seven Seas Lagoon. A splendid way to see the Contemporary Resort, the Polynesian Village, and the Magic Kingdom for the first time.
The Aqua Lark was $6.00 per half hour in 1973 which is about $32.00 in 2014 dollars. When's the last time that you rented a water craft at Walt Disney World?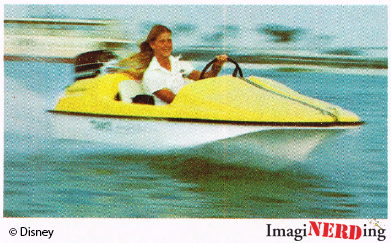 Tonight we cruise the same waters but on the deck of an authentic, paddlewheel steamboat which stops twice nightly at the campground dock. Dixieland music onboard and beverages! Tomorrow we visit the Magic Kingdom for a full day of exciting adventures.
Wait. They waited four full days before visiting the Magic Kingdom?!?!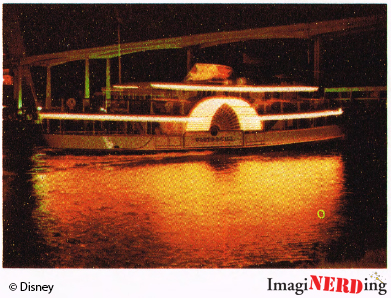 Thursday
Pleasantly exhausted after a day visiting shops, attractions, and enchanting restaurants in the six "themed" lands of the Magic Kingdom. Certainly intend to return again and again before we leave- there's just too much to see and to do in one visit. Campers are provided with free transportation to the Magic Kingdom, as well as to the two resort hotels. As this includes monorails, steam launches, trams, and minibusses, "getting there" is half the fun.
Within Disney's literature, the minibuses were touted as having air-condition. How novel, eh?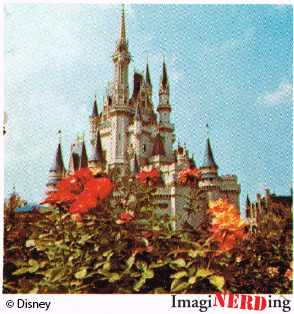 Tonight we go on a wildlife excursion in a swamp buggy of all things!
From the January, 1973 WDW News:

Wilderness Night Wildlife Excursions in four-wheel drive vehicles leave the campground each evening at 8:30 to explore the surrounding woodland. The trip lasts two hours and affords guests an opportunity to see a variety of wild creatures in their natural state. The cost is $3.00 per person.
So the wildlife excursion was completely new to me. When I looked at WDW News from months before and after the January edition, I found no mention of it. Do you have any details of the Wilderness Night Wildlife Excursion?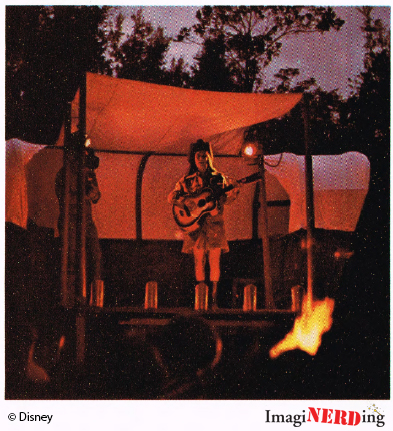 Friday
The wildlife excursion last night was quite incredible. We all wore a sort of miner's hat with an attached light, and as we went deep into unexplored areas, we saw several deer, heard a strange cry that our guide said was a bobcat, and caught a glimpse of two, bright-red eyes belonging to an alligator. An exciting voyage into a wildlife habitat.
Horseback riding today and, perhaps later, an archery lesson. Also intend to cross the water to the hotels and browse in the shops. Tonight, if the weather is good, we are going to our first South Seas luau on the beach of the Polynesian Village.
Horseback riding cost $5.00 per person and it looks like they had rides in the morning and afternoon. The luau was $10.00 for adults, $7.50 for juniors (12-17) and $5.00 for children (3-11).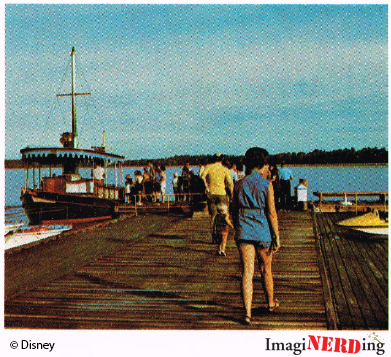 Saturday
One lesson a camper learns at Fort Wilderness- it just isn't possible to do everything in seven days. Volleyball, tetherball, horseshoes, croquet, swimming, fishing, hiking, bicycling, canoeing, horseback riding, archery-there's something for everyone to do every second of the day. Also, campers are welcome to use all the recreational facilities at the resort hotels.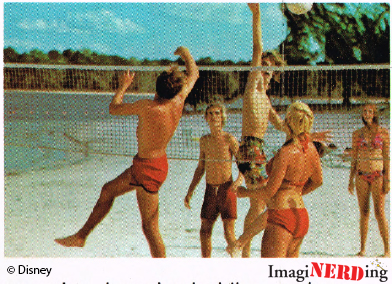 Today we pay our final visit to the Magic Kingdom and tonight we dress up for dinner and dancing at The Top of the World at the Contemporary Resort.
Check out my article on the Top of the World at the Contemporary Resort.
It's so hard to believe that they only spent two days at the Magic Kingdom. Although, the Magic Kingdom was open from 9-8 most Fridays and Saturdays in the late spring of 1973. Also, there was no Pirates or Space Mountain at the time. With the paper ticketing system regulating queues, it might have been easier to spend a whole day and actually see everything.
Sunday
Hard to believe that our week is almost over- tomorrow we return to civilization and leave our wilderness home behind. Today will be spent visiting special spots we've made our own, perhaps drifting on the lake or wandering on the Nature Trail, making certain that our memories are stored with impressions to share with each other in the future.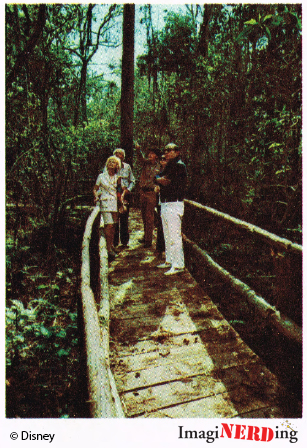 And tonight? Tonight we will gather with friends on the beach to watch the Electrical Water Pageant for the last time and to say, with sadness, "Good-bye' til the next time."

It's hard to imagine a Walt Disney World vacation that's not full of fast passes, ADRs and shopping. What part of this vacation would you like to experience today?
What do you think about this Fort Wilderness camping "diary" from 1973?
---
Looking for a great book on the first few years of the Magic Kingdom and Walt Disney World?