Cobra's Curse at Busch Gardens Tampa!
The Cobra's Curse model was on display in the Mack Rides booth during the 2015 I.A.A.P.A. Conference in Orlando. It was a very impressive model and a great coaster for Busch Gardens Tampa and Mack Rides to premiere. Cobra's Curse looks like it's going to be a fun roller coaster and will add more for families to do. Check out the press release about Cobra's Curse to learn more about this unique and one-of-a-kind coaster!
Check out my post on riding the Mack VR Coaster at FunSpot!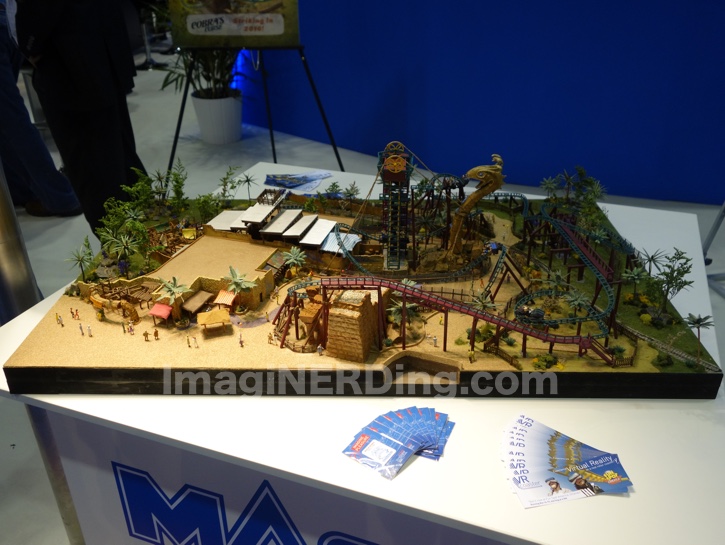 ---
TAMPA, Fla. (Feb. 29, 2016) – There's a giant snake in the Tampa skyline this week, as Busch Gardens® Tampa Bay just completed construction on the two highest points of its unique, reptile-themed coaster, Cobra's Curse — a menacing 30,000 lb. snake king icon and a 70-foot vertical lift that will take riders within inches of its 4-ft. fangs.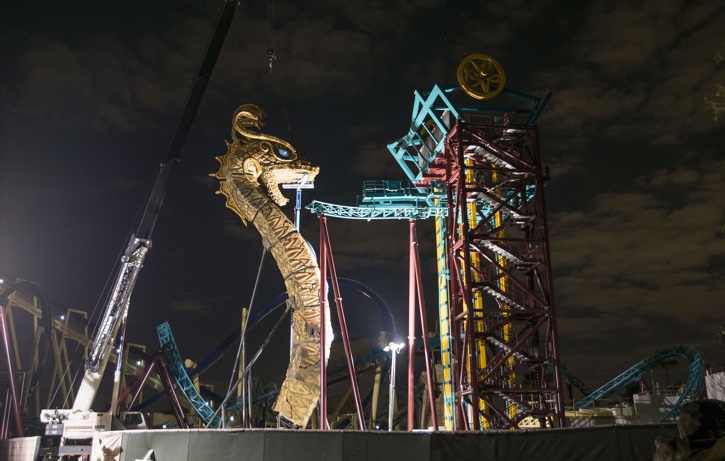 With a grand opening slated for this summer, this family spin coaster is the only one of its kind in the world, taking riders on a whirlwind adventure of exciting explorations.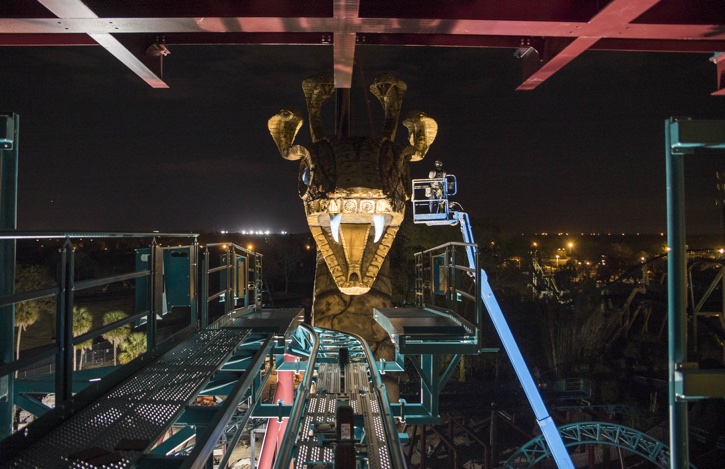 Snake King Icon
Dozens of artists united to design, engineer, fabricate and thematically paint the snake icon, creating a centerpiece for Cobra's Curse that will bring riders just inches from its fangs. Standing at 80 feet tall, with 4-foot-long fangs and 3-foot-wide eyes, the icon was constructed of nine stackable pieces with an internal steel spine and an outer shell composed of carved foam and fiberglass.
Vertical Lift
The 70-foot vertical lift functions similar to an outdoor elevator taking riders up in their coaster car and putting them face-to-fang with the snake icon's mouth. The three-and-a-half-minute ride will also feature a second inclined lift that sets up for the free-spin finale of the ride. The trek will cover more than 2,100 feet of track at 40 mph.
Additionally, guests will be just inches away from the 400-cubic-foot snake exhibit which will include Jameson's mambas, Angolan pythons and rhinoceros and gaboon vipers. The design of the multi-level exhibit not only reflects the theme of the ride, but also features several animal husbandry and enrichment components designed with the snakes' welfare in mind, including naturalistic design elements, controlled heat sources and humidity control. 
Visit CobrasCurse.com for more information. Or, be the first to know about new events, special deals and future announcements by following the park's blog at buschgardenstampablog.com, or "Like" the Busch Gardens Facebook page and follow @buschgardens on Twitter and Instagram.
Are you going to visit Busch Gardens Tampa to check out Cobra's Curse?