Main Street Market House
The Main Street Market House was an opening-day shop for the Magic Kingdom at Walt Disney World. It was sponsored by Smucker's until 1993, according to the incomparable Widen Your World. In 1997, the shop was re-designed completely. In 2007, the space was taken over by the Arribas Brothers for the Crystal Arts store. Originally, the Crystal Arts store was in the seating area of the Main Street Bakery.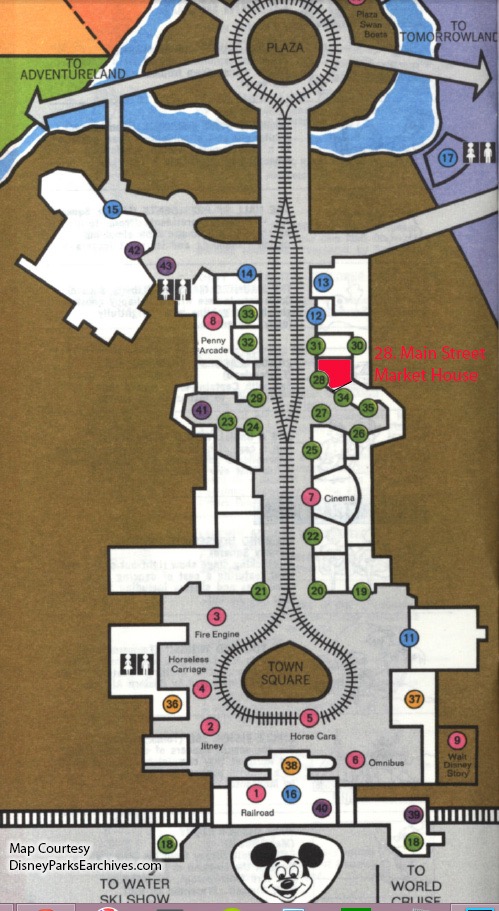 As far as I can tell, based on the descriptions in the various Birnbaum travel guides, Smucker's took over sponsorship of the Yankee Trader in Liberty Square by 1990. The 1986 Birnbaum's guide has the last mention of the Main Street Market House selling Smucker's jellies and jams. If anyone has more exact dates for the sponsorships of the stores, please let me know.
The Main Street Market House: Sugar & Spice & Everything
Let's take a step back in time with the help of a 1976 WDW Vacationland Magazine. There's a two-page article on the Main Street Market House that shares some images and discusses what you can expect to find in the shop. Honestly, though, can you imagine buying jelly to take home from your Walt Disney World vacation?
"Put them cucumber slices on your face to bloom up your complexion, and rub a little kerosene on your hair to make it shine" This and other sage advice, such as using a fried onion poultice to quell a chest cold, awaits visitors who "eavesdrop" on the party line of the crank-style telephones in the Market House, the turn-of-the century general store on Main Street.
Modeled after the country emporiums of the 1890′s, the Market House offers Magic Kingdom guests a pleasantly nostalgic taste of authentic Americana, on the sweet side.
Clustered around a pot-bellied stove like the ones grand-dad might have stoked during boyhood, endless wooden casks of goodies await Market House visitors. There are overflowing barrels of freshly packed cookies, red-and-white striped peppermint sticks, sassafras and spearmint drops, chewy black licorice strings, cheese flavored crackers, and crunchy salted pretzels, as well as bulging boxes of salt water taffy and bags of sugar-sweet rock candy.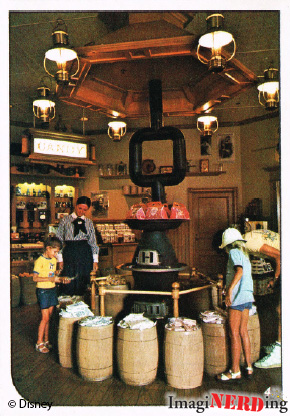 If all this is not enough to put a smile on the face of any guest with even a tiny empty spot inside.

Dixie Crystal Sugar, a subsidiary of the Savannah Sugar Refinery, maintains a "by the piece" candy case-a display sure to have the youngsters pressing their noses against the glass as they select a favorite from more than 30 varieties of delicious hard candies, candy bars, and caramels.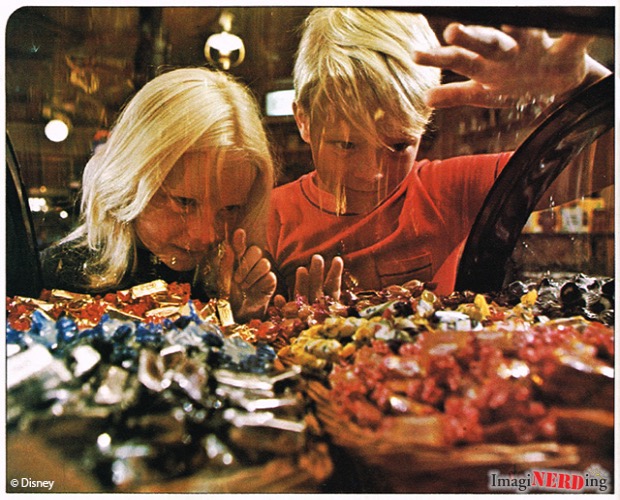 On exhibit as well is a tasty scale-model of Cinderella's Castle, built completely from cubes of Dixie Crystal Sugar, and a collection of rare antique sugar servers dating into the Colonial Period.

The crank telephones which offer the above-mentioned "beauty tips" are an interesting Market House sidelight, too. Guests picking up on the line can overhear a humorous turn-of-the-century conversation between a mother and daughter discussing the evils of inflation, at a time when ham was going for nine cents a pound, and steak at the " scandalous" price of 11 cents a pound.

Another part of the Market House display of good things to eat is made up of delicious jams, jellies, and preserves from the J. M. Smucker Company.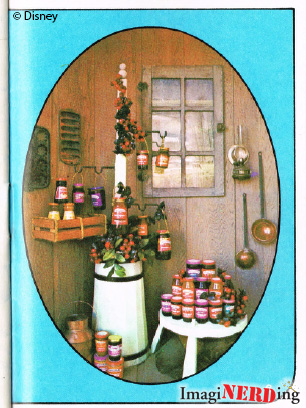 Smucker's stocks every kind of spread imaginable, from cool green, mint-flavored apple jelly to tangy apricot-pineapple preserves. There are even low-calorie Slenderella jellies for weight watchers. Spread on a steaming biscuit or buttered thickly on hot, golden toast, these confections are a great way to start or finish the day.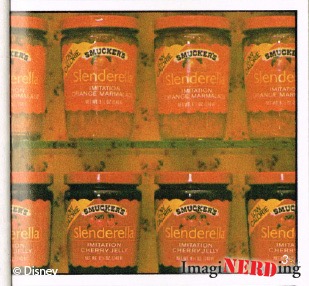 Smucker's rounds out its stock with jars of ready-mixed peanut butter and "Goober Grape" jelly for "P & J" lovers; rich, thick fruit syrups for ice-cream fans; and six kinds of lip-smackin' pickles, ranging from honey sweets to eye squinting dills.

All in all, the Market House is a good place to be when that sweet tooth starts to ache. How sweet it is-even if the price of steak today has gone a bit above 11 cents a pound.
The party line telephone still exists today, but in a different location. It's currently in The Chapeau as you enter the shop on the right.
Did you ever get the opportunity to visit the Main Street Market House before it was re-designed in 1997? Do you have any great memories of the shop?
---
Check out Walt Disney world: The First Decade! It's a great book about the first ten years at Walt Disney World.