Cast Member Costumes from Walt Disney World in 1977
Cast member costumes have always been a subject of interest to fans and researchers. Plus, you never know what you're going to run across during research for a project. While trying to verify a date for a shop on Main Street, I ran across this great article on the cross-utilization program that Disney implemented to help meet the demand during certain times of the year. Instead of hiring additional or temporary cast during spring break or other holidays, Disney would ask cast members from all over the Vacation Kingdom of the World to help out!
Cross-utilization is a program whereby many of our backstage cast members, from clerical to supervisors to directors, set aside their normal jobs and responsibilities to join hands with many of our Magic Kingdom cast in presenting our Walt Disney World show to the overflowing guests. Eyes & Ears, April 15, 1977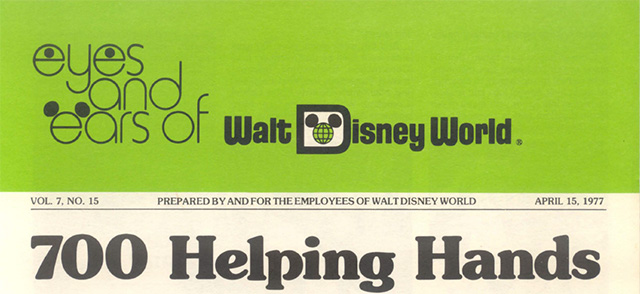 Apparently, over 700 work shifts had to be filled from every department at Walt Disney World: Construction, Engineering, Environmental Protection, Industrial Engineering, Maintenance, Reedy Creek Utilities Company, WED East, Finance, Management Audit, MIS, Purchasing, Services/Warehouse, Vista Florida Telephone, Food Administration, Marketing, Resorts, Legal, Personnel, and the Disney University. The article spotlights a few of the cast that helped out and includes photos of them in appropriate cast member costumes in the Magic Kingdom. It's one of those times that I wish that Eyes & Ears had been presented in color so we could get a better look at the cast member costumes (and the backgrounds).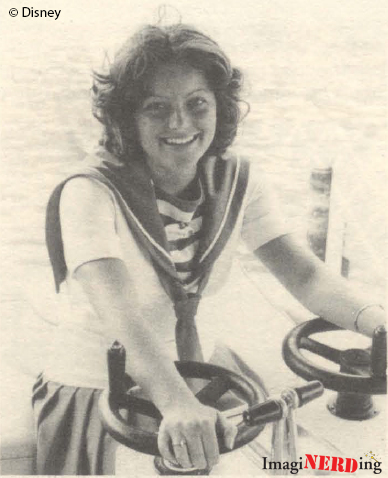 Rhonda Yager left her desk in the Operations Division office for a seat on the Swan Boats.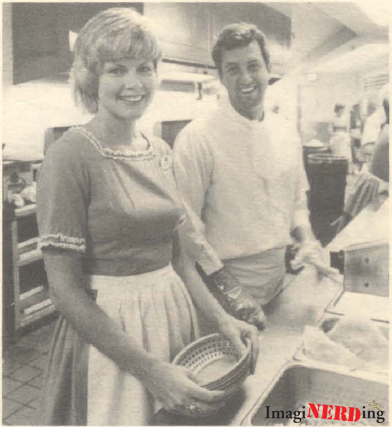 Fried fish and french fries were the order of the day for Susan Reaves of the Magic Kingdom Club and Director of Services Division Jud Perkins. helping in the kitchen at Columbia Harbour House.
Preordering at the Tomorrowland Terrace are (L-R) Lou Naramore, Magic Kingdom Club; Toni Kravis, Finance; and Cheryl Lynch, Payroll.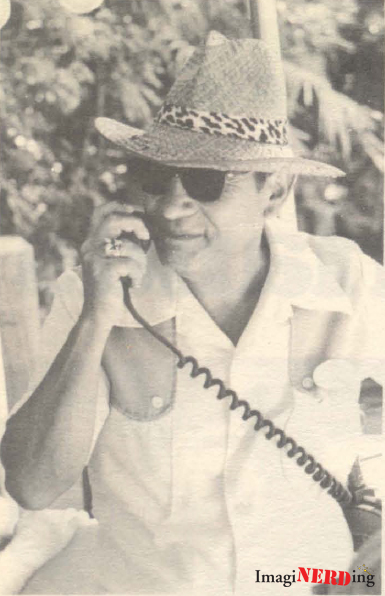 The Jungle Cruise is no new adventure for Lee David of the Disney University, who was often seen taking Walt Disney around the rivers of adventure in Disneyland before coming to Walt Disney World.
Assisting guests aboard a submarine at "20K" is Bill Dammes of the Claims Department.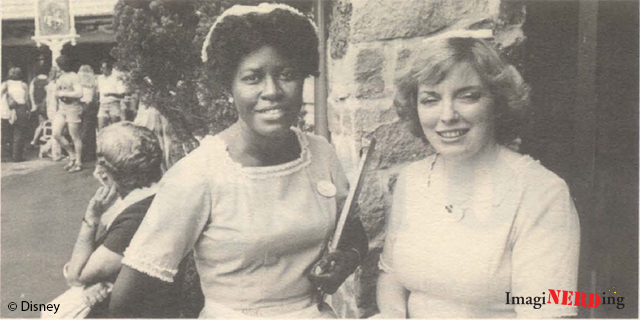 Assisting guests preorder their meal at Columbia Harbour House are (L-R) Lavonne Williams, Group Insurance, and Jean LeMieux, Survey Engineering.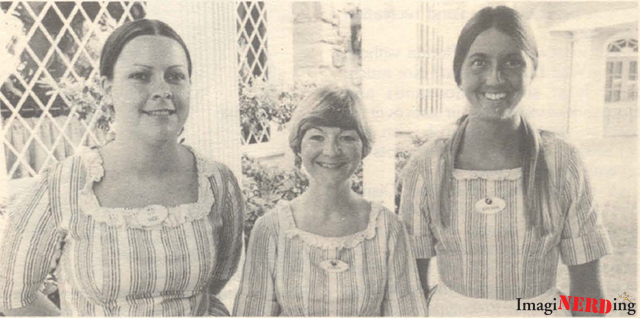 Cleaning tables and placing new settings at Liberty Tree Tavem are (L-R) Vicki Belzer, Services Division; Karen Martin, Marketing Division; and Brenda Wilson, Facilities Training Office.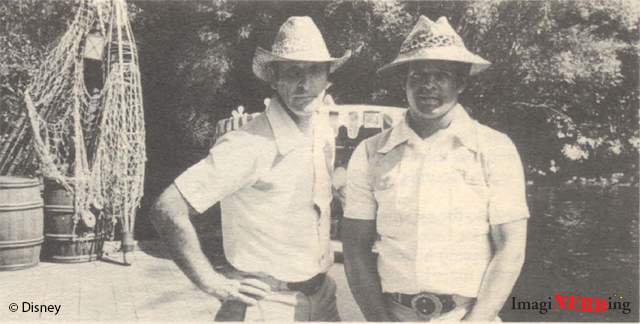 The Jungle Cruise is a long ways from the drawing boards at WED East for Jerry Izsak (L) and Vista Florida Telephone for Charles Rowell (R).
Taking tickets in Adventureland is Steve Jacobs of Property Control.
Geri Baker of Employee Relations finds that it really is a Small World after all!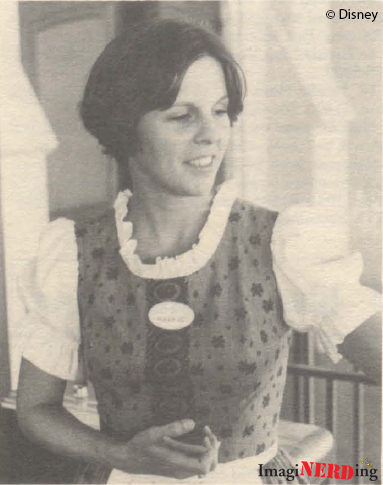 Leaving the Photography Department for ticket taking at the Mickey Mouse Revue is Mary Jo Corbett.
Bonus Images of Cast Member Costumes
There were two additional images of cast member costumes that caught my attention and I had to share them.
The new Shoe Time shop in Lake Buena Vista's Village now has two selections of female shoes that are approved for onstage wear. Jackie Hathy explained that they are carrying both white and black in all sizes, plus a special discount for employees. So, if your shoes "ain't got no sole" or are wearing thin, why not drop by Shoe Time for a new pair!
It's pretty rare that you'll find an interior shot of a store, especially at the Village. I can only imagine the actual colors of the wallpaper. Green, maybe?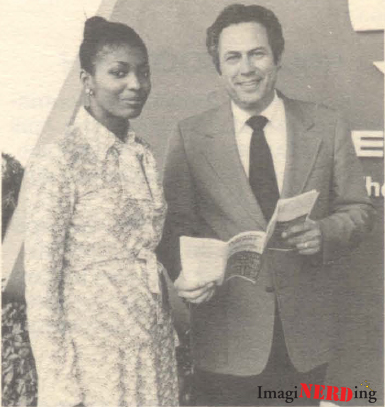 Ticket Sales Agent Betty Gillespie discusses Eastern's new jet service schedule between Orlando and Los Angeles with Roger Brower outside their ticket office located in the "If You Had Wings" attraction in Tomorrowland.
Granted, the employees at If You Had Wings were Eastern employees and not cast members. Still, it's interesting to see the difference. The ticket sales agent would help guests book vacations after experiencing the attraction.
Do you remember these cast member costumes from Walt Disney World from the mid-1970s? Which one is your favorite?
---