Habst and the Disney Saboteurs by Leonard Kinsey, a book review
George: When I got my review copy of Habst and the Disney Saboteurs, the new novel by Leonard Kinsey, I wasn't sure what to expect. All I knew was that I was glad to have his second novel in my hands, especially since I knew it would be a great read even if it was only half as good as Our Kingdom of Dust. Leonard is known for positing on the Dark Side of Disney and not everything he writes is safe for work. That's what makes his novels so good; he takes the magic of Walt Disney World and infuses it with comedy, great characters and a ton of action. There are also a few surprises tucked in there.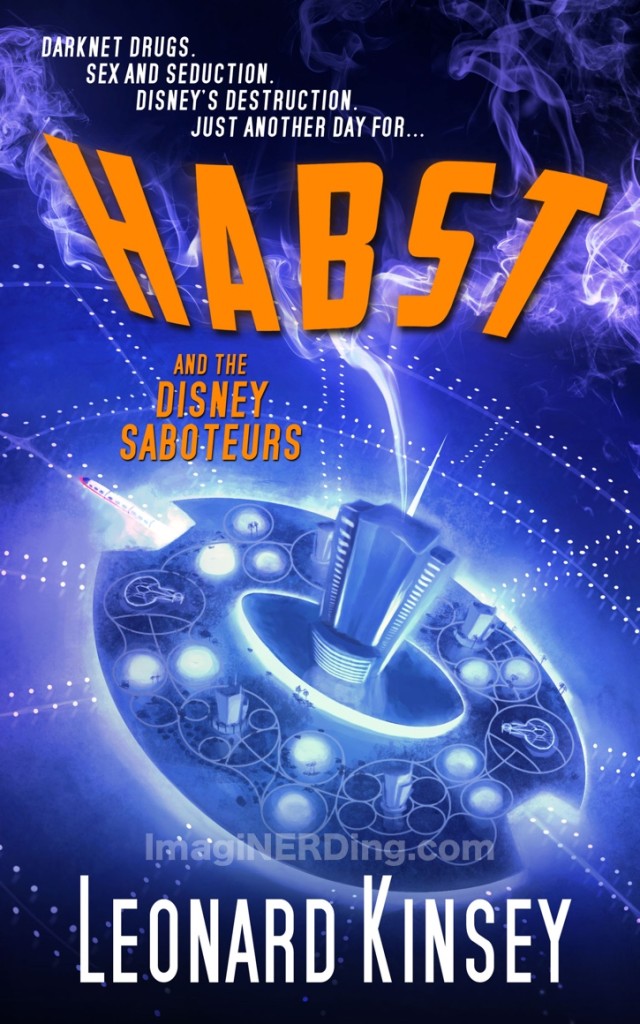 Jeff: Like George mentioned, Leonard has never stayed on the family friendly side of things when it comes to his writing, and the same holds true for Habst and the Disney Saboteurs. This is definitely not a book you want to read to the kids at night. Instead, this is meant for when you're relaxing in your easy chair, drinking your scotch in your smoking jacket. Having thoroughly enjoyed Our Kingdom of Dust, Kinsey's first foray into fiction, I was very much looking forward to this one. And I wasn't disappointed.
George: Smoking jacket? Like those robes we had at the Grand Californian?
Jeff: Just like them, but more classy! Speaking of classy, Habst is not! Tell us a bit about him, George!
George: Okay, Habst is our hero, of sorts, who doesn't really think he's the hero, He's a burnout, tech prodigy and Disney fanatic. He's also living with his slightly underage girlfriend and her very wealthy mom. He sounds pretty bad and it might be hard to see how Habst is the hero until you find yourself deep down the rabbit hole. And what a rabbit hole it is! But before we get going, there are some Dark Side of Disney returning characters we need to talk about.
Jeff: Of course! For those of you who have already read Hollow World by Nick Probusky, you'll recognize Charlie Walker. Charlie is now head of Walt Disney World security, and helps kind of tie the "Bamboo Forest" fiction world together. There are a lot of great little nods to previous Bamboo titles, and it's really interesting to see Leonard (and Nick) create this world that they can play (and write) in!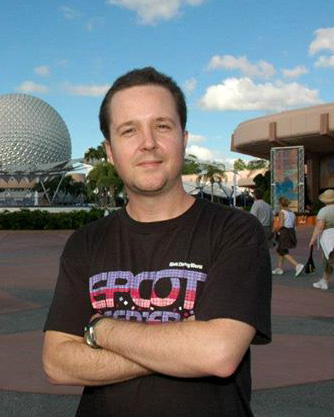 George: Besides being very excited to see high-quality fiction about Disney come out of Bamboo Forest Publishing, it's great to just see really intelligent, exciting and funny fiction about Disney. Moving along, we are introduced to a large number of characters, including two brothers that might surprise everyone. Leonard himself will tell you that there's a fair amount of fantasy involved in the book and, and, unlike Midlife Mouse (which was good but oddly put together) in which we find a secret society controlling the future of the Disney Company, Habst and the Disney Saboteurs has a deep setting in advanced technology that is believable and fantastic at the same time. It feels like you're reading what could of and should have happened with EPCOT Center.
Jeff: Overall, Habst and the Disney Saboteurs takes you to places that others have not been before, especially in a Disney setting. It definitely combines reality with a good bit of fantasy, but fantasy that theoretically is possible. Sure, Habst may be a burn out and a loser, but by the end of the tale, you do wind up rooting for him and hoping it all works out. It's definitely a good, adult oriented yarn of fiction that I think fans of Disney, especially EPCOT Center like George said, will appreciate.
George: It wouldn't be a review of a Bamboo Forest Publishing title without a caveat or two. Habst and the Disney Saboteurs isn't for the faint of heart or readers who aren't fond of illegal and illicit material. There are references to drug use, sex and the Darknet, which could offend readers but I would urge you to look past those and enjoy the book for the well-crafted story and fantastic characters.
Jeff: Exactly. It is a heavily researched book, and Kinsey definitely put a lot of time into the material, so he definitely knows his stuff. That said, like George mentioned, if you're easily offended, stay away. But, if you're looking for a good read, this is definitely one to pick up!
George: It does need more boats.
Are you going to pick up a copy of Habst and the Disney Saboteurs? What do you think about darker fiction based at Walt Disney World?
---