Lady and the Tramp II: Scamp's Adventure
Scamp's Adventure was released in 2001 as a direct-to-video sequel by the Disney Television Animation in Australia. In 2012, it was released as a stand-alone blu-ray/DVD combo set. How does Lady and the Tramp II: Scamp's Adventure stack up the original, released over 60 years ago in 1955?

And should you care?
JEFF: It's hard to judge direct to video Disney sequels. You can either look at them as their own story, to try to get any preconceived notions out of your head, or as a continuation of the original film. Of course, it's hard to separate this from the original Lady and the Tramp, especially because that film had Walt's hands all over it. This film was released 50 years after the original, so most of the folks who worked on Lady and the Tramp were no longer involved, and it shows.
GEORGE: Lady and the Tramp II: Scamp's Adventure surprised me in two areas: it was a surprisingly good film for a direct-to-video sequel and there was absolutely no reason to make this movie. The animation was far superior to some of the other direct-to-video sequels but you could still see that there wasn't as much time or money spent on it.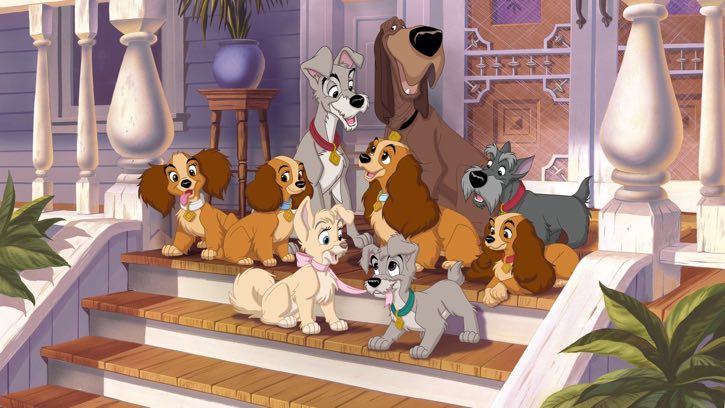 JEFF: The film is a slight twist on the original, with the Scamp being the more sophisticated, house-broken dog, who runs away from home (where we see very little of the original Lady or the Tramp) to join up with the Junkyard Dogs. There are a few, fun nods to the original story, but overall, this is a weaker entry. But, based on a scale of other direct to video sequels, this one would probably rank number 2 on my list.
What did you think about the direct-to-video sequel Scamp's Adventure?
---