Rescuers and the Rescuers Down Under Blu-ray, a review
Are you a fan of the Rescuers series? Check out our review of the 35th Anniversary Edition 2 Movie Collection on blu-ray and DVD!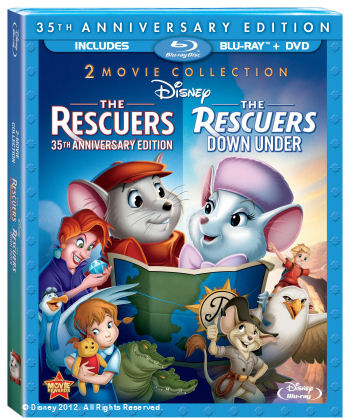 JEFF: Growing up, I loved The Rescuers. It is by no means a perfect film, but I do remember watching it many times over. Those feelings came back when watching the film over again on this Blu-Ray. However, my main problem with it was its transfer. Like we talked about before with the process of animation used, you can see, very clearly, much of the "dirty animation" from the animator's original, rough drawings. While on traditional DVD, it looks fine, the Blu-Ray helps these things stand out. It is a bit distracting, but it didn't take away from my overall enjoyment of the movie.
GEORGE: I was excited to see this film again. The last time I had seen it was during a Disney movie event on network television, so my memories were a little fuzzy. Needless to say, this film is a classic. It fits perfectly in that era after Walt's passing where the studio was struggling to keep Walt's vision and move forward. There are times when the story plods a little, but the characters are extremely well-developed and charming.
JEFF: The Rescuers Down Under looks amazing on Blu-Ray. By all accounts, this film should not work. It's basically a rehash of the original's plot, but with a new setting, new child, and new animal sidekick. However, it's still charming on many levels, and in some aspects, beats out the original film.
GEORGE: The Rescuers Down Under really surprised me and my kids. They were glued to the film the whole time, whereas they were a little fidgety with the Rescuers. What I noticed right away with both films is the lack of a great soundtrack, like the 1960s and 1990s films. Not that a standout Broadway song would have fit, but there were options. Still, it was a lot of fun and had all  of the excitement and drama of a good animated film. This is definitely a great set to pick up.
Are you a fan of the Rescuers? Do you own this set?
---