Magic Kingdom Food: The Best You've Never Eaten!
Magic Kingdom food is a big part of the Walt Disney World vacation experience. Buying the dining plan (and which one) and choosing  restaurants  can be as big of a decision as which parks to visit and which resorts to stay at. During my many research trips, I've run across some interesting food details and wanted to share them with you. I've looked at Disney dining before:
For this post, I'm going to share some of the food that you will never get to experience at the Magic Kingdom, or the best Magic Kingdom food you never ate!
Let's start in Frontierland. (Some of these photos are almost 10 years old and locations might have changed.)
Magic Kingdom Food: Frontierland
As we walk by the Riverfront, you can see various crates and sacks. Right away, we see a sack of salt and a crate labeled 7 lbs 1 oz. (Catch the clever reference to 1971?)
Black strap molasses, anyone? Obviously, we are seeing food-related items that would be prevalent during the time period for Frontierland.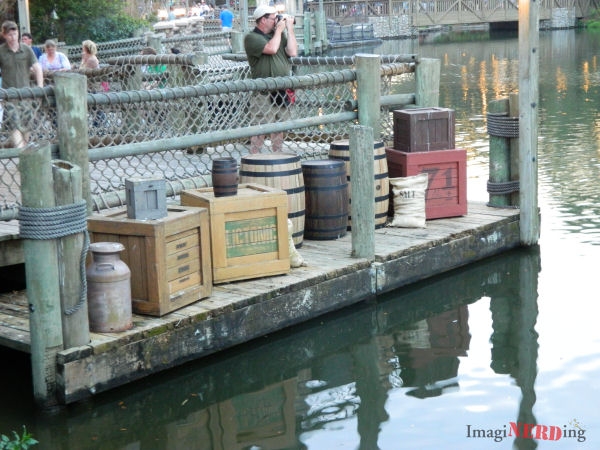 A milk container, barrels and some crates. The one labeled lictonic would be for the farm animals (Ryan at the Main Street Gazette discusses lictonic, here.)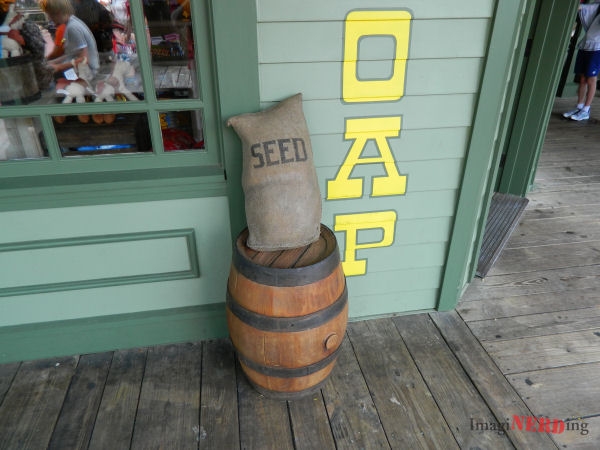 Seed. Those are important, right?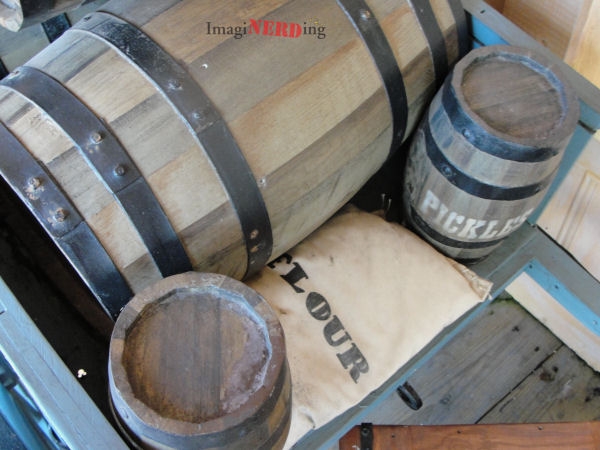 Pickles, flour and more barrels.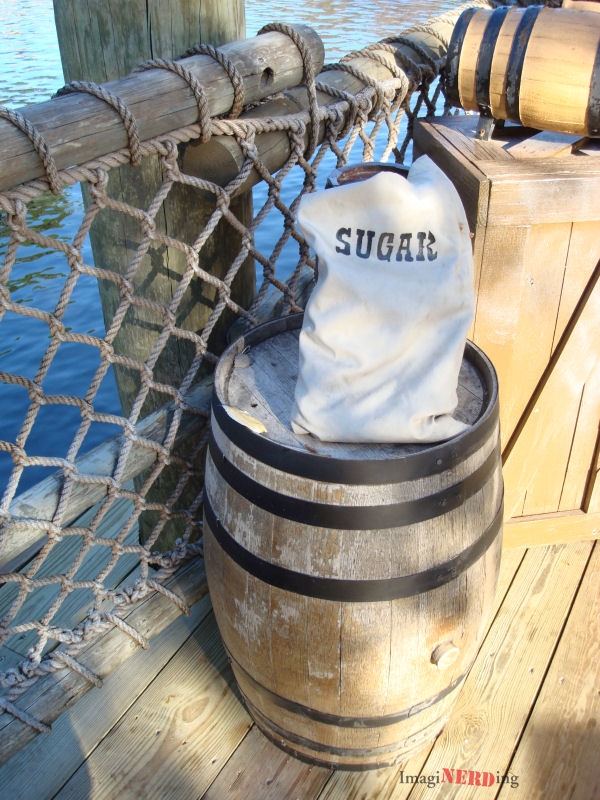 You have to have sugar, right?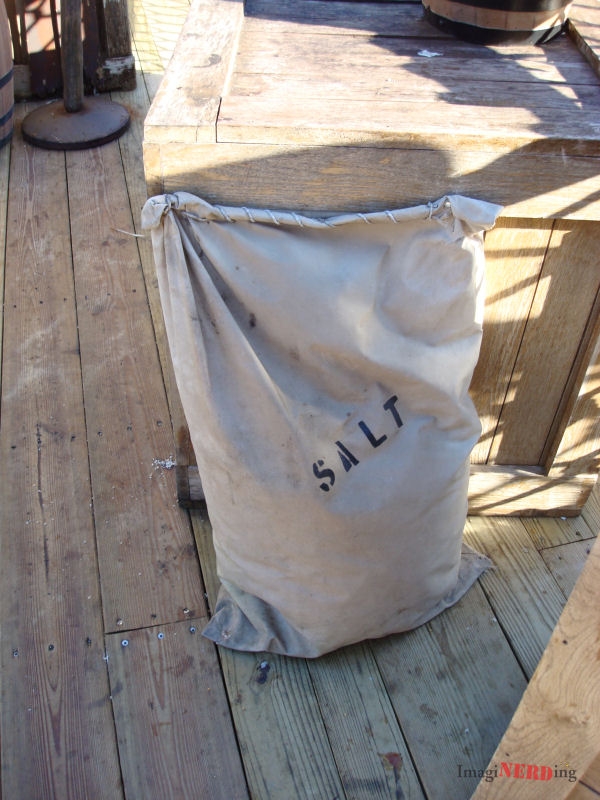 Salt. Salt is everywhere!
Behind the post is a sack of beans. Lamp oil would be helpful. #42 Switch Assemblies are waiting and I wonder what you could do with those. Maybe they are headed over to Big Thunder Mountain Railroad.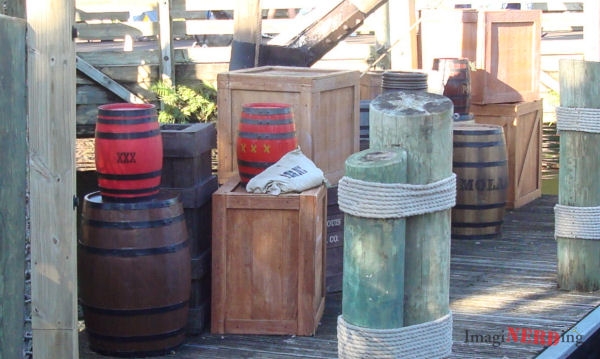 Who said there was no alcohol in the Magic Kingdom? (Found this before the opening of Be Our Guest.)
The two red barrels are marked "XXX" and I wonder what they could contain.
There is another barrel of molasses on the far right and there a sack of beans on top of the crate.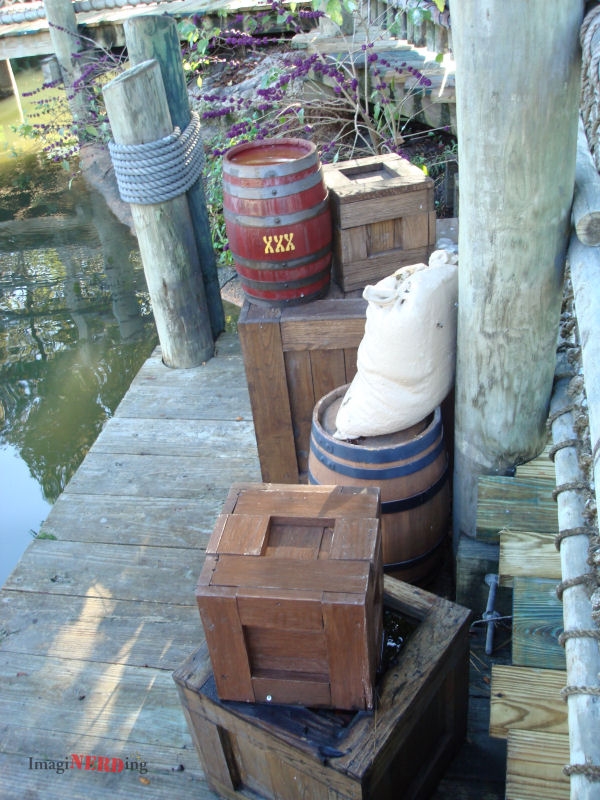 Another barrel of XXX.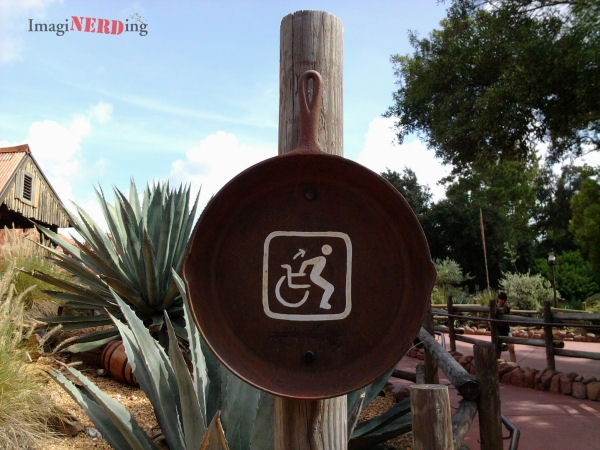 There is a frying pan over at Big Thunder Mountain, although it might be in use.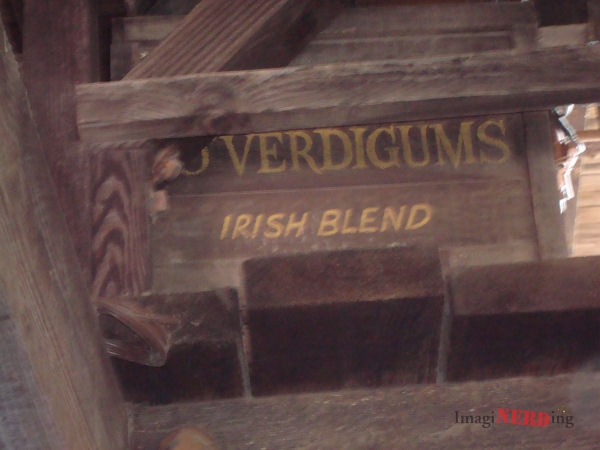 In the queue for Big Thunder, there is a crate marked O'verdigums Irish Blend. (Get it? Overdigums?)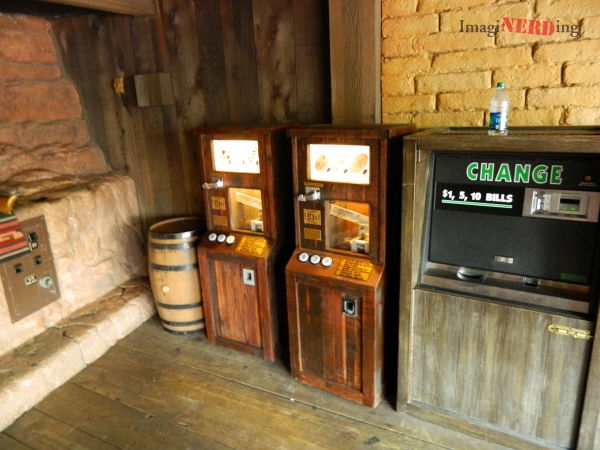 There's another crate in the Frontierland Shooting Arcade.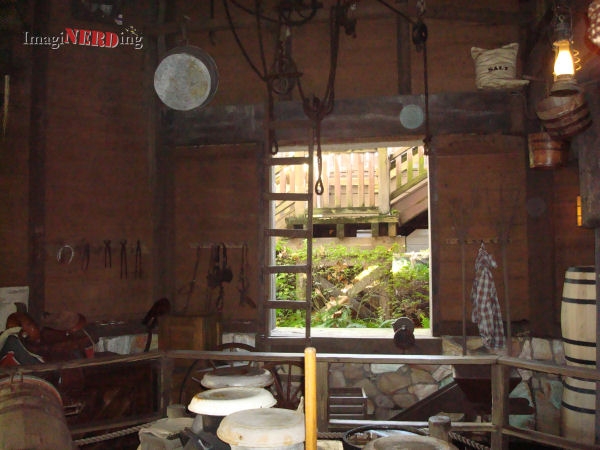 It is time for our FastPass for Splash Mountain. As we wind through the queue, we find more food and kitchen cookware. Pots, pans and milk containers abound!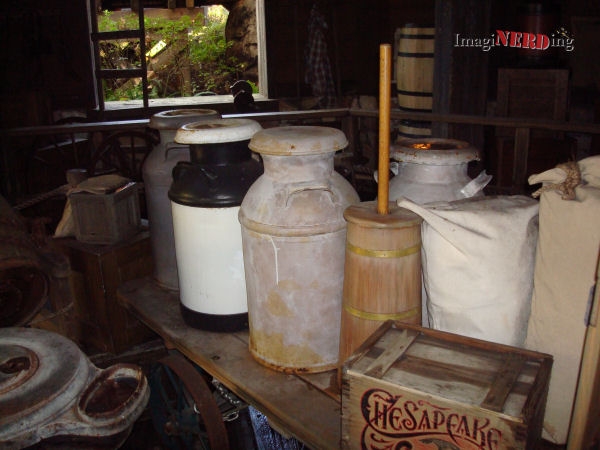 We've got a pot-bellied stove in the bottom corner along with more milk, a butter churn and a sack!
Barrels, crates and OATS, oh my! More milk, too. Notice the jugs on the shelf?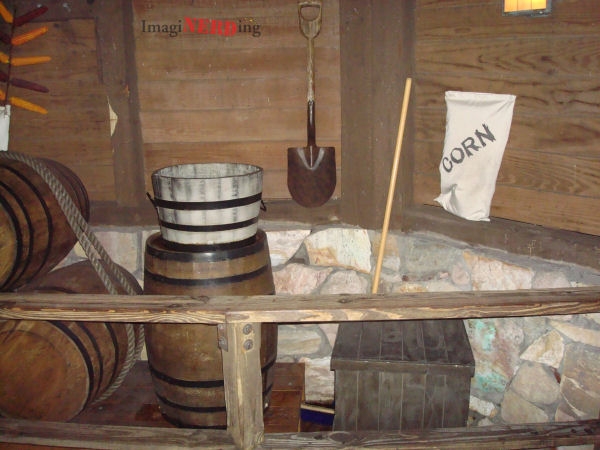 Corn! Finally something besides oats, molasses and sugar.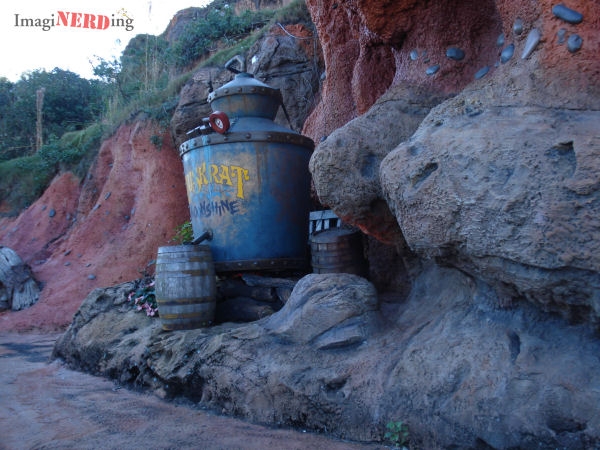 Muskrat moonshine, eh? Ev'rybody's got a laughing place, alright!
After exiting our Splash Mountain log and before viewing our drop photo at Splash Down photos, we run across some advertisements. The first one is for Mugg & Bean Coffee. I ran across it for the first time in 2007 and did some research. There is a real Mugg & Bean Coffee Company and the president assured me that there was no connection. He had seen it earlier and had friends ask him about it all of the time.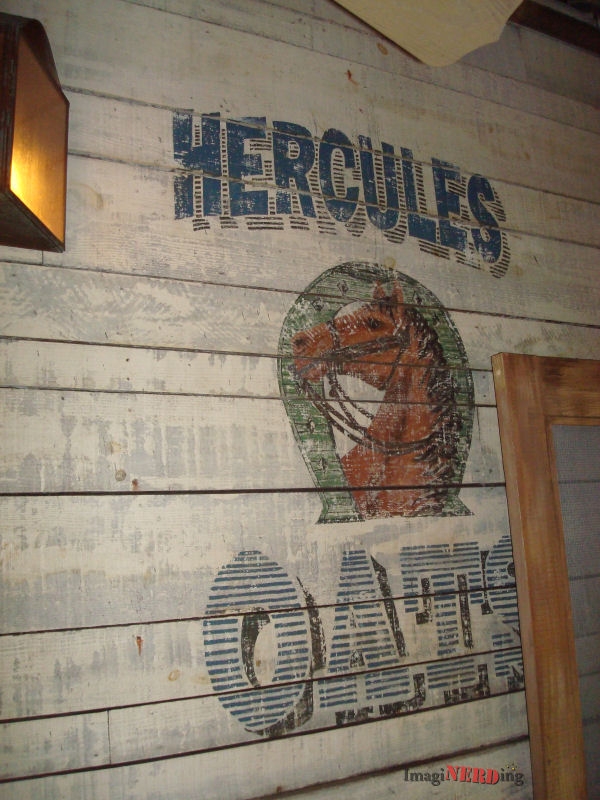 Not sure if these are oats for breakfast or for your horse! Or for your horse's breakfast.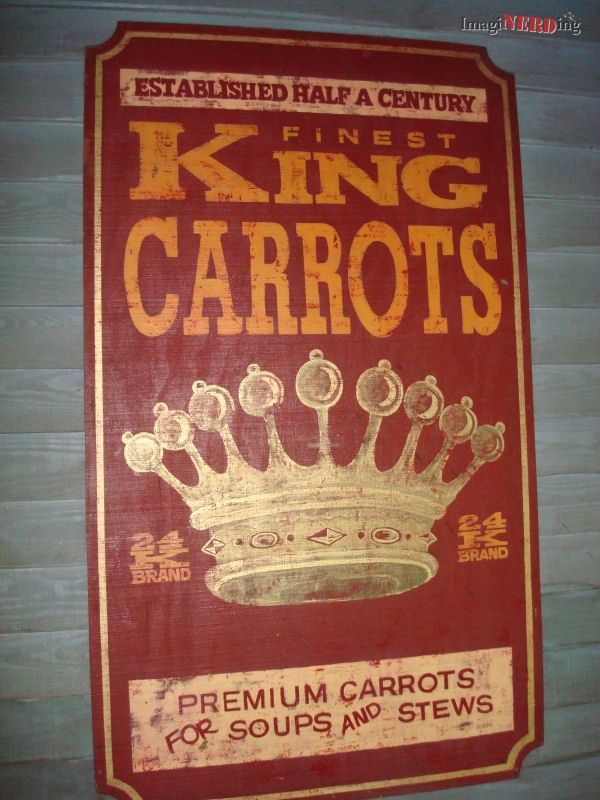 Finest King Carrots. Premium carrots for soups and stews. And they are the 24K brand.
The final two images are food images that are long gone. Remember the McDonald's food stand that was in between Caribbean Plaza and Splash Mountain?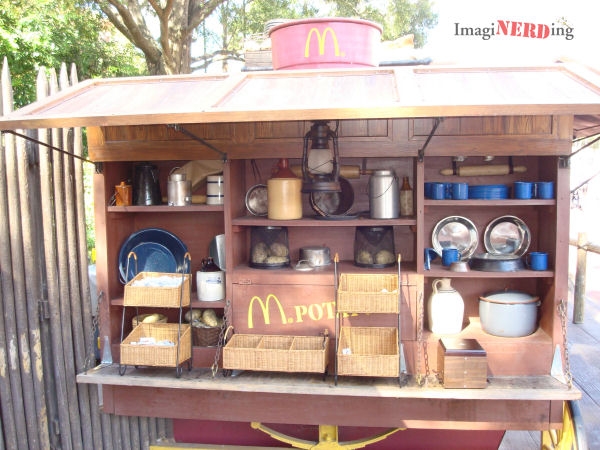 Some standard plates mixed in with some jugs, rolling pins and straws.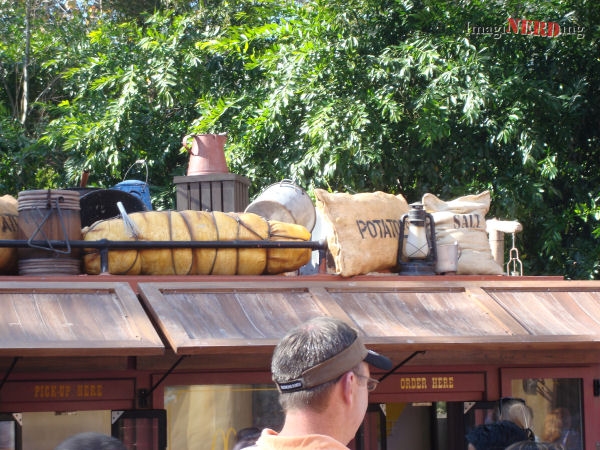 You've got the basic ingredients of McDonald's french fries on top of the stand, too; potatoes and salt! I am wondering what is wrapped up in the tan cloth. Big Mac meat?
Magic Kingdom Food: Caribbean Plaza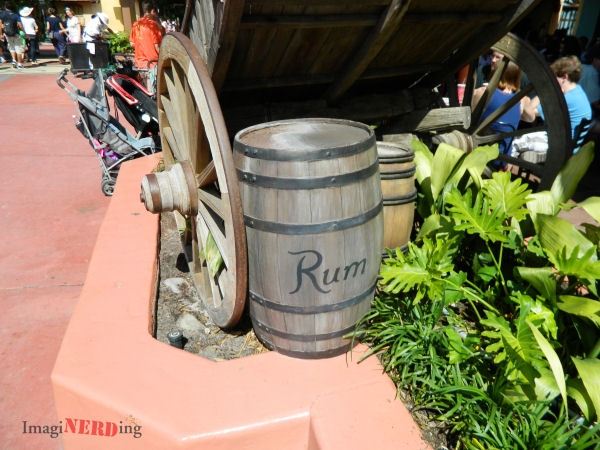 If we cross over into Caribbean Plaza, we can see a barrel of Rum near Pirates of the Caribbean. Those rascally pirates!
Magic Kingdom Food: Liberty Square
Liberty Square has some interesting tableaus. There is a cooking pot, but no chicken.
There is also plenty of soap! You need to wash up before dinner.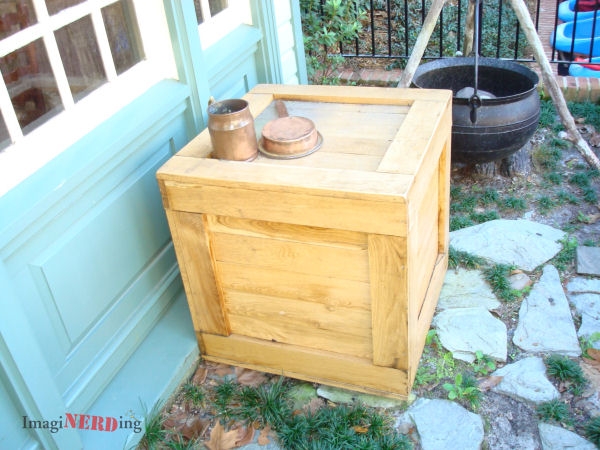 A kettle with something in it and some copper cookware.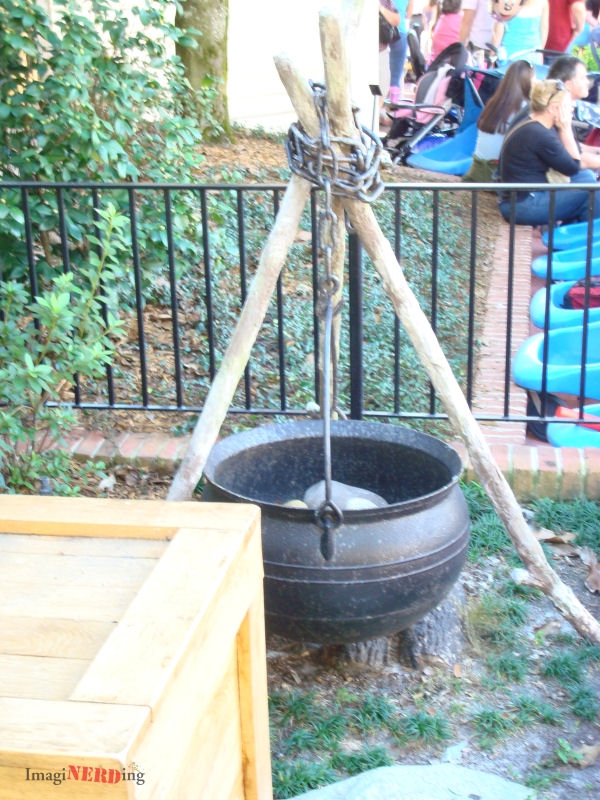 A not close enough angle of the kettle. Are those rocks and eggs? You might want to double check the menu at the Liberty Tree Tavern!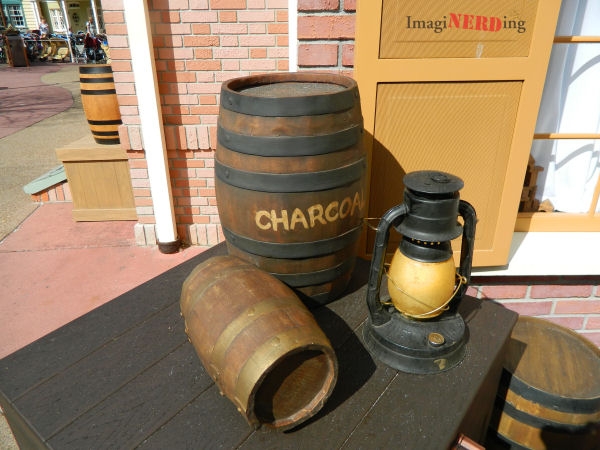 A newer display near the Sorcerers of the Magic kingdom that features a nondescript barrel and some charcoal! We can definitely use the charcoal for grilling.
Have you stumbled across any other Magic Kingdom food that you couldn't get to?