Haunted Mansion Maintenance…with 999 Happy Haunts!
Ever wonder how they kept the haunted mansion looking so run-down and ghost-filled? How they keep the clothes looking worn, but not too worn? Check out this article I ran across that looks at keeping the Haunted Mansion looking its, er, best?
---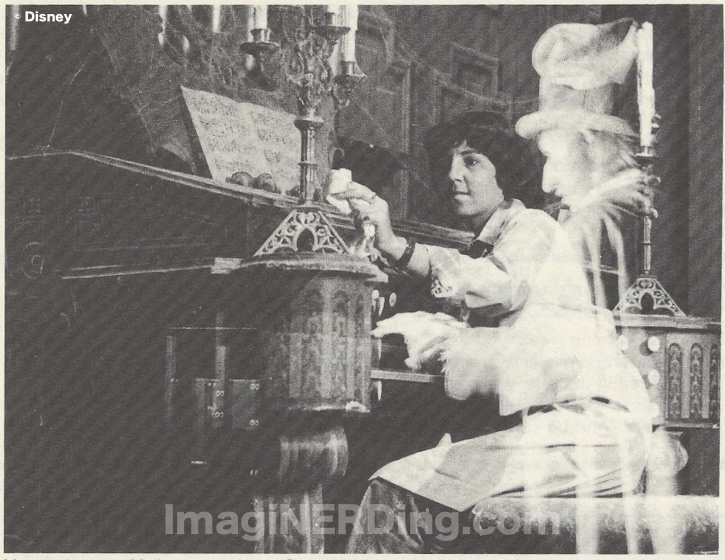 CAPTION: House cleaning, Halloween style … Sitting in the lap of one of our 999 happy haunts is Jayne Polgar, one of our animation artists who finds that every day is Halloween around here! Jayne spends her time keeping up the appearances of dozens of ghouls and goblins in the Haunted Mansion.
---
The following article about the Haunted Mansion maintenance is from an October, 1977, Eyes and Ears.
"MANSION" GREAT HAUNT FOR GHOST LOVERS
Ghostly white hands push upwards, raising the coffin lid ever so slightly. It creaks and groans, rising slowly to expose rusty spikes and bony fingers. But there's something definitely amiss . . . Jayne Polgar moves in to solve thecase.

No! It's not the ghostly movements that worry her. It's the french cuffs on the skeletal wrists lifting the coffin lid.

They're slipping. And it's Jayne's job to straighten them out along with other ghostly shapes throughout our Haunted Mansion attraction.

Jayne's specialty is make-up and grooming for 999 happy haunts who provide wall-to-wall running chills for millions of guests in the Magic Kingdom each year … because even a ghost must keep up appearances!

Jayne is one of four artists who spend their days … and more than a few nights . . . making ghosts appear frighteningly unlife-like. She joined the AudioAnimatronics Department staff several years ago while studying art at a local college. She claims she loves her work, though standing in the middle of a graveyard full of ghosts can be a little unnerving . . . even for a veteran!

Jayne's job entails regular maintenance on the appearance of dozens of ghouls and goblins, spooks and spirits. In the early morning hours before the Mansion "comes to life," Jayne and her three colleagues walk through the haunted hallways, looking for any outward signs of wear and tear from the continuous movement of the audio-animatronic figures. They adjust a hat on a graveyard picknicker, straighten a collar here, adjust a sleeve and check the ghostly white pallor of a graveyard caretaker there.

Working out of a trailer behind Fantasyland that is literally loaded with the special tools of their trade, the Animation Art Department also includes artists Lee Nesler, Tom Rodowsky and Randy Ogren.

"We take care of every attraction in the Park," Lee explained. "We're concerned with the overall show aesthetics and maintenance of all of them . . . but I guess Haunted Mansion is our favorite!"

Despite their familiarity with the Mansion and its ghostly inhabitants, the early morning visits sometimes hold surprises of near hair-raising proportions.

"As well as I know the effects, if I'm concentrating on a touch-up job and an animated figure is suddenly activated, I still jump!" Jayne told us.

The tools of her trade include translucent face powder, eye shadow, vanishing cream, and an extra supply of witch hazel … but no dust broom. All of the ghosts prefer a nice layer of dust over her handy work.

Lee, Tom and Randy have other specialities. You might find one making spider webs and sprinkling out dust, another doubling as a seamstress who specializes in disappearing thread, while the other works with the sound system . . . and his work is always a howling success!

If you're a history buff, then working in the Hall of Presidents would be great And if you collect dolls, It's A Small World would be just the thing. But all four agree, there's something about the Haunted Mansion that just "grows" on you! The last we heard, they were flipping a coin to see who would open the attraction Halloween Day … with the loser getting the honors!
Looking for more on the Haunted Mansion?
Check out the Communicore Weekly (the Greatest Online Show™) Live Show from Dragon Con 2015!
Check out the review of The Haunted Mansion: Imagineering a Disney Classic (From the Magic Kingdom) by Jason Surrell