Dollywood, a photo review
I finally had the chance to visit Dollywood a few months ago during a spring break visit. After hearing so many of my friends say such great things about it, I knew that I needed to check out this amazing theme park in the Great Smoky Mountains. This is less of a trip report and more of a look at some of the interesting parts of the park. Something to whet your appetite, so to speak.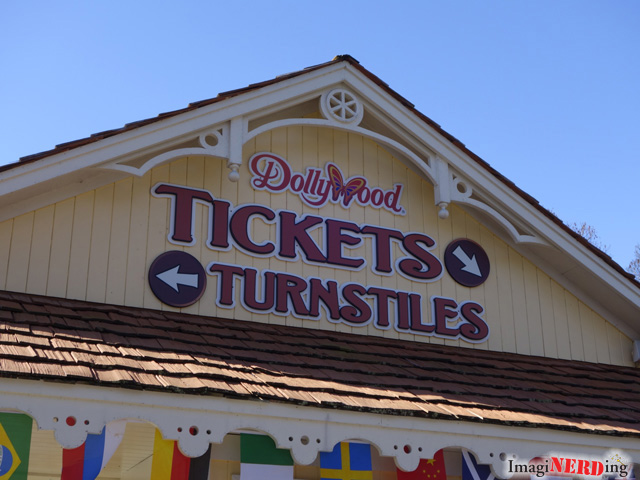 Dollywood is located in Pigeon Forge, Tennessee. It's about 45 minutes from Knoxville and it's about two hours from Asheville, NC. If you're visiting the area, then it's definitely worth a trip. With the cities of Gatlinburg and Pigeon Forge offering a plethora of tourist options (cabins, rentals, shopping and attractions), it would be easy to visit Dollywood as a part of a longer stay. (After my first trip, I'd rather spend two half-days at Dollywood and spread it out.)
Dollywood's DreamMore Resort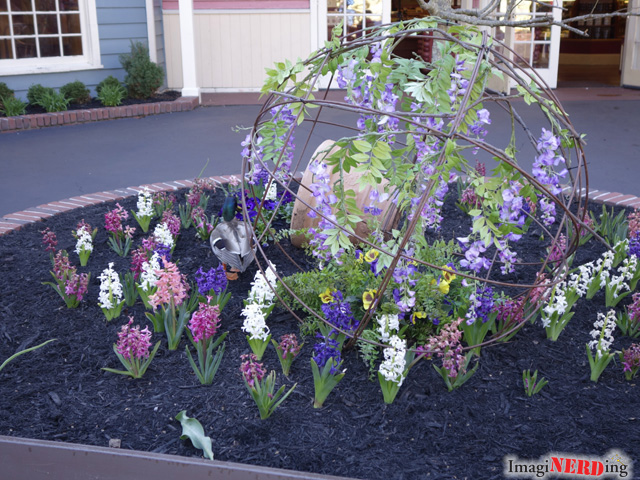 ---
There aren't a lot of planning resources available online for Dollywood, but I read Dollywood and Beyond by Michael Fridgen before my trip and it was a great look at the theme park. Michael includes a little bit of history as well as advice about every show, attraction and restaurant. I highly advise grabbing a copy of the book well before you start planning your trip.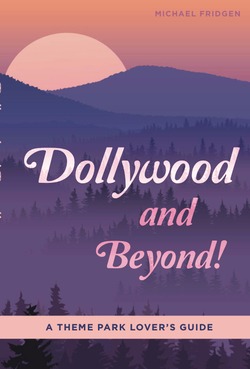 ---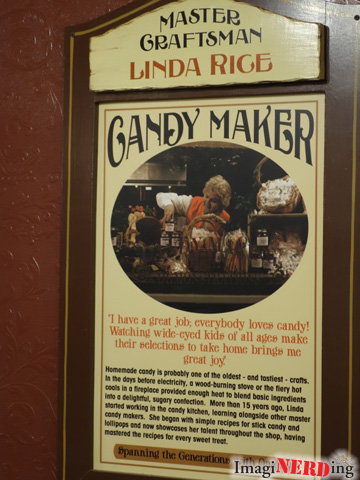 Dollywood is celebrating their 30th year and the park has grown tremendously since it started in 1961 as the Rebel Railroad (you can get a great history of Dollywood on Communicore Weekly). It's seen a lot of changes and it's managed to keep that small town charm, so to speak, while offering some spectacular coasters.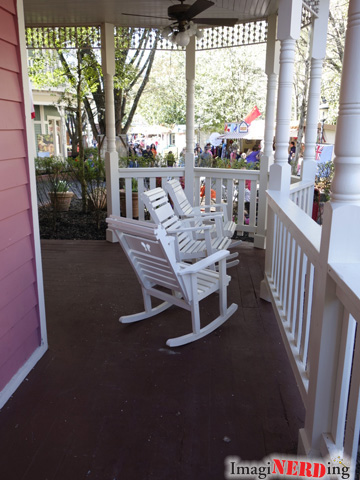 There are some great vignettes throughout the park that offer minor respites and some stunning views.
During the spring, Dollywood offers the Festival of Nations. During this time, there are displays, special music acts and some special shopping with artisans from different countries.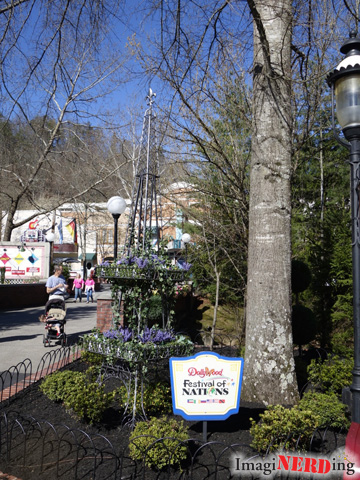 It was nice to see different art incorporated in the flower beds.
There were also several tents set up that offered specialized merchandise.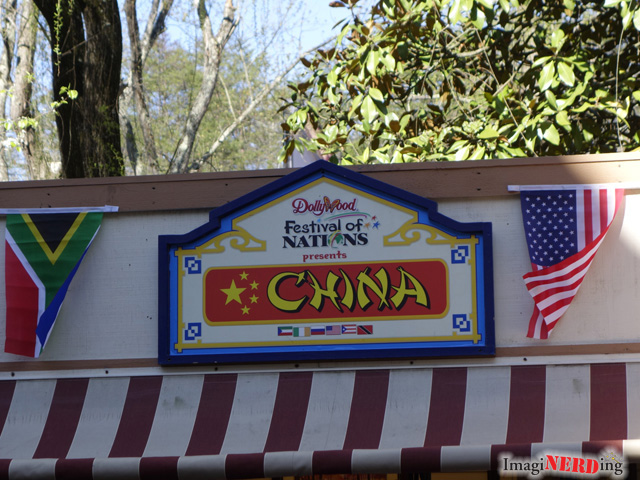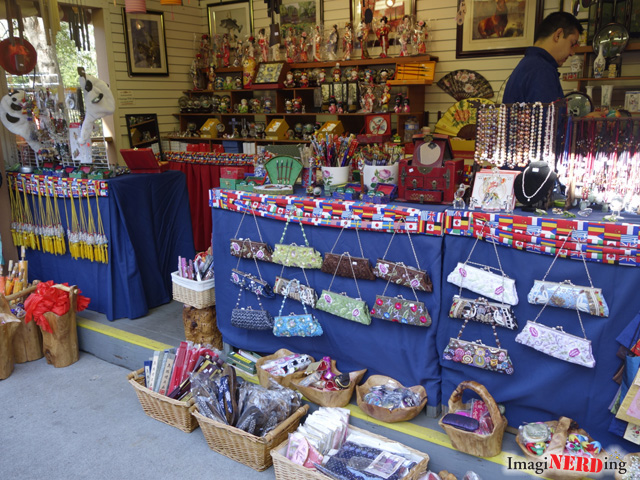 Live entertainment was offered throughout the day as part of the Festival of Nations.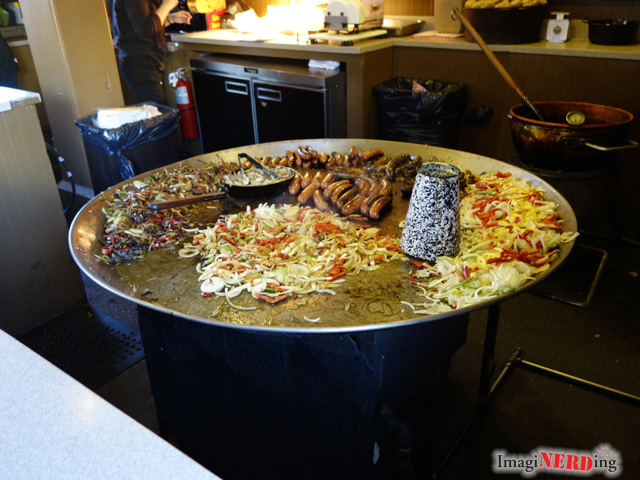 Yes, even at 10:00 in the morning, there was some amazing food being prepared. (I had a chance to try the Dollywood sausage on a later visit and it was pretty amazing!)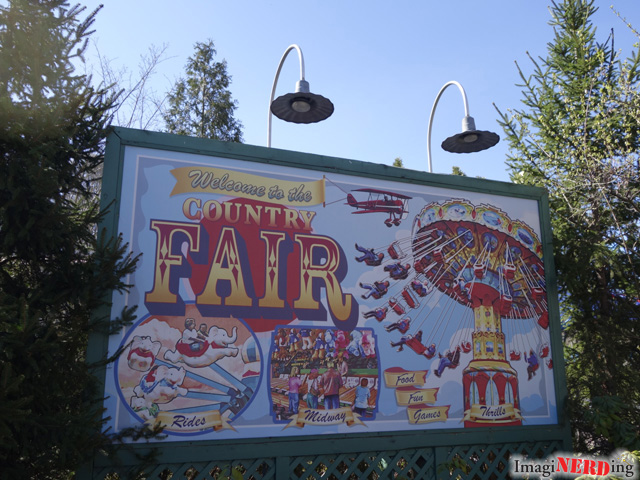 We spent a lot of the morning in the Country Fair section of Dollywood, since we had a few kids under 12 in our group. The bumper cars and the Scrambler were very popular with the tweens (although, it would have been nice to have two hosts at the Scrambler to make the loading and unloading go much quicker). It's a very small area that makes it somewhat easy to keep an eye on everything.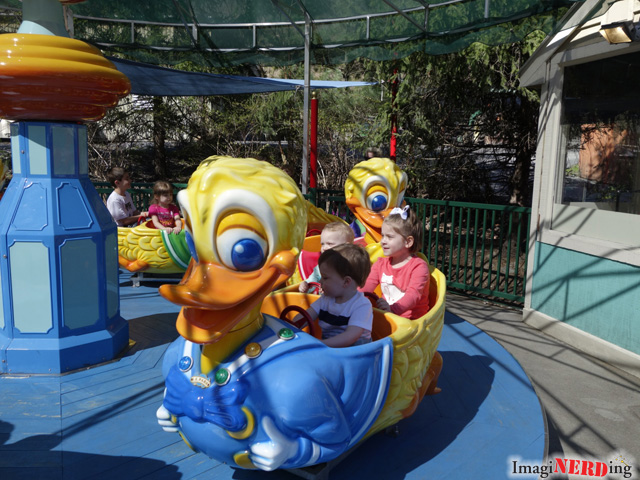 There were a few rides for the younger children that were very popular.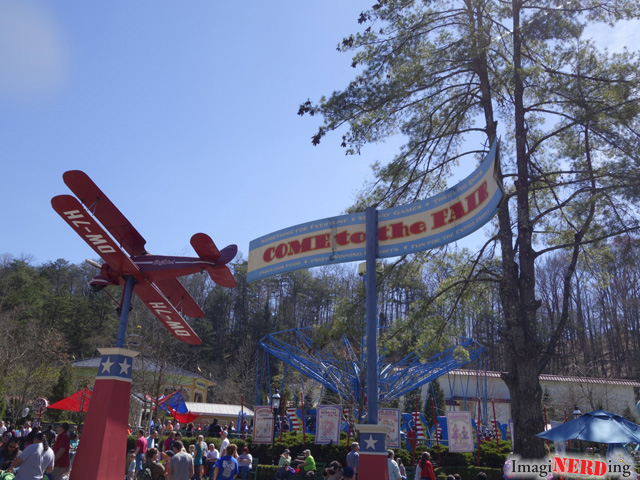 There were also some nice vignettes around the park that helped tell the story.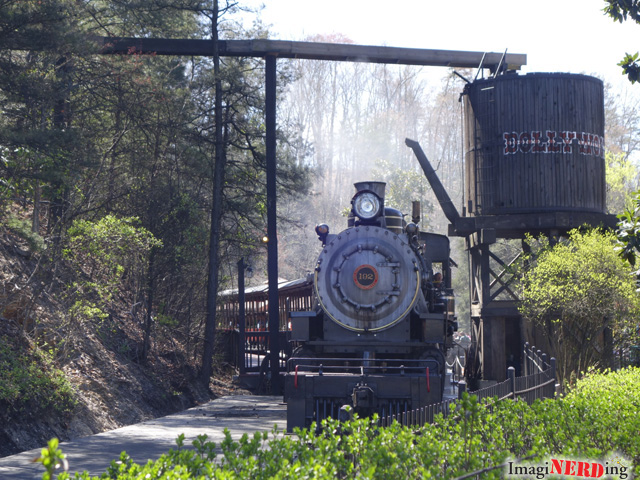 The centerpiece of the park is the Dollywood Express, a real coal-burning engine that makes a trip every hour. They will warn you that the engine puts off a lot of coal soot and you can smell and feel it (in your eyes) around the park. It was wonderful to hear that whistle blow.
When the train stops for water, you've got an amazing photo opportunity.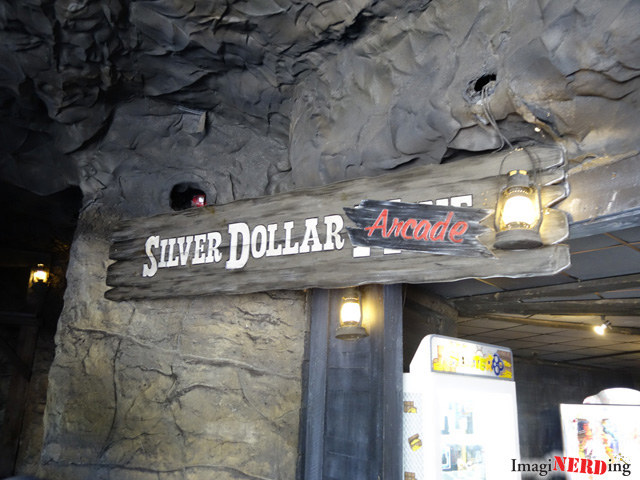 There are remnants of history that you'll find throughout the park. Silver Dollar City, Tennessee was a name the parked lived under for a very short spell.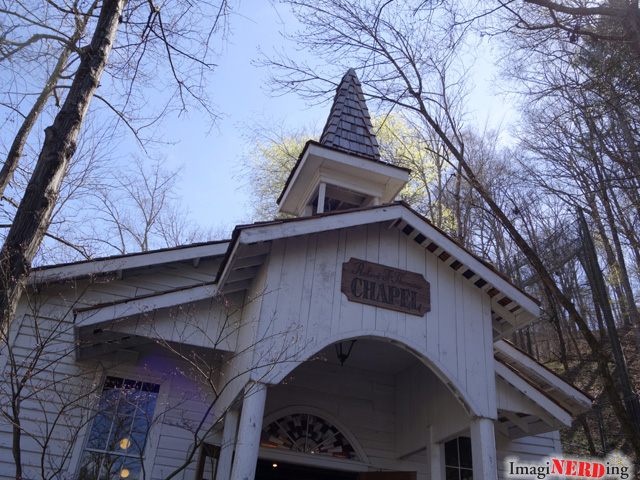 The Robert F. Thomas Chapel is named in honor of the doctor that delivered Dolly Parton!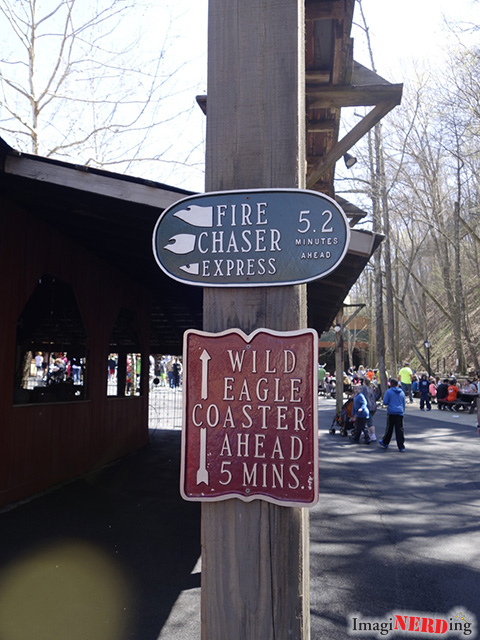 There were some pretty inventive signs in different areas of the park that really kept the theme going. Craftsman's Valley was a very lovely part of the park, that was more like Frontierland mixed with Main Street USA at the Magic Kingdom.
We decided to stop at Lumberjack's Pizza to try their 30-inch pepperoni pizza. It was just as much fun to eat it as it was to watch people agog at the pizza as they walked by. Sadly, we actually left half a piece on the tray. Sigh.
It was a fantastic pizza and definitely worth a slice alone, if you're in the area.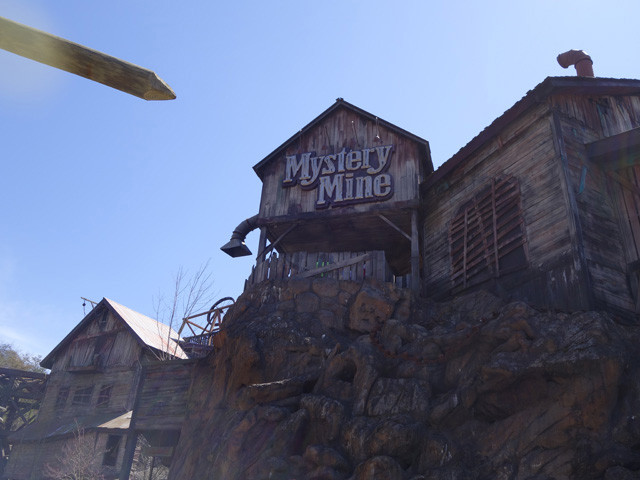 We used the Dollywood Line Saver (also known as Q2Q), which clocks in at $20.00 per person. You can have up to six people on a device. We used the Line Save for Mystery Mine and a few other attractions after lunch and it was definitely worth it. In the late afternoon, the line for Firechaser Express was posting at over an hour and we were able to use the Line Save to negate the queue while doing other things. I highly recommend the Q2Q Line Saver.
By the way, Mystery Mine was incredibly impressive and something that I can't wait to ride again!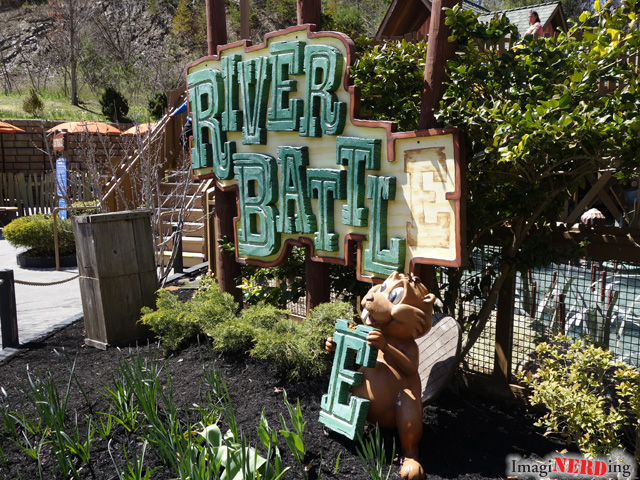 The River Battle looked like a new addition and something for the families. You will get wet while riding.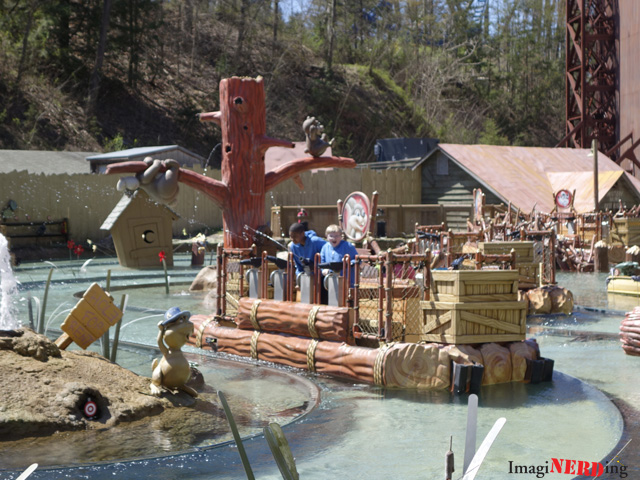 River Battle was the best ride of the day, according to the tweens in our group. Also, you might get wet, even if you're just standing near the attraction.
FIRE IN THE HOLE!
I'd heard really good things about Blazing Fury, one of the rides in the park from the Silver Dollar Days. It was built in 1978 and is still a favorite to locals. It's a really fun dark ride with a little bit of a coaster thrown in there. It's also got a great show building.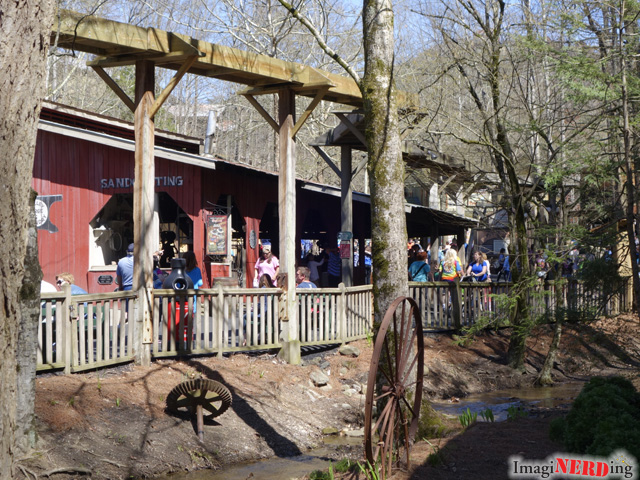 Another shot of the Craftsman's Valley area. Yeah, that's a real creek running thought the park and a sluice above it to the water wheel at the Grist Mill where they make the amazing…
Cinnamon Bread! Yes, it is as amazing as everyone claims. Well worth the wait, even on a very hot day.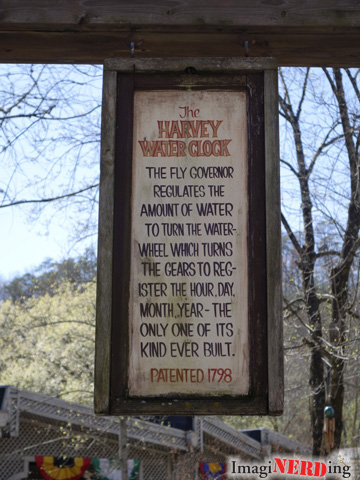 As I mentioned earlier, the park is full of vistas and settings that only add to the charm.
The Harvey Water Clock is a simple addition, but adds so much to the area. Make sure to stop and take a look when you're wondering around Dollywood.
We saw several of these Steep Hill Caution Signs in the park. Dollywood is built (sorta) on the side of a mountain and there are a lot of hills and grades. You will be tired by the end of the day, but you will have had an amazing time.
Seriously, Dollywood is really worth it. By far, it is the most beautiful theme park that I've visited.
Have you ever visited Dollywood? What do you think about this theme park in the Great Smoky Mountains?
---