Michael Iseberg and the Iseberg Machine in the Tomorrowland Terrace
I ran across this great article from the July 16, 1976 Eyes and Ears. Did you ever get to see Michael Iseberg perform?
ADD ONE COW, SOME WIND, A TOUCH OF BACH, AND YOU GET THE "ISEBERG MACHINE"

Sitting on the stage in Tomorrowland Terrace is a machine, no a device, not quite, more like the lunar landing capsule perhaps, but what ever you call it, it produces a sound the likes you've never heard before!
It's the Iseberg Machine and sitting in its center is Michael Iseberg, one of our newest entertainment "groups" in the Magic Kingdom. We say groups, because Michael has brought along a few of his friends; including a mooing cow, an oinking pig, a chugging train, whistling wind, a rock group, and a symphony orchestra. All produced by an incredible musical instrument that Michael invented and built … his lseberg Machine.

We spent some time with Michael to explore his background and found that he is an accomplished musician, going all the way back to four years of age when he began playing his sister's piano. Lessons were added and for 13-years he studied classic piano, until enrolling in the eminent Juilliard School of Music in New York.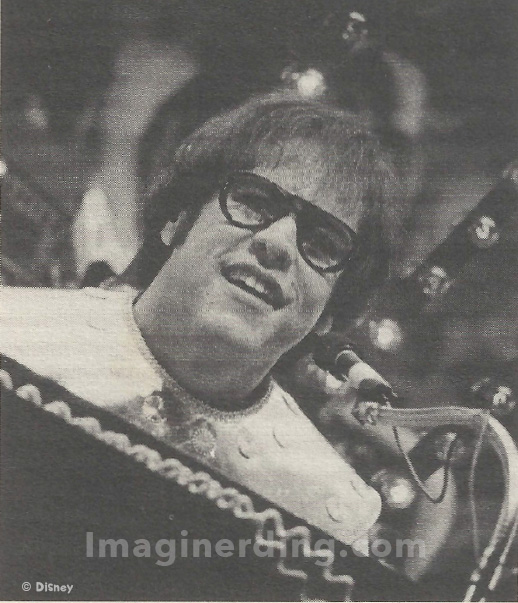 After graduating and entering the field of retail musical equipment, Michael decided the business world wasn't for him and he moved to Aspen, Colorado, where he entertained skiers in piano bars. Then the urge to "tinker" came. "I had an old home organ at my place which I first began tinkering with. You see, an organ  sn't very satisfying to a classical piano player, in fact, I have never liked the sound they produce. So I began trying to modify its sound," Michael related. One slight modification led to another and soon he was reading technical manuals and designing his own electronic circuitry. What started out as a home organ soon began to look more like the interior of a computer. Although he had no formal training in the field of electronics, Michael's knowledge grew through his tinkering. And then, after some seven years of part-time tinkering and inventing and wiring, it was complete … his Iseberg Machine.

Sitting on the player's seat, you are surrounded with electronic dials, switches, gages, and panels; looking somewhat similar to the cockpit of a 747 we suspect. When playing his Iseberg Machine, Michael has to contend with five keyboards, one set of foot pedals, and over 1,000 switches and buttons.

Watching him perform is a show in itself . . . with him swiveling from side-to-side, hands rapidly throwing this switch, punching that button, and sweeping down a set of keys. And the sound that is emitted from the two huge sets of speakers is almost indescribable, but we'll suffice to say that by dosing your eyes you can almost imagine the Boston Pops Symphony on that small stage, or perhaps a cow or two mooing right along to the music. Have we totally confused you as to what sounds the Iseberg Machine plays? Good, because it is best for you to drop by and catch a performance for yourself . . . then you try describing it to your friends!
Did you ever get to see Michael Iseberg?