Bob-A-Round Boats and Walt Disney World History
I've had a bunch of people email me this photo of a bob-a-round boat from the Polynesian Village Resort. There's a display case that looks at the resort's history and this image of a weird looking boat has garnered a lot of attention. Of course, anyone familiar with Communicore Weekly, should recognize what bob-a-round boats are.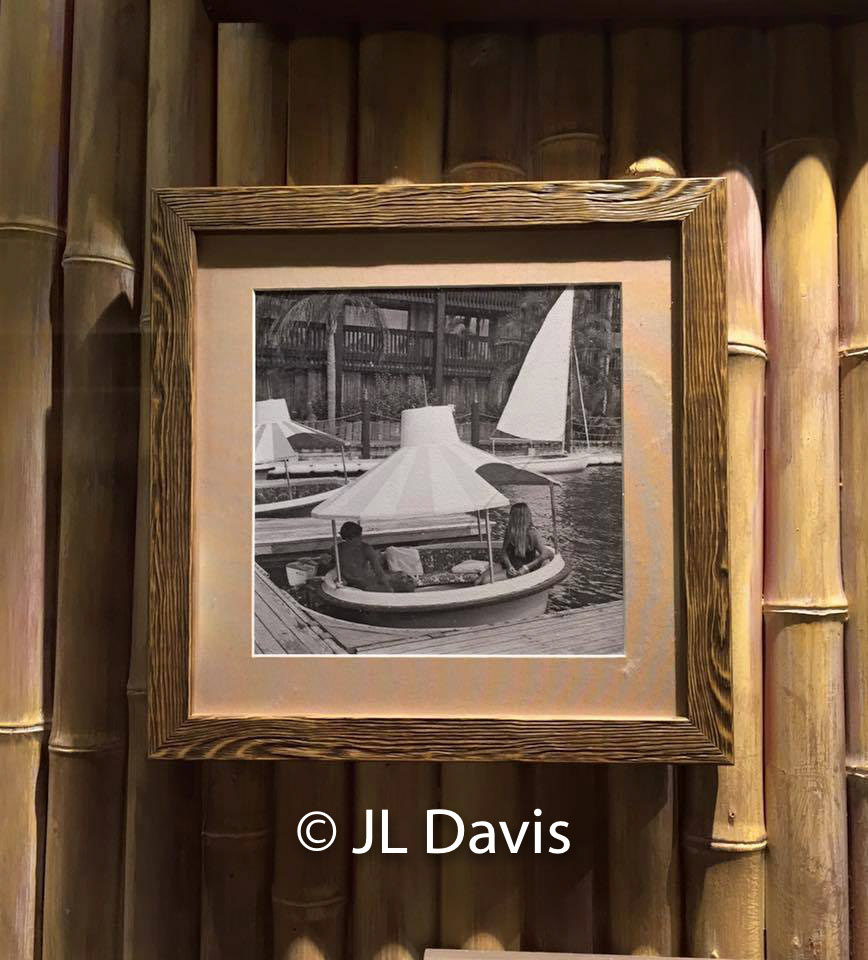 Communicore Weekly. C'mon and get geeky with Bob-A-Round boats and five legged goats.
Are you singing the theme song, yet?
If you've watched any episode of Communicore Weekly, then you know that my co-host, Jeff Heimbuch and I are obsessed with the hidden and not-so-hidden details of Disney theme parks. I ran across a Walt Disney World flyer in 2008 that started an obsession with a little-known watercraft.
Horizons, World of Motion, Toontown Fair, the Flying Saucers; more than a litany of closed and shuttered attractions and lands, these names are part of the ephemeral history of Disney theme parks. Unless you have studied library science or archival preservation, you might not be familiar with the term ephemera. In most cases, ephemera refers to transitory material (like maps and brochures) that is not designed to be kept. In terms of theme parks, we can think of ephemera as the long gone attractions that we pine for wistfully.
The Beginning of the Bob-A-Round Boats Mystery
I was checking out some online ephemera (can something be ephemera once it is digitized?) and ran across a flyer at Vintage Disneyland Tickets. The flyer was from 1975 and promoted the Vacation Kingdom as whole. What caught my eye was the following image: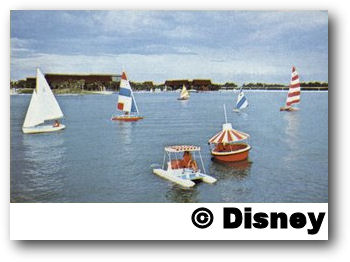 Yeah, that round thing. This is a pretty standard shot from Disney in the 1970s. There is a lot of activity and everything is staged without looking staged. But still, I had no idea what the round boat was. It wasn't in any of my souvenir guides nor could I find it in any of the PR material that I own.
I was stumped!
Besides, how do you do a Google search for round boat at Walt Disney World and not go insane? I e-mailed a few of my friends and Foxxfur from Passport to Dreams was able to provide the answer. She told me to visit the pages at Widen Your World and Walt Dated World for the bob-a-round boats. Alison, at Walt Dated World, had this to say:
Rub a Dub Dub. Three (or four) people in a tub. These bizarre-looking striped boats had what looked like a lightening rod on top of them. (Florida is home to a lot of lightening, you know!) They were only around a short time after Walt Disney World opened. Apparently the boats were often the victim of dead batteries, which prevented them from Bob, Bob, Bobbing Along.
And Mike, at Widen Your World:
Another aspect of the resort [Polynesian] that has seen much change is the range of watercraft made available to guests over the years. Gone are the days when as many as eight people piled into a 40-foot Polynesian War Canoe and took off across the Seven Seas Lagoon toward real islands. And before those craft sailed into the sunset, the circular Bob-A-Round boats (each with an independent stereo system!) had already long since been retired.
Since then, I have seen the Bob-A-Round boats in other promotional material. Big Brian's WDW A History in Postcards lists the following image as 01110261 THE POLYNESIAN VILLAGE.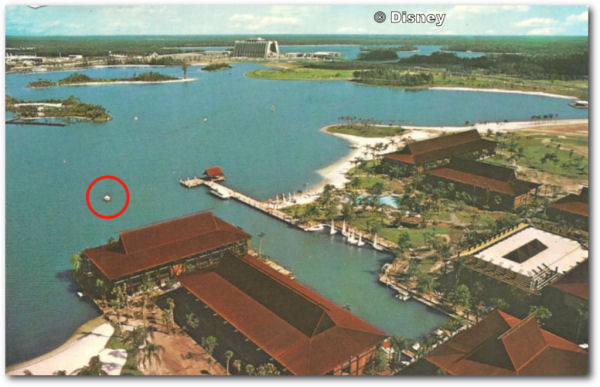 In this scan from the inaugural October, 1971 Eyes & Ears, you can see a list of all of the prices for various recreational watercraft. The Bob-A-Round is listed at $8.00 per hour (which would be roughly $47.00 in 2015). Not the cheapest, but still, a fairly expensive way to traverse the Seven Seas Lagoon.
Bob-A-Round Boats in the Wild!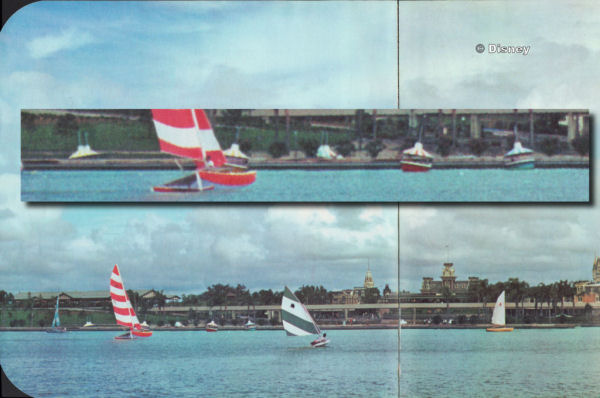 If you look closely at the scanned image, you can see that four of the seven Bob-A-Round boats are docked at the Magic Kingdom. They are the ones in the back that are grouped in pairs. When I studied this image, I wondered if they ever rented watercraft from the Magic Kingdom dock. Obviously, there hasn't been a structure near the water to act as a rental agency, nor is there a cast facility for refueling or recharging. In this case, I would make the assumption that the boats are there for show. This is probably a staged publicity photo. No real guests were harmed in the making of this shot! 
Since originally writing this article in 2012, I've confirmed that you could not rent watercraft from the Magic Kingdom area. But, a good friend did tell me that he did drive a bob-a-round boat from the Polynesian to the Magic Kingdom dock and left it so he could visit the Magic Kingdom.
I found this image in the 1975 Amtrak brochure. It is the only image I have seen that shows the engine of the Bob-A-Round. I really can't imagine how long it took to get comfortable driving the boat.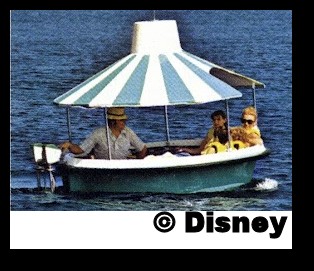 It almost seems as if I am seeing the Bob-A-Rounds everywhere! The following image is from the 1977 World Magazine. I added the red arrow.
You could see the advertising for the water recreation in most Walt Disney World News newsletters that were distributed during hotel check-ins. In addition to describing what was new at Walt Disney World, you could also learn about dining, golfing and shopping. Each issue also contained information about the water recreation and the prices.
The 1973 WDW News clip featured above has a small black and white photo and "For something different, take the whole family along on a Bob-A-Round cruise". It is also interesting to note that you get ten minutes of introductory training when you rent any of the boats. You could also rent the boats at the two hotels and Ft. Wilderness.
The Demise of the Bob-A-Round Boats?
The last mention that I could find for the Bob-A-Round boats was in the December 1977 WDW News. The rental was $4.00 a half hour. "Bob-A-Rounds, the perfect craft for leisurely sight-seeing cruises, are family favorites."
This leads me to believe that the Bob-A-Rounds were retired sometime in 1978, but I have not seen an official confirmation.
What I've read since originally publishing this post is that the bob-a-round boats were very hard to steer and would fail frequently, causing them to need to be towed back to the resort marina. It was very frustrating for guests and cast members.
I continue to be amazed at the myriad of unresearched and unknown details of Walt Disney World.Have you run across anything that has inspired you to take on some research? Or, a better question: do you have any photos or stories of the Bob-A-Round boats?
---
---
Looking for more Walt Disney World history?
Check out my list of WDW history books.