More Than Just a Ping Pong Champion: Al Weiss
I found this amazing photo of Al Weiss in a 1976 Eyes and Ears.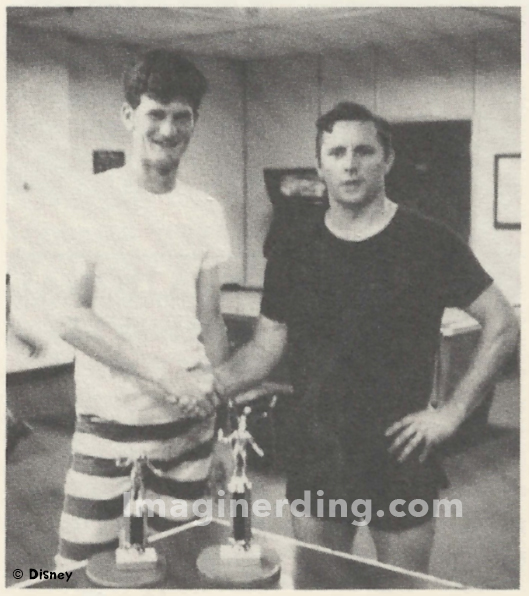 Here's what the article said about the man in the striped shorts:
The 1976 Ping Pong Singles Tournament was played this week with the following cast members participating . . . Tommy Jenkins, Mike Brock, Mike Moorehouse, Pat McGuire, Jack Hamilton, Robert Hansen, Tom Smith, Rudy Werlink, Garland Pace, Jim Morris, Carl Conklin, Bill Walters, Al Weiss and Fred Wessel. From this group the championship game went to the table between Al Weiss and Fred Wessel. Al, the defending champion, was defeated in a close match 21-16, 21-12, 15-21 and 21-18. Congratulations to Fred and Al as well as all of this year's participants.
Al worked for the Walt Disney Company for 39 years (retiring in 2011). He served as president of worldwide operations for Walt Disney Parks and Resorts from 2005-2011. When Al Weiss worked in Florida, it was still the practice for Disney to groom employees and promote from within. He started in 1972 and his first job was to zero-out cash registers at the end of shifts at Walt Disney World.
I'm not really sure if he changed his haircut during those 30 years, either.
Nice shorts, dude. I'm just sayin' that they do sort of look like prison shorts.
---
Al Weiss Supports Communicore Weekly!* (And you can, too!)
This image was posted to the Communicore Weekly Patreon page on Thursday, July 2, 2015. Find out how you can support Communicore Weekly and get all sorts of cool stuff before anyone else!
---
*Not really, but it was cool to type that!