George: So, we just finished Star Wars Dark Disciple and we know that you guys (and gals) are just waiting to read our review. When I started Star Wars Dark Disciple, I wondered how it was going to hold up to the other Star Wars books that we've reviewed so far. Also, this was an adaptation for a few un-produced episodes of the fantastic Star Wars: The Clone Wars. Would that make a difference?
Jeff: The Clone Wars is a great show, so we knew we'd be in for a treat here. The new Star Wars canon that has been coming out lately has all been great, so I had high expectations for this one. I wasn't let down, per say, but I did have some issues with it that I'll get to. As to the plot of the book, it is decidedly darker than most: the Jedi Council decides to assassinate Count Dooku. I mean, how often do the defenders of the Light Side do that?!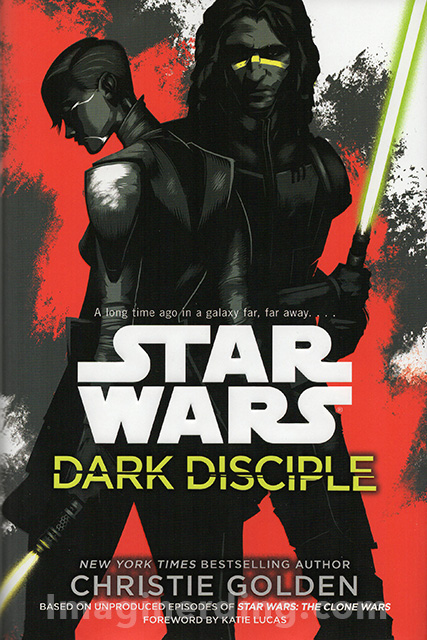 George: I have to admit that it's an interesting proposition, but how do they go about assassinating someone? I mean, it's perfectly alright to kill someone in the heat of battle, but not to put a price on someone's head. Anyway, the Jedi Council does decide that there's no way to end the Clone Wars until Count Dooku is dead. The Council calls in Jedi Master Quinlan Vos to recruit someone who might not consider assassination a problem. Especially with the likes of Count Dooku.
 Jeff: Of course, if you're going to assassinate someone, it would help to have some inside knowledge on them. Especially from someone who may have experienced it first hand. And so, Vos sets out to track down fan favorite Clone Wars character, Asajj Ventress, Dooku's former disciple turned enemy. And that's when things get real interesting.
 George: Star Wars Dark Disciple does take some weird spins, including sides of Obi Wan Kenobi that you just don't expect. Asajj is a well-rounded character that builds on the story lines from the comics and the Clone Wars. We really get inside of her character to see some of her inner workings. Vos was a different story altogether. He's instantly likable and then he takes a strange and dark path that doesn't always make sense.
 Jeff: And that is where I had the most issues with the book. It seemed to spend too much time on this one particular area, especially going back and forth on too many double, triple, and how ever many more crosses. Maybe it would have played out better on TV, but in book form, it was too much and not nearly as exciting as it should have been.
 George: I'd always thought that falling to the Dark Side would be more like in the films, but this was different, and maybe that was because of the relationship between Asajj and Vos. But the amount of double-crossing (and all those other crossings that Jeff mentioned) seemed to be a filler. I still enjoyed the title and I think that Star Wars fans are going to like Star Wars Dark Disciple. It still falls into the same plot trap as the other books; we know that Dooku doesn't get killed her. The real meat to the story is in the relationship between Asajj and Vos, coupled with Obi Wan and the Jedi Council.
 Jeff: I DID enjoy the rest of the book, much like George. It was great to see Ventress' story play out some more, and see where her path takes her. But, we all know how Dooku meets his end, so we know Vos' plan was doomed from the start. That said, it's not always about the goal, but the journey there. I did enjoy their journey through the book, and despite some ups and downs, would still recommend it, especially for fans of The Clone Wars show.
 George: Overall, it was a good book and adds to the new Star Wars universe. Asajj has been a very intriguing character and it was enjoyable to get to know her better, so to speak. The action is written very well and the never seems to lag. It did seem like it was longer than necessary, but it's not a big complaint about the book. Star Wars fans have a lot to rejoice
 Jeff: Agreed. Star Wars Dark Disciple is a great way to cap off the end of The Clone Wars story before we jump into Episode 3. Learning more about some of these characters we grew to love over the course of the series, it's a great way to re-connect. A little darker, but still a good entry into the overall Star Wars canon.
What did you think of Star Wars Dark Disciple? Would you recommend it for Star Wars fans?
---