Yeah, you read the headline right.
We've got another weird Walt Disney World moment from Eyes and Ears.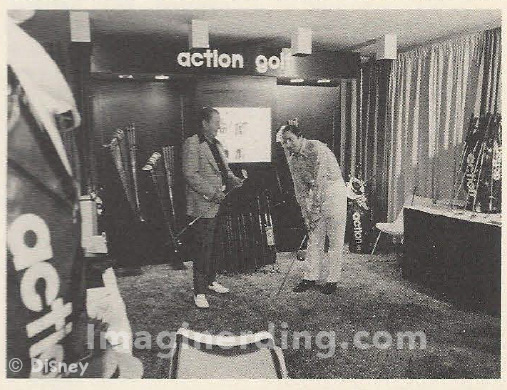 From the February, 1975 Eyes and Ears:
Take a look at the above picture. Look close. Now, where was it taken? The Golf Resort Pro Shop? An Orlando country club? One of our area shopping malls?

Wrong on all three counts. The picture is of one of our guest rooms in the Contemporary Resort … as it looked last week during the PGA Merchandise Show which was held there.

Hundreds of golf industry manufacturers set up shop in the Contemporary Resort for four days last week to display their wares before thousands of golf shop buyers, professional golfers and others who deal in golfing merchandise.

In an effort to provide more individual display booths for the larger manufacturers,we stripped all of the beds, furniture and pictures out of 77 guest rooms so they could be utilized as "golf shops"for their tenants. After the merchandising show ended Wednesday,all of the furniture was moved back in so that arriving guests could occupy the rooms that evening.

Hotel officials did confide in us that they won't be sur­ prised if a guest reports finding a golf ball or two in their closets this week.
So, that really happened.
I wonder if the shag carpeting helped or hindered the putting.