Thinking about visiting MagiQuest while you're in the Gatlinburg/Pigeon Forge area? Check out our series on this magical tourist attraction.
On our recent trip to Dollywood/Pigeon Forge/Gatlinburg, Tennessee, we decided to add MagiQuest to our itinerary. Friends spoke pretty highly of MagiQuest when they visited the Pigeon Forge area about four years ago. We let both of our boys bring their best friends on the trip; our oldest's (16) best friend had been before and was really selling the MagiQuest experience. He even brought his own wand!
The Pigeon Forge MagiQuest is located at 2491 Parkway (Light 2A), Pigeon Forge, TN 37863. It's located in a large warehouse-type building that's decorated like a castle. For some reason, it really reminded me of a Lego-type castle.
Just looking at the vehicles parked outside will offer insight into the intended audience.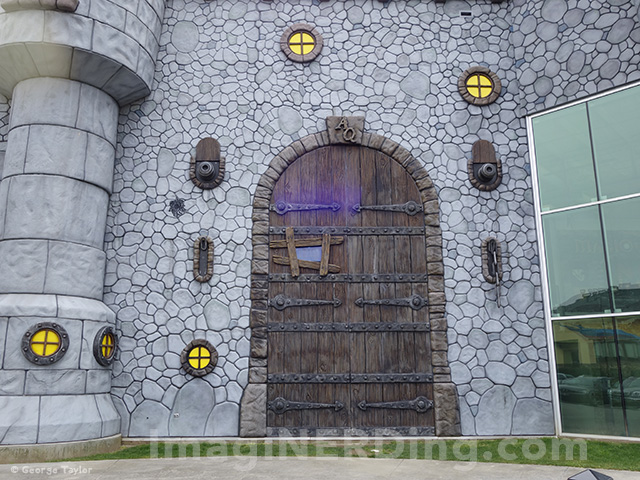 We huffed and puffed on this door, but nothing happened.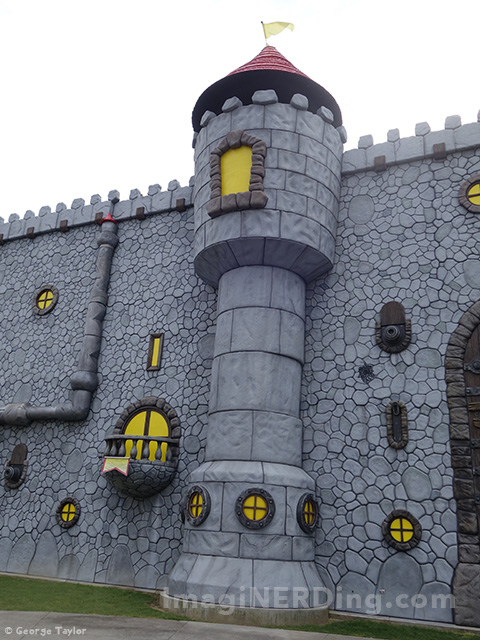 I do have to admit that I thought the building was well themed and did stand out amongst the other tourist shops, restaurants and attractions on the strip.
You can purchase your tickets online or at the door. We thought about buying ours online, since we were wondering if they'd sell out during the busy spring break week.  SInce you can never tell what's going to happen on a vacation, we opted to buy ours at the door. We bought four of the New Magi Packages:
Ultimate Package
Includes: MagiQuest wand and 90 minute game experience PLUS the properties' other three attractions (a round of Special FX Pirate Golf, Odyssey, the World's Largest Mirror Maze and The Vault laser maze challenge).
It was $29.99 per person. Before you reach the cashier, you walk through the Hall of Buying (my term, not theirs) where you can pick out your wand, topper and other accessories.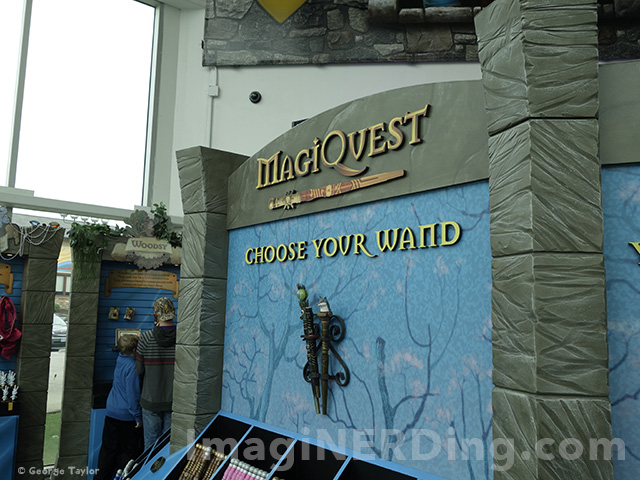 First up is choosing your wand! There are two different types of wands to choose: Classic or Dragon!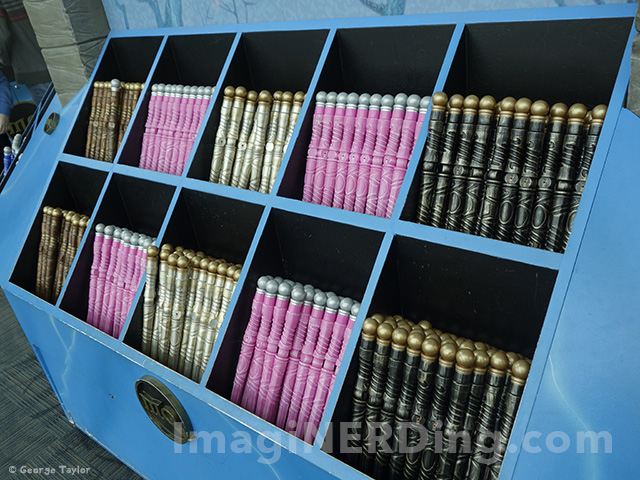 Classic Wands – Marked by fantastical carvings, the Classic Wand is the hallmark of a great Magi. A Magi's best friend is their Wand, and this classic can be quickly and easily fit with any Topper, and keeps powers and secrets better than most mortal friends!

Dragon Wands – These sleek Wands have been created from a special combination of spells and other magical elements that grant their owners additional powers and abilities. You won't earn Dragon Wand powers on any Quests, they are exclusive to these mysterious marvels. Use them wisely!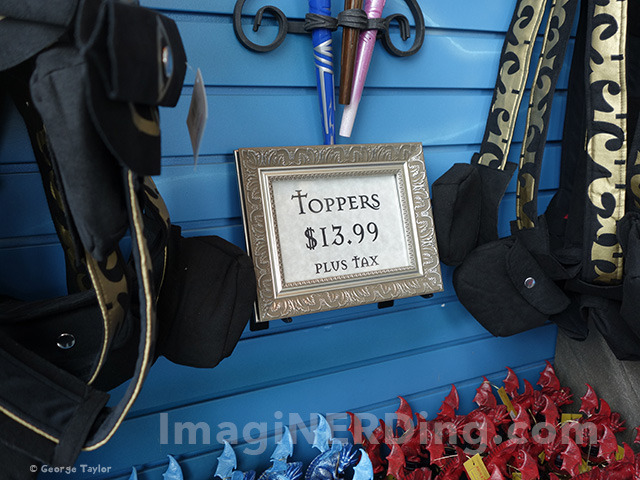 The Toppers were an additional charge of $13.99 and each of our four Magi picked out a different one, based on their supposed properties. From what we understood, the Toppers added lights and sound. although the kids thought that they gave your wand some extra powers. Not sure about that one.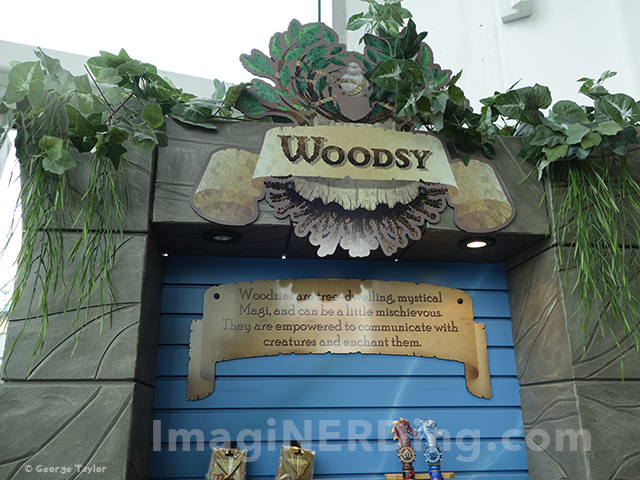 There were multiple types of Magi clans that you can read about while you're making your choices on wands and toppers.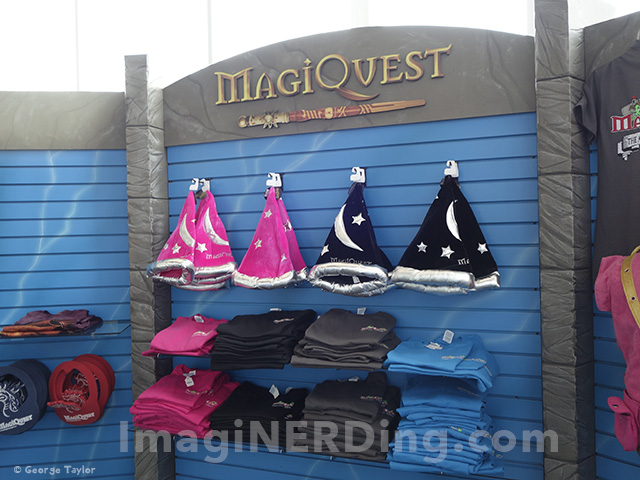 There were other things to purchase, including wizard caps, t-shirts and "renaissance-type clothing".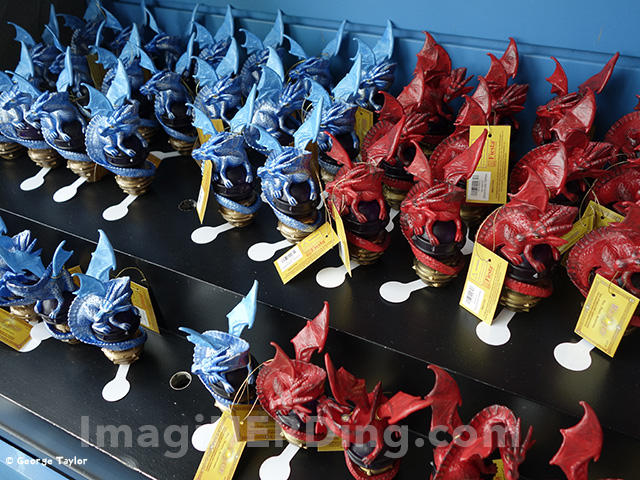 More shots of the different toppers you can choose.
At this point, we still haven't reached the actual cashier and we'd spent about 20 minutes picking out wands and toppers. We didn't show up at opening, but got there about 10:30. Most of the crowds seemed to arrive around lunch and did get heavier throughout the day.  The kids did seem to get increasingly frustrated the more crowded it became. It took longer to get a screen to get a new quest and there were lots of people to dodge.
Coming up: We enter the MagiQuest Forest!