Carowinds has been teasing us for a few weeks about a big announcement that was supposed to transform the park. At their media event, they released the details on the new giga coaster set to debut Spring 2015.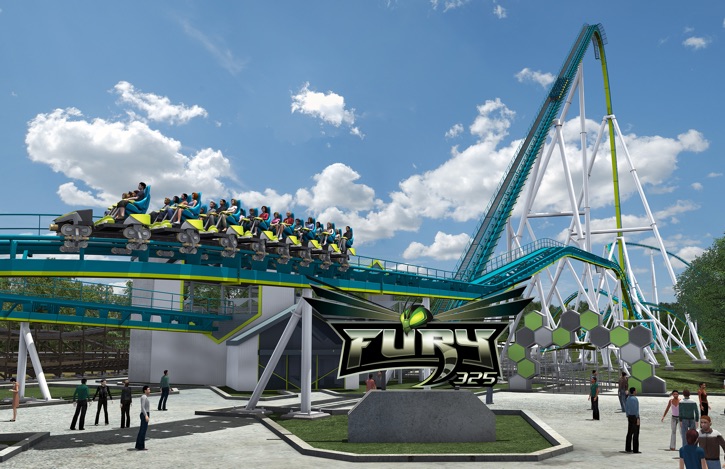 Fury 325
325-foot hill
81 degree first loop
Speeds up to 95 miles per hour
6,602 feet of track
three and a half-minute ride time
Fury 325 is designed and manufactured by Bolliger and Mabillard (B&M) of Monthey, Switzerland, a recognized industry leader in roller coaster development and the same firm that brought Vortex to Carowinds in 1992, Afterburn in 1999, and The Intimidator™ in 2010.
This will be the world's fastest and tallest giga coaster and should help breathe a lot of life into Carowinds and make it more of an international draw for coaster enthusiasts.
Another part of the press release discussed revamping the entrance plaza, which will include walking through the Fury 325 track. The new 8.2 acre main entrance complex that includes a "state–of–the–art ticketing and season pass processing area and expanded guest service facilities."
Fury 325 is part of a planned $50 million dollar multiyear investment to bring new life to founder Pat Hall's original vision for Carowinds. The park will be revamped from top to bottom to celebrate Carolina culture including new rides and attractions, signature Carolina food offerings and entertainment.
Honestly, this section of the press release excited me the most! This is a true opportunity for Cedar Fair to make Carowinds stand out and not just be a regional coaster park. It's a great step to becoming a true theme park, like Disneyland or Knott's Berry Farm.
Check out the flyover of the new entrance, the park and the Fury 325!
Don't forget to stop by our site and leave some Disney Geek love!
http://www.imaginerding.com