The Treehouse Villas at Saratoga Springs have a storied history at Walt Disney World. By the time the 60 villas were finished in 1975, Disney had already changed plans for the Lake Buena Vista Resort Community. One of the first major refurbishments took place in 1987. Let's take a look!
---
The Treehouse Villas located in Lake Buena Vista are in the midst of major remodeling. Rich mauve and blue colors have replaced the dark earth tones making the Treehouses bright and airy. 
Each Villa is being updated with new furniture, carpet, wallpaper and paint. The downstains sitting room is now being turned into a third bedroom creating comfortable sleeping room for up to six people in each unit.
The outside of the Treehouses are also getting new paint. The outside color scheme was selected to blend each Villa in with its surrounding area creating a secluded, peaceful atmosphere. 
More than halfway finished. the Treehouse Villas are scheduled for remodeling completion by March. Our guests have shown great enthusiasm for our newly refurbished Treehouses. 
Our guests have shown great enthusiasm for our newly refurbished Treehouses. 
Returning guests have voiced an appreciation for the fresh change and look forward to returning again.
The following photo is from 2006. You can see the skeleton of the 1987 remodel but they have replaced the furniture. It was used to house International College Program students before the 2009 remodels.
Fee from DF'82 posted pictures from a 2006 stay at the Treehouse Villas when she was a castmember.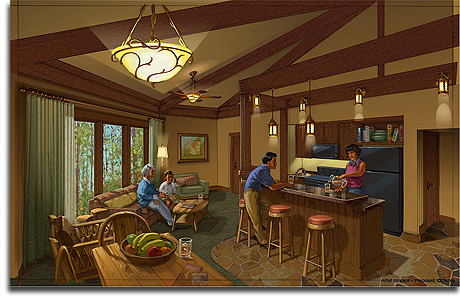 Michael Crawford from Progress City USA offers a fantastic article on the Treehouse Villas refurbishment from 2009. What is interesting to note is that this rendering does not have any angular kids. Maybe they are in the bedroom or playing outside.
A promotional postcard with the concept artwork was mailed out to Disney Vacation Club members. I love the wildlife. The squirrel and birds are just waiting for the family to leave. I can't tell from the scan if that is Chet's or Roman's family having the picnic?
---
October 2011 marks the 40th anniversary of the opening of the Walt Disney World Resort in Orlando, Florida. The Vacation Kingdom has seen a lot of changes over the past four decades and the editorial staff at Imaginerding wants to celebrate the unique and rich history of the resort with a series of posts. 

A very special thanks to Celeste Cronrath for designing the series of logos for our posts. Make sure to follow her on Twitter.
 
---
Don't forget to stop by our site and leave some Disney Geek love!
http://www.imaginerding.com