Borrow a Polaroid Camera, Free*
Polaroid operated the Polaroid Camera Center on Main Street at the Magic Kingdom from 1979 to 1984 (GAF ran it from 1971 to 1977 and Kodak from 1984 to 1989. In 1989 it was incorporated into the Main Street Confectionery).
During the early years, GAF and Polaroid sponsored the Guides to the Magic Kingdom. The Guides were paperback booklets that listed each attraction, shop and restaurant in the Magic Kingdom. As expected, prime space was dedicated to advertising the film products and offering handy tips on taking great photographs. There was also information on the rest of the Vacation Kingdom of the World, like the hotels, transportation and some recreation.
This guide also offered details on how to use a Polaroid Pronto Sonar camera during your visit to the Magic Kingdom. The camera is free*, you pay only for the film. Of course, the fine print does mention a refundable deposit is required.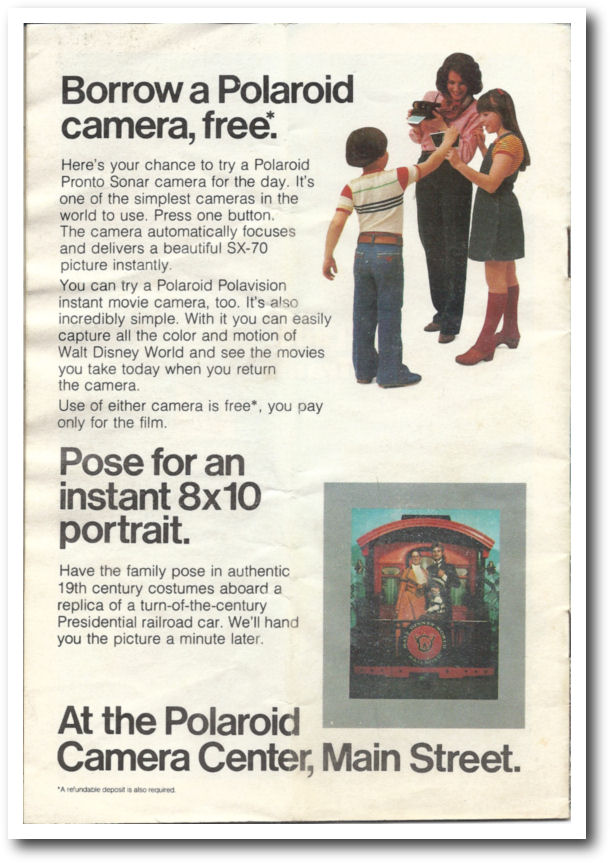 Don't forget to stop by the Polaroid Camera Center to have an instant 8×10 portrait taken in front of a 19th century Presidential railroad car while you don 19th century costumes! Believe it or not, the picture comes out a minute later!
Did you ever get to take advantage of the free Polaroid camera offer at the Magic Kingdom?