Seven Seas Lagoon
We continue our series about discussing the 1976 map of Walt Disney World found on pages 10 and 11 of The Story of Walt Disney World.
5. Seven Seas Lagoon – A 200-acre, man-made lagoon for sailing, swimming and special nighttime water shows.
—p. 11, The Story of Walt Disney World
Bay Lake (on the other side of the Contemporary) was one of the original areas that caught Walt's attention while he was flying over the area. When the Imagineers were looking at the land for Phase I, the location of the future Seven Seas Lagoon was actually low wetlands. Several areas were not stable enough for building. It was decided to turn the area into a man made lagoon that would connect to Bay Lake in the east. When Bay Lake was drained, they removed the silt, roots and muck. Over seven million cubic yards of fill from Bay Lake and the lagoon were used to create the height needed for the Magic Kingdom's famed Utilidors.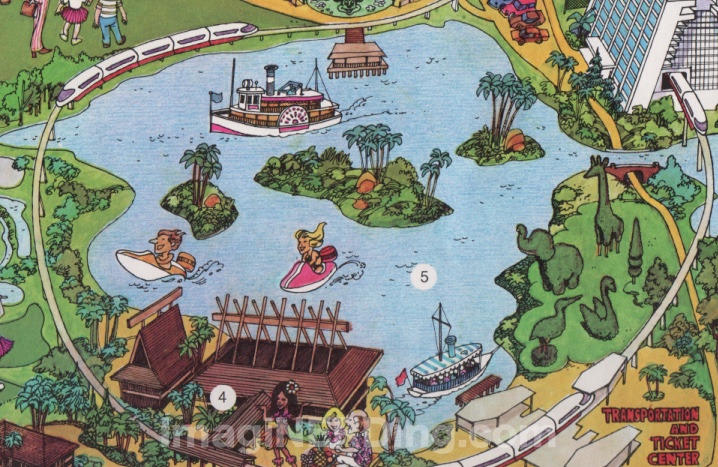 Beautiful and pure white sand was found at the bottom of Bay Lake. It was used to line the four and a half miles of beaches that encompass the lake and the lagoon. Both bodies of water were then filled with water from the surrounding wetland, as well as fingerling bass.
Before opening, Dick Nunis fought for a $400,000 wave machine for the Seven Seas Lagoon that would lap waves on the shore of the beach at the Polynesian. Dick hoped that professional surfers would be able to put on shows and that children and body surfers would be able to enjoy the inland ocean experience. The wave machine worked, although it mostly eroded the Polynesian's beach. As a side note, Dick Nunis would ride the first wave at the opening of Typhoon Lagoon, almost 17 years later.
Since October 26, 1971, the Electrical Water Pageant has made the nightly trek across the Seven Seas Lagoon and Bay Lake. It was also the inspiration for the Main Street Electrical Parade, which premiered at Disneyland in 1972 and the Magic Kingdom in 1977.
Additional Geek Resources on the Seven Seas Lagoon:
—pp. 29, 75, 78, Since the World Began
by Jeff Kurtti, 1996
—p. 92, Window on Main Street: 35 Years of Creating Happiness at Disneyland Park
by Van Arsdale France, 1991